Tripawds community member Carolyn Banes and her dog Ari would like everyone to consider signing a Change.org petition. The purpose: to allow Tripawds in AKC Rally and Obedience competitions.
Caroly and Ari, along with Lark Shlimbaum (whose three-legged dog Rascal made a big slash as the first Tripawd to compete in AKC Agility) started the petition (see below for link).
We at Tripawds feel that if an amputee dog is cleared by their veterinarian and rehabilitation therapy team to participate in dog sports such as Agility, Rally, and Obedience, and their human is educated on the physical needs of their amputee dog, there is no reason they should be banned from doing so.
Please sign Ari and Rascal's Petition to Allow Tripawds in AKC Rally and Obedience Competition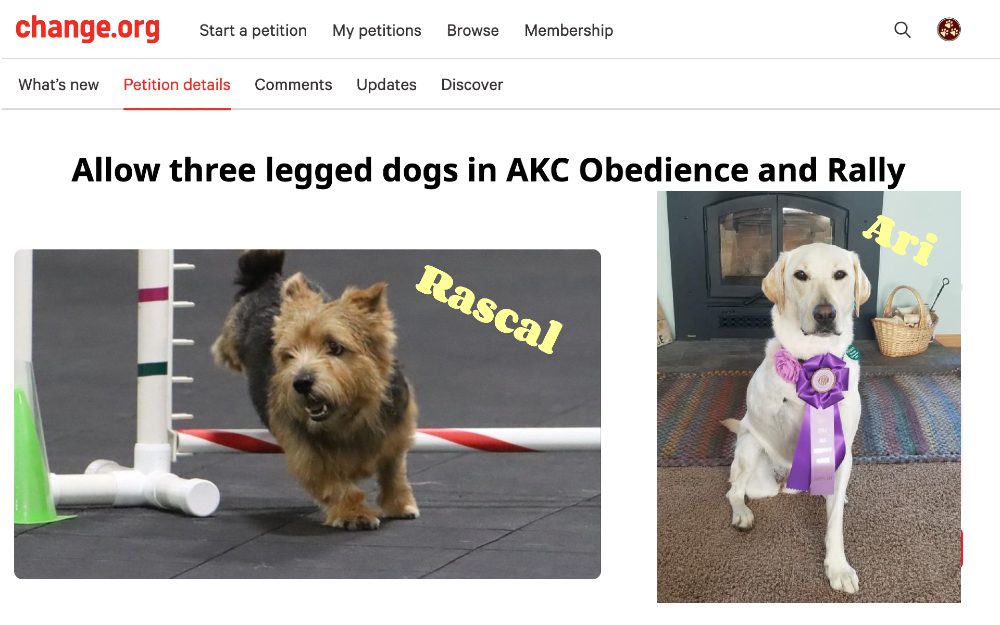 (Here is a summary of the movement, as explained by Carolyn and Lark)
The purpose of this Petition is the allow Tripods to compete virtual and in person AKC Rally & Obedience. Presently AKC only allows Tripawds to do Virtual Beginner Obedience & Beginner Obedience. AKC does not allow in person competition.
Tripawds can compete in AKC Tracking, Scent Work. Approximately 1 year ago AKC opened up Agility to three legged dogs. Shortly after they also allowed "Fast Cat" Tripawds to compete in person with no restrictions. Still to date, after many letters, phone calls, emails, etc. from Tripawd owners, veterinarians, Rally Judges and owners of 4 legged dogs requesting that AKC open up entries for Tripawds to compete in Rally/Obedience, AKC will not consider it!
Please sign this petition. It will be presented to AKC requesting that they open up Rally & Obedience to our beloved able bodied Tripawds. We would like them to be able to compete in person in these non-taxing events!
Please follow the link above to sign the petition. Watch the above video of Ari's AKC Excellent Course at training this past week. This course is very Advanced and you will see that Ari make it look easy!
Thank you
Lark Shlimbaum/Rascal Carolyn Baynes/Ari