Scent work is one of the greatest things we can do to keep any pet engaged and entertained–especially Tripawds! Training a three-legged hero in this fun activity doesn't require hard physical exertion. Any dog or cat of any age or physical condition can enjoy the activity.
Pets can have fun doing it well into their senior years. This activity is a win-win for everypawdy!
How Scent Work Safely Tires Energetic Tripawds
When your pet loses a leg (or you are about to adopt a Tripawd), it requires you to rethink what "fun" means to you, your dog, or cat. We know that moderating physical activity for animal amputees is important to ensure a quick safe recovery and avoid joint stress. But then the question becomes, what can take it's place?
Nose Work and Scent Training, that's what! Training your dog to recognize and find specific scents is one of the greatest ways to keep dogs (and maybe even cats!) engaged and entertained. Just ask Elly the Award-Winning Nose Work Dog!
This activity can:
Help energetic Tripawds burn energy
Keep a pet's mind stimulated and tired
Build confidence
Strengthen your bond
And studies show that interactive brain games are safer and more effective at tiring a dog or cat than throwing a ball or chasing toys.
Learn All About Scent Work with The Brainy Canine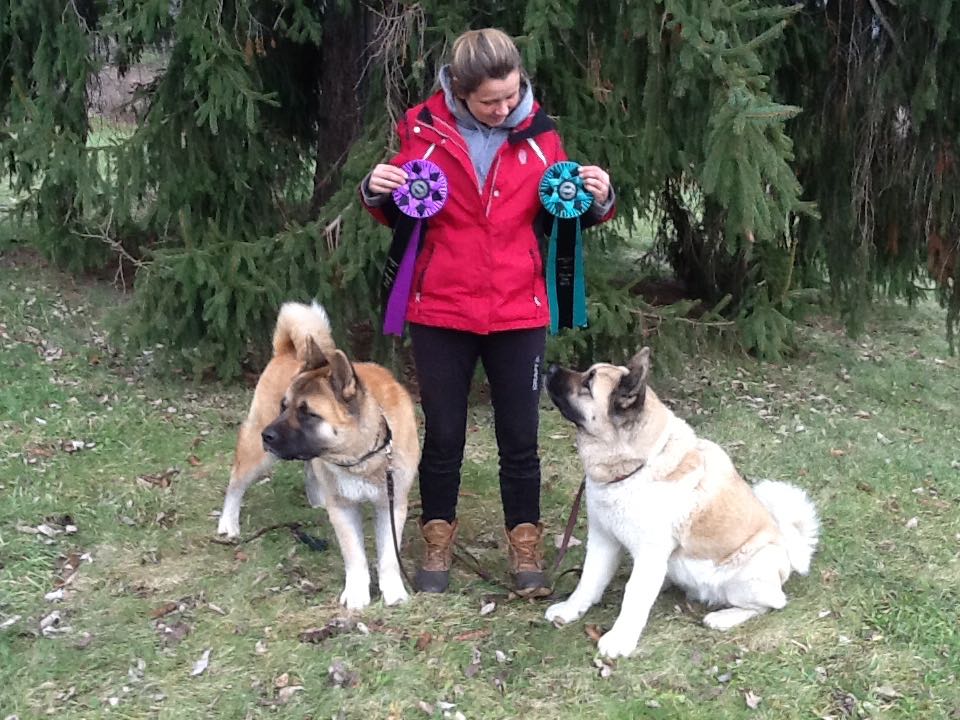 Today on Tripawd Talk Radio, we have an licensed AKC scent work judge to tell us all about it. Meet Nancy Almann from TheBrainyCanine.com!
Nancy has trained and competed in nose work since 2012. She is a fully licensed AKC scent work judge.
Listen to Nancy Teach us About Scent Work for Dogs
Watch the Episode Video
What you will learn about scent work for dogs in this episode
Nancy's enthusiasm for the sport is contagious. We know you will love how she teaches us what scent work for dogs is all about, and how it can help Tripawds. Although we don't talk specifically about cats, there's no doubt in our minds that cats can also be taught scent detection activities. Both cat and dog parents will learn so much from her in this conversation.
How is dog nosework and scent work different from each other? (hint: they're not, really)
What dog sports organizations offer scent work training?
Are there specific odors you can train dogs to find?
Why do dogs get excited about sniffing?
What rewards do dogs get out of completing a sniffing task?
What happens in a competition?
Can any dog do this activity?
What are the positive effects of canine scent work?
Are there different levels of competition for dogs?
Why you should always allow your dog to sniff on daily walks.
Can you teach your dog this activity with online scent work training (hint: yes! Nancy offers virtual classes!)
We apologize in advance for some poor sound quality at times! But we promise the conversation is worth tuning into.
Here is Nancy with her dog Toka, doing a scent work trial:
Based in Ithaca, New York, her team at The Brainy Canine offers nosework, and tracking classes, both online and in person. She believes that partnering with your dog is crucial. Most dog training can be accomplished through positive reinforcement methods too!
And here she is with her other scent work dog, Kiyo:
Nancy's Akitas Kiyo and Toka regularly compete in National Association of Canine Scent Work (NASCW) and AKC trials and. Kiyo and Toka are the top two Akitas in the sport of nose work in the U.S., despite the fact they are both congenitally deaf.
Here's Nancy sharing Intro to Nose Work – what is it? Who can play?
Subscribe to the Brainy Canine Youtube Channel
https://www.youtube.com/channel/UCRIrCCMsiUFESDfqryODeKg
Nosework Tips for 3-legged Pets
https://gear.tripawds.com/tag/nosework/