Coping with cat or dog cancer is a little more hopeful today. A new study about immunotherapy for pet cancer from ELIAS Animal Health shows "significant immune response" in over 100 dogs! This is not something that scientists say lightly. Keep reading for details about this exciting new breakthrough in beating pet cancer!
Promising News from ELIAS Animal Health Research Shows Immunotherapy for Pet Cancer is Working!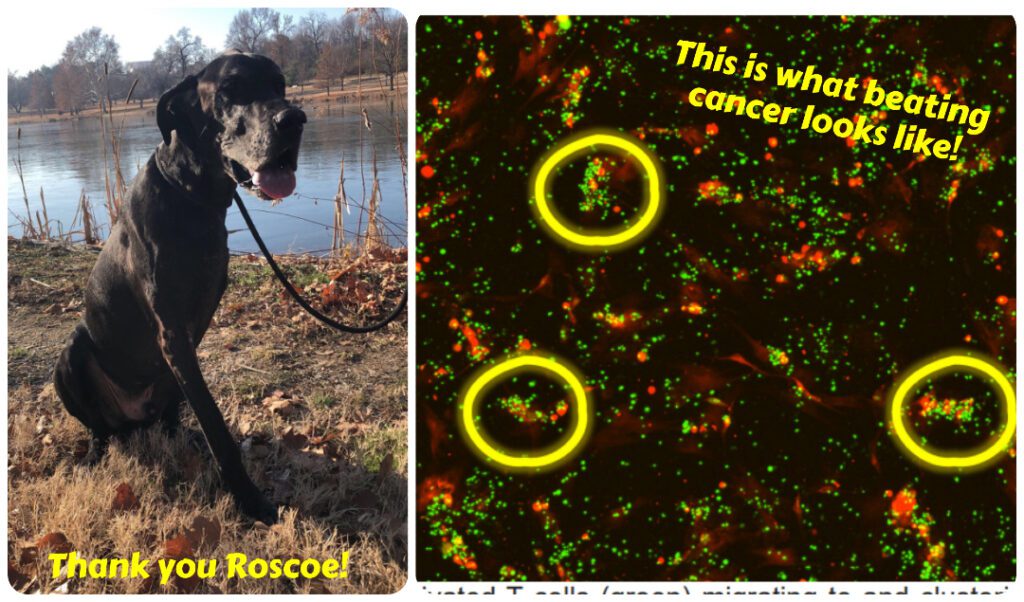 You might recall our story about Roscoe, the greatest Dane who kicked butt with ELIAS immunotherapy. Or maybe you listened to our Tripawd Talk Radio podcast about the ELIAS Cancer Immunotherapy (ECI®) dog cancer treatment.
ECI is an adoptive cell therapy that stimulates a patient's immune system to recognize and attack cancers. It does this by using a "personalized vaccine" made from a patient's own cancer cells to "prime" the immune cells to recognize the cancer.
These primed immune cells—which are collected from the patient through a procedure called apheresis—are activated and expanded ex vivo (outside the body) for reinfusion into the patient. Then they travel to the cancer cells and attack them.
Three years after we first told you about ECI, this breakthrough pet cancer treatment is showing even more promise. The best part? It's not just dogs or osteosarcoma that it helps. ECI is working across different species (dogs and mice). And the other cancers it can obliterate include lymphoma, melanoma, prostate and glioma.
ELIAS ECI Efficacy Demonstrated in Multiple Species and Cancer Types.
Earlier this month, ELIAS Animal Health talked about the latest findings. They gave a presentation at the 2022 American College of Veterinary Internal Medicine Forum. The results were impressive. For example, several dogs became long-term survivors after receiving this vaccine, show that this immunotherapy for pet cancer is doing what it's supposed to.
Here's what killing cancer cells looks like! In this photo, the activated T cells (green) are migrating to and clustering around the host cancer cells (red).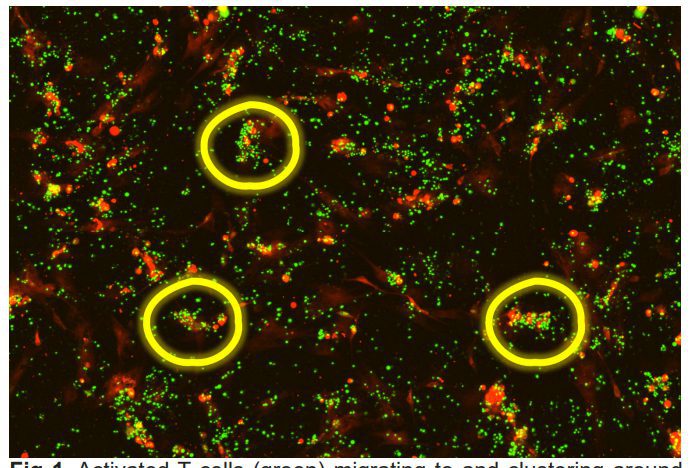 Study highlights include:
A better median survival time of 415 days. This is even longer than previous study results showing 134 days for those treated with amputation alone and 308 days for amputation plus chemotherapy.
Four out of five dogs longterm surviving dogs lived at least 2 years cancer-free. The longest living survivor made it to 5 years post-diagnosis.
One long-term survivor beat osteosarcoma metastasis! This dog had a distant, cytologically confirmed osteosarcoma metastases come up during the study. The pet parents opted out of more treatment. But two months later, ELIAS reported that "the dog was confirmed to be free of metastasis using a highly sensitive CT/PET scan." This cancer survivor lived THREE YEARS post amputation and died of an issue not related to the cancer!
Download the ELIAS Immunotherapy for Pet Cancer Report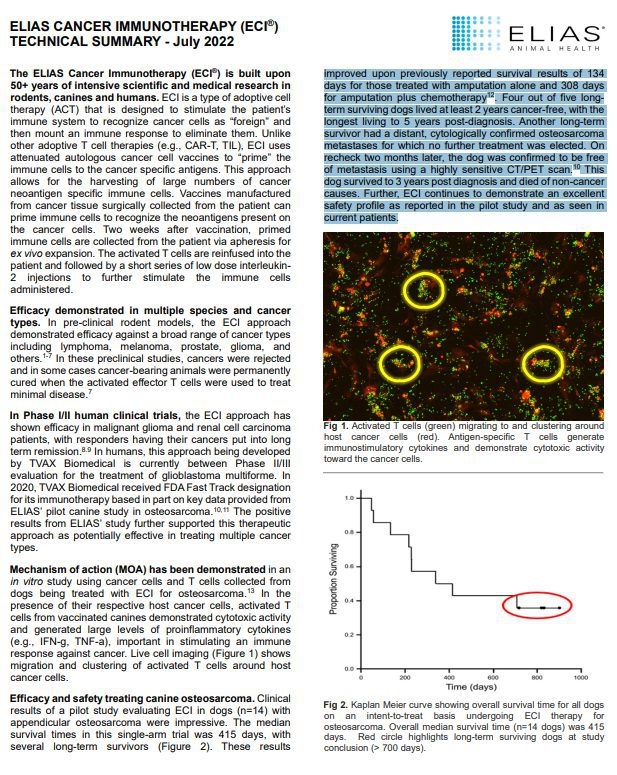 Download the latest study results from ELIAS by clicking on the above photo. And if your pet has recently been diagnosed with osteosarcoma, ask your oncologist about this therapy. You must decide about it on before amputation happens.