Get your Tripawds calendar cats and dogs ready! Now is the time to send us your ONE best photo EVER, for the 2023 Tripawds Calendar Collection. Hurry, the deadline is Sunday, September 11 18! Keep reading for details.
Time for 2023 Tripawds Cats and Dogs Calendar Photos!
This is one of our biggest fundraisers of the year. Tripawds dogs and cats' best glamor shots are wanted for the 2023 Tripawds Calendars.
This is NOT a contest, it's a FUNdraiser!
You can participate at no cost
Yes, you can send a pic of your Tripawd angel too.
Photos MUST CLEARLY SHOW that your cat or dog is missing a leg.
A limited number of calendar designs are being painstakingly produced by Tripawds own Admin Guy. In return for our efforts, all we ask is that you please buy loads of these calendars to support the Tripawds community.
Read the photo requirements below. Then send yours in by deadline. First come, first served. We cannot accept any additional photos after the deadline. Act now!THE LAST DAY FOR PHOTOS IS SUNDAY SEPTEMBER 11 18 at 12 midnight, Eastern time. No exceptions, sorry!
2023 Tripawds Calendar Models Photo Requirements
SEND ONE GREAT PHOTO BY THE 9/11 18 DEADLINE. This is the only way to get featured in one of three 2023 Tripawds Heroes and Angels Calendars!
All registered Tripawds members and/or @tripawds followers and fans can send one (1) photo of their three legged dog, cat, or other animal from past or present. Here's what it needs to look like:
Photos must clearly show that an animal is a Tripawd
Pictures of a Tripawd with a four legged pal are fine, but the Tripawd needs to be prominently shown.
Has your Tripawd been in a previous calendar? That's OK! Just send a new photo.
Got more than 1 Tripawd? No problem! Enter one photo per Tripawd, or send one group photo.
Images must not include people or company logos or titles.
You MUST include your Tripawd(s) name, and the name of any other pets featured in the photo. If your submission is missing that information, your photo will not be included.
Tripawds Calendar Photo Size Requirements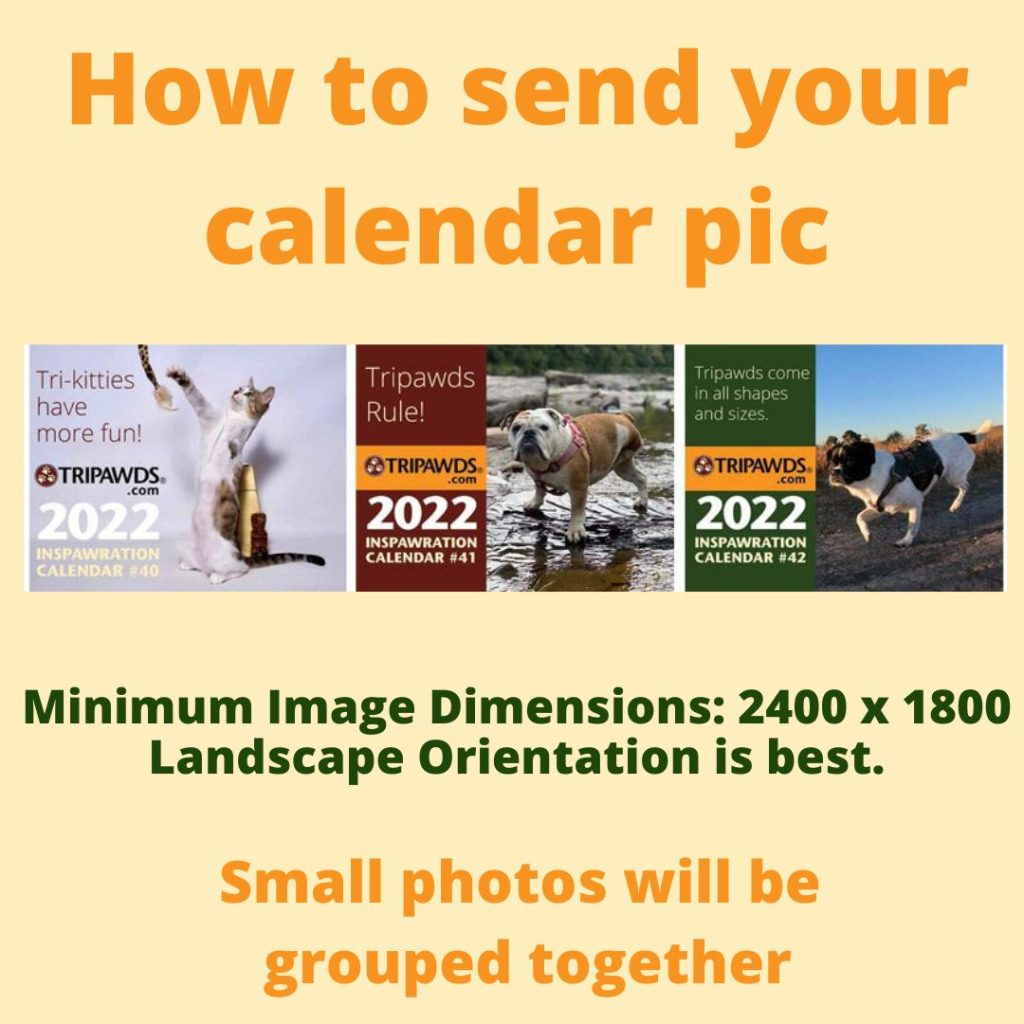 Where to Send Your Photo:

Only emailed photos are accepted.
Email ONE photo HERE to this email ("admin-at-tripawds-dot-com")
You will receive a reply to your email or post confirming your image file is suitable for reproduction.
Qualifying photos sent by the 9/11 18/22 deadline will be included in one of the three 2023 Tripawds Community Calendars. Pics sent after the deadline will NOT be included.
Your ONE photo must be of good enough quality ("resolution") so it clearly reproduces when enlarged for a paper calendar. Poor quality images with small files sizes look blurry in print!
Minimum Image Dimensions: 2400 x 1800
Landscape Orientation is best.
Your photo size must be at least 2400 x 1800 dimensions.
For example, this photo is not good because the dimensions are too small.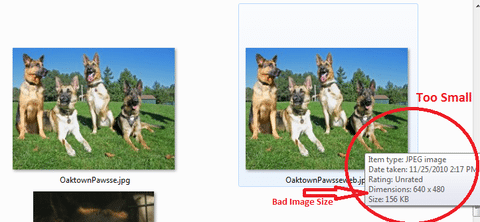 IMPORTANT: Photos with sizes too small for a full-page image, might still be in a calendar. But it will be small and grouped with other small photos. Photos submitted at a resolution file size unsuitable for print production won't be included.
Where to Send Your Photo:

If you send your pic and don't hear back from us within 7 days, contact us again to make sure we got it. If you don't, your Tripawd will miss out!
Qualifying photos sent by the 9/11 18/22 deadline will be included in one of the three 2023 Tripawds Community Calendars. Pics sent after the deadline will NOT be included.
How to find your photo file size on a laptop computer
On Apple computers, view the photo. "Get Info" by typing " + i" (Command I).
On a Windows machine, right-click to view image properties. Or hover your mouse over the photo in your Library or image viewer.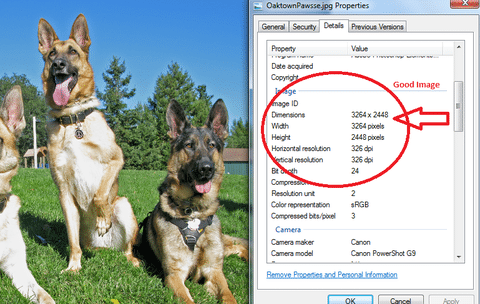 A few last tips.
Please do NOT:
Email more than one photo. We know that's hard, but you can do it!
Ask us to pick one for you. It delays production, we will not do it. Sorry.
Request a specific month. Photos are randomly placed throughout the year.
Our Tripawds calendar models collection are available for purchase in the Tripawds Gift Shop on or around Halloween. Proceeds help keep the Tripawds community online.. The more calendars you purchase, the better! Thank you!