The Fuzzybutts and Friends podcast and vlog is now live! Our long time friend and fellow passionate pet cancer advocate Luke Robinson launched the program on February 1, 2022. We were honored to be invited as his first guests on this new show, from the founder of the Puppy Up Foundation. Video episodes of the Fuzzybutts and Friends podcast are now available on Fuzzybutt Studios Youtube channel.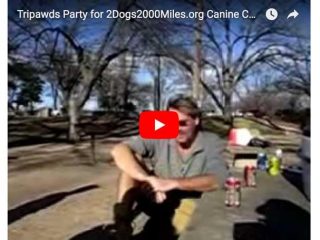 We first interviewed Luke on Tripawd Talk Radio back in March of 2012. But we met Luke in 2008, and it has been a long journey for all of us and both our organizations. We were there with Tripawds Chief Fun Officer Jerry, at the kickoff party for his first 2 Dogs 2,000 Miles cross-country walk. That was before Luke's walk from Austin to Boston. And it's when we interviewed "Yer Big Dog" about his journey to find a cure for canine cancer.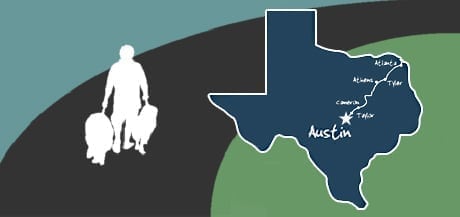 Since then, the organization has evolved into the Puppy Up Foundation. But the mission has remained the same – because cancer touches everyone.
The Puppy Up Foundation is committed to discovering the common links between canine and human cancers and the causes of these cancers through comparative oncology research. Our organization will accomplish that mission in the following ways.
And now, Fuzzybutts and friends will continue spreading awareness in long-form podcast and video format.
Tripawds Founders Featured on Fuzzybutts and friends
Fuzzybutts and Friends has launched to continue spreading awareness about canine cancer and comparative oncology efforts to end cancer is pets and people. Currently on Buzzsprout, Fuzzybutts and Friends is coming to your favorite podcast player app soon.
From the Fuzzybutts & Friends Podcast Description:
Me and my Fuzzybutts have backpacked thousands of miles and met a whole cast of cool and curious characters. As the founder of The Puppy Up Foundation and Fuzzbutt Studios and the father of 5 Infamous Fuzzybutts, 3 of which I've lost to cancer, we'll talk to guests that relate to our travels and inevitably to dogs. Join us for our crazy adventures on the road and on the air every Tuesdays! Puppy Up and Talk Soon.
– Grayson, Indiana & Luke (aka Yer Big Dog)
We had the pleasure of reminiscing about our common journeys with Luke and Ginger from Puppy Up. This wasn't the first time we've all gathered, and it's been far too long since we gathered in person.
After Luke's second walk down the west coast, we surprised him by walking the final mile together with Spokesdawg Wyatt Ray. We've met up in Austin and Memphis over the years. And now we're honored to share our stories with the Fuzzybutts and Friends listeners.
Our Canine Cancer Journeys Continue
Tune in or watch our full discussion above to hear all about Malcom and Jerry. These two fuzzybutts started it all, and set us on our common journeys over the past decade. You'll also learn all about the upcoming Hudson River Walk. Walk 3 will honor past fuzzybutt Hudson and all our companions touched by cancer.
Current PuppyUp spokespup Grayson is missing his rear spare leg. So we also discuss pet prosthetics, the importance of rehab for Tripawds, and how we are all helping to spread awareness for the upcoming international Tripawd Awareness Day on 3/3!
Subscribe to Fuzzybutt Studios on Youtube
Get Updates about Puppy Up Walk 3