It's so tough to know what Tripawd cat pain looks like. Luckily, acute, sudden pain in cats looks and acts the same no matter how many legs a cat is walking on. These new tools are helping pet parents and vets alike know what pain in all cats looks like.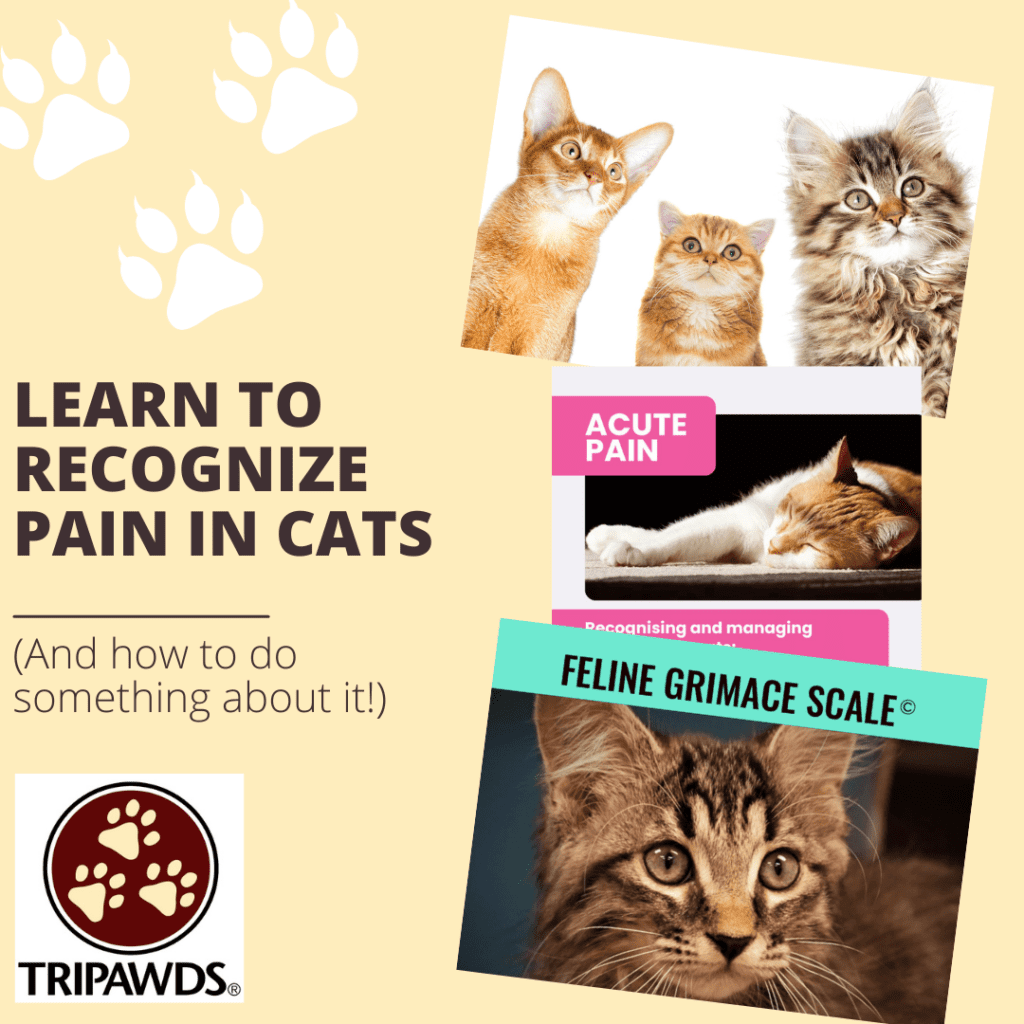 Are you and your vet struggling with your cat's post-amputation pain and recovery ? You're not alone. In veterinary medicine, feline pain management has historically been slow to improve. Cats are just masters at hiding pain! Pain medication options for cats still lags behind pain control for dogs. That's because most pain control studies are about canine health, like the famous one that shows Tramadol does a poor job controlling pain in dogs.
New Tools for Amputation Recovery and Tripawd Cat Pain Management
Thankfully, things are changing in feline pain management science. Today, there is no question that cats feel the same level of pain as dogs. Now vets understand how cats show pain. The tools in this article show we are in a new era of cat pain management.
How to care for your cat after surgery video
The Feline Grimace Scale App
The Acute Pain Cat Carer Guide
If you're owned by a cat who has three legs or four, these tools can help make their life as pain-free as possible.
How to care for your cat after surgery video
A cat owner's guide to safe recovery following bone and joint surgery. Learn important tips about bringing your cat home from amputation surgery (or any surgical procedure!). Dr. Farrell discusses:
The ride home and the first night
Appetite and feeding
Using the litter tray
Pain control and wound care
Exercise restriction and feline motion=
What causes major complications?
Cage furniture and play
Calming medications and Cat-friendly music
and how to create a recovery space
This guide was created by a VetLessons, a resource created to help animal carers make informed choices. The video is to help raise money for Blind Cat Rescue. – Copyright 2021 Mike Farrell
Download The Feline Grimace Scale App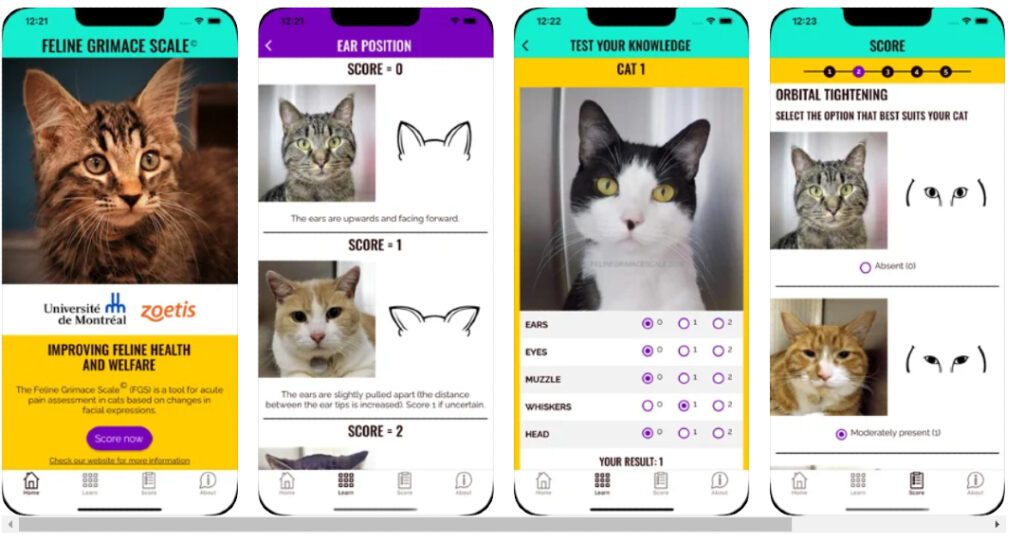 Created by the Feline Grimace Scale creators, Zoetis and Université de Montréal, the Feline Grimace Scale App for Android and Apple phones is used for feline acute pain assessment in cats.
This is a quick and easy-to-use tool for assessment of acute pain in cats. Know what pain in cats looks like by how they change facial expressions.
The tool underwent rigorous scientific validation. It is the most valid and reliable way to know pain in cats looks like using drawings and photos. Different medical and surgical conditions are featured, using both image- or real-time evaluations.
Download the Feline Grimace Scale App for Apple or Android
The Acute Pain Cat Carer Guide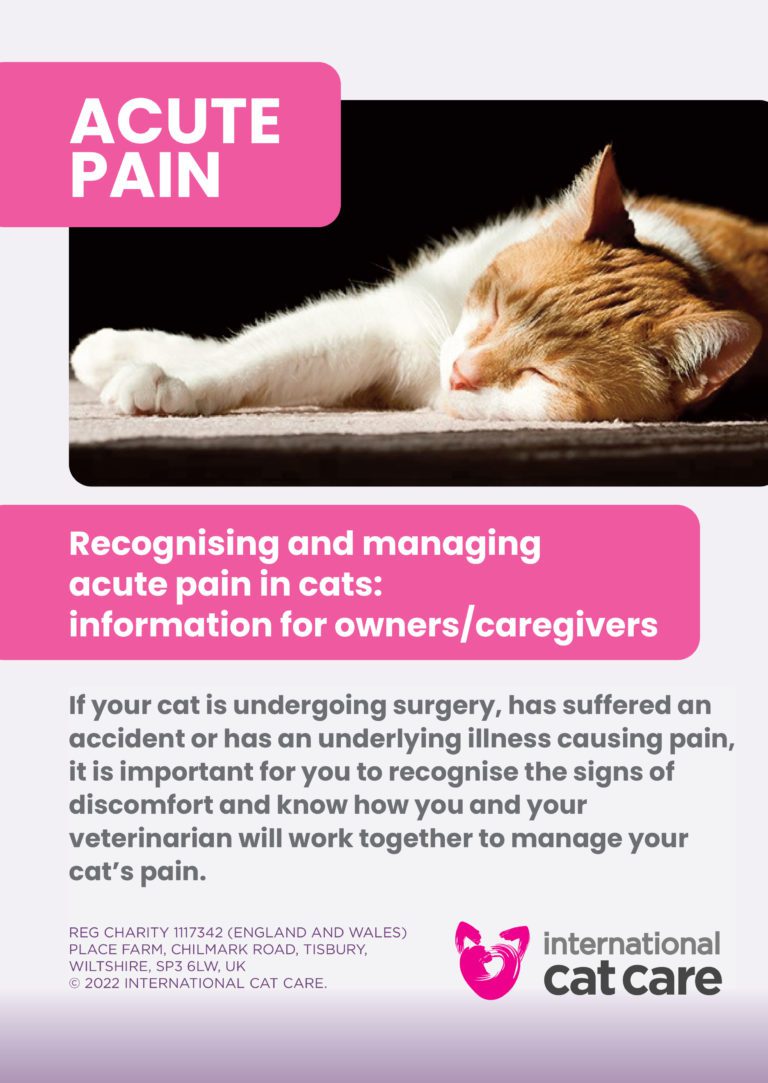 This excellent booklet for cat parents that explains how to recognize and treat acute pain in cats. Created by the International Society of Feline Medicine (ISFM) and International Cat Care (iCatCare), the guide teaches:
causes of pain in cats
pain medication options for cats
how to help your cat recover at home
tips to give pain medication to cats
and more!
cats are so good at hiding their pain and pretty stoic, that they don't necessarily look like they're pain. But that's not necessarily true. We know that cats and dogs are feeling the same level of pain because they're both mammals and they both have the same nociceptor system. — Stephen Cital, RVT, SRA, RLAT, VTS- Lab Animal Medicine. See: Tripawd Cat Pain Management Tips
A big shout out to Holly and Purrkins for sharing this important information with the Tripawds Nation!