Decades ago, veterinarians thought Tramadol helps dogs with amputation pain. But times change. The newest science says Tramadol is a poor choice for acute or chronic pain. Amputation pain in dogs and cats is another situation where you should just say No to Tramadol.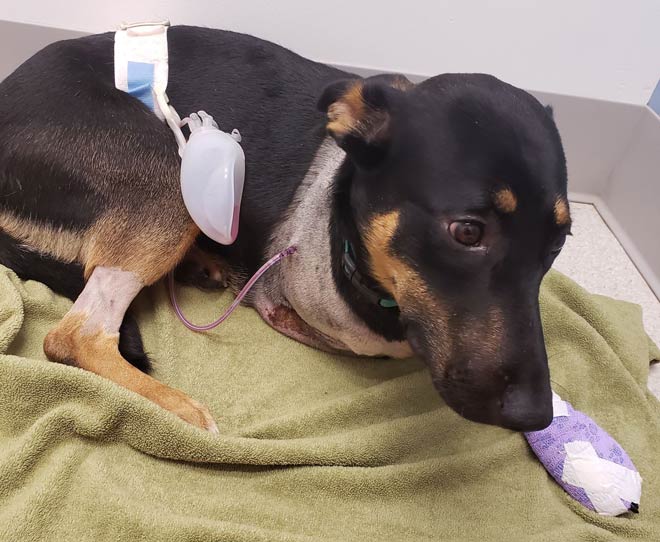 But please don't take our word for it. We aren't vets. Instead, hear why one of veterinary medicine's first and best pain management specialists says you must advocate for better pain management after amputation surgery.
New Science Says Tramadol Does NOT Help Dogs
In episode #96 of Tripawd Talk Radio, veterinary pain management expert Dr. Robin Downing, DVM, MS (Bioethics), DAIPM, DACVSMR, CVPP, CCRP answers an important question. Does Tramadol Work for post-amputation pain?
In other words, Tramadol is NOT a drug you want for a dog's amputation surgery recovery! To quote Dr. Downing:
"One of the myths of pain management in animals is that we should use a drug called tramadol. And I want to make sure that I take the time to educate your listeners and watchers that tramadol actually has been proven now in a very robust clinical study that was done at the University of Georgia by one of my very good friends, Dr. Steve Budsberg. It has been proven to be completely ineffective as a pain management strategy for dogs. Completely ineffective. — Dr. Robin Downing, DVM, MS (Bioethics), DAIPM, DACVSMR, CVPP, CCRP
Just Say No to Tramadol for Amputation Pain
If any of your listeners have a veterinarian who is not keeping up with the research and they are actually wanting to prescribe tramadol, those clients should respectfully say to the veterinarian, "I'm sorry but the latest research lets me know this is not an effective pain management strategy. We need to use something else. I'm going to let you keep your tramadol because it's not going to help my dog." — Dr. Robin Downing
Get expert facts about cat and dog amputation recovery and pain control
Tripawds Podcast Episode #96: Dr. Robin Downing returns to Tripawd Talk Radio for this full-length interview. It's packed with tips for keeping three legged dogs and cats pain free. Learn what to do before, during, and after amputation surgery recovery.
Pet Pain Management with Dr. Robin Downing
Watch the complete video recording on the Tripawds YouTube Channel:
https://youtu.be/oCizS5G-aeo
More information about Tramadol for dog amputation pain
Does Tramadol for Amputation Recovery Work?
Best (and Worst) Pet Amputation Pain Drugs
Is There a Recipe Standard for Pet Amputation Pain Control?
Does tramadol work in dogs with chronic arthritis? VetGirl Blog.
New pain study ensures that the debate over tramadol will continue
Tramadol for Dogs: Dr. Buzby's Opinion