A remaining leg surgery on a three-legged dog is a scary idea. But Ziggy's canine angular limb correction surgery success story proves that Tripawds can bounce back after challenging orthopedic situations.
Life is Great After Ziggy's Angular Limb Correction Surgery Recovery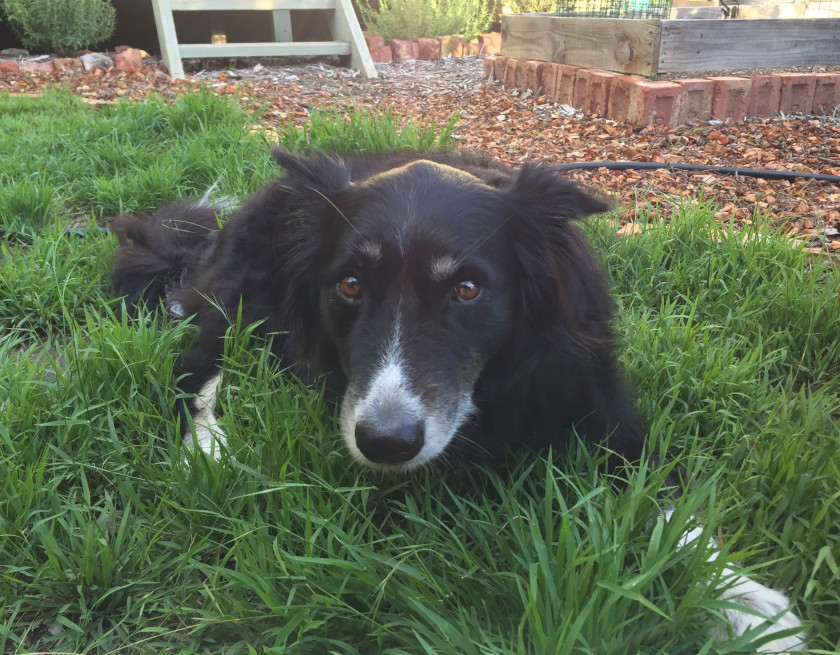 Five years after a complicated orthopedic surgery to straighten puppy Ziggy's remaining front leg, this incredible Border Collie from Canberra, Australia is thriving.
"We knew we needed to save Ziggy's remaining front leg to give him a chance at a normal active life," — Dr Jayne McGhie, University of Queensland School of Veterinary Science
see: "Three-legged Ziggy back on his paws,"
His mom Bec shared an inspiring Q&A pupdate about Ziggy's life after remaining leg surgery.
How has Ziggy adapted since we last caught up with you in 2016?
I am so thrilled to tell you that Ziggy is going well! He's now approaching 7-years old, and continues to be his life-loving, fun, friendly, silly self. He brings us so much happiness, though there have been some bumps in the road.
His front leg is still nice and straight, though around late-2017 he started showing signs of pain. For example, he was limping (in the way that 3-legged dogs do), avoiding walking, and getting very sore if we took him on extended walks or plays.
His dog wheelchair helped boost mobility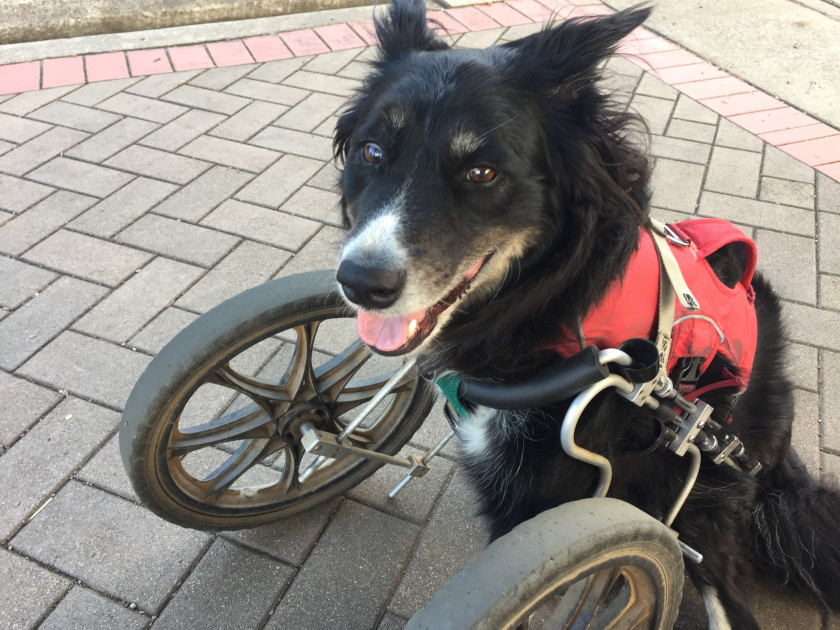 Because we have moved inter-state since his corrective surgery, we spoke to his wonderful vet surgeon Dr Jayne McGhie. She recommended we take him to one of her former colleagues who coincidently had also relocated to the same state as us. At this assessment, the advice was to protect his leg, but that there was no sign of anything terribly wrong. In response, we increased the amount of time Ziggy spent in his wheels. And, we decreased the amount of time he spent on his un-assisted feet. This extra support really helped. He was back to a good way before too long, but we continued to exercise him in the wheels.
More recently, we felt that he had been losing some mobility, gradually. It really struck us when we were on a beach visit with him. After about 15 minutes of playing in the waves we felt he needed a rest to protect his leg. Upon reflection, we remembered that only a few years earlier he would have spent an hour or more running and playing on the beach, and been fine. For this reason, in 2020 we started seeing a physiotherapist who is also an accredited vet. Treatment has done wonders.
Canine physio therapy guidance makes the biggest difference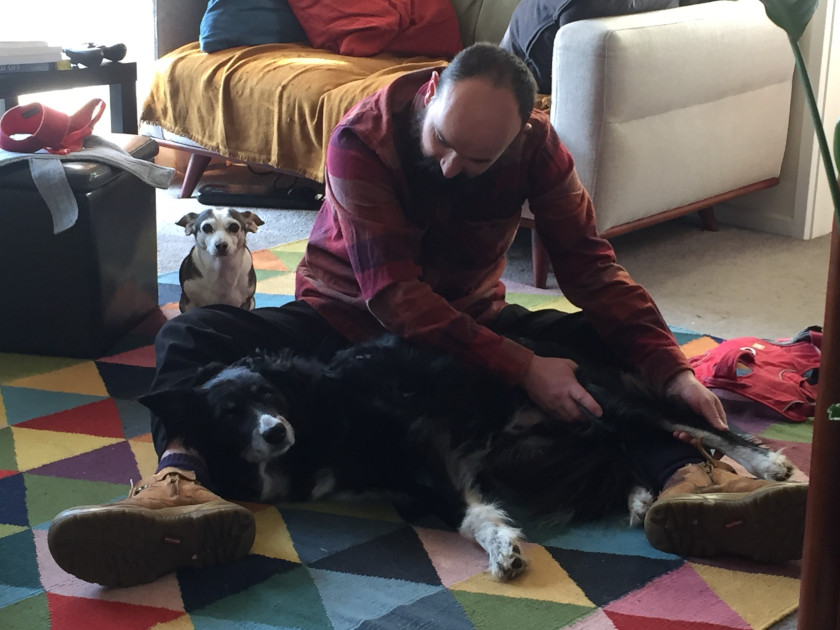 Under the physio's guidance, we put Zig on a diet to reduce the weight he is carrying on his precious front leg. Zig did not appreciate this! But we know it has been good for him. He dropped from about 21kg to now around 18.5kg. This is around the weight we will work to maintain. The physio also did some work on his sore back and leg muscles, and set us up with a regime of stretches, including the use of a balance disc. She has additionally prescribed muscle relaxants, which we give to Zig every day. Since these changes, the improvements in his mobility have blown us away! We only wish we had sought this additional support sooner.
Zig now has an older, littler brother in the way of a (4 legged!) rescue Chihuahua cross named Panda. Panda is somewhere between 8 and 12 years old, but we can't know for sure. He is the opposite of Zig in so many ways – fearful of people and dogs he doesn't know, happy to laze around for days on end, always seeking warmth, and doesn't like to play with toys. We absolutely love him, and we're really pleased Zig now has a dog companion.
His new senior sibling is a great addition!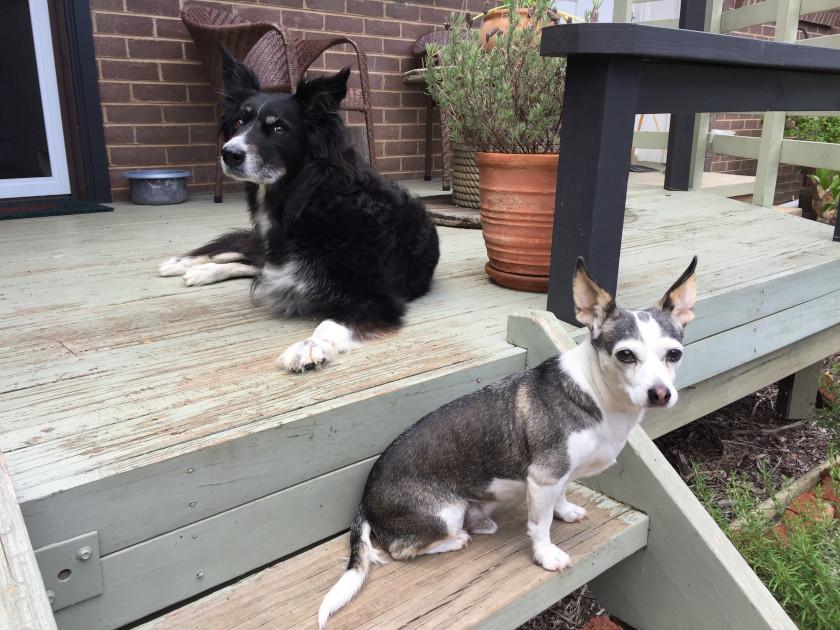 When we adopted Panda we specifically sought a dog who would offer company while not risking a high-energy dog who might end up over-stimulating Zig and causing him to over-use or injure his leg. It was the right choice for our little family, and although Zig regularly (and unsuccessfully!) attempts to get Panda to play with him, they clearly enjoy each other's company as we so often find them relaxing in the same part of the yard, or following each other around hunting interesting smells in the garden.
Did the angular limb correction surgery require different types of activity for your family?
For us, we are always thinking about Zig's mobility (and limits to his mobility) when we are making plans. We spend so much time with Zig (and now Panda), so when we are planning for example a trip to the coast, it's always looking for dog-friendly accommodation that will be suitable for Zig. For example, limited stairs, a nice shady grassed area, and a close distance to the beach for multiple, short visits.
We now walk him only in the wheels (though he is unassisted at home, always), so we tend to stick to the routes we know are suitable for him. We are lucky to live in a neighbourhood with plenty of greenspace, and dog-friendly nature areas nearby, but we know the tracks with good and not-so-good terrain for Zig in the wheels.
Ziggy is a local role model for special needs Tripawds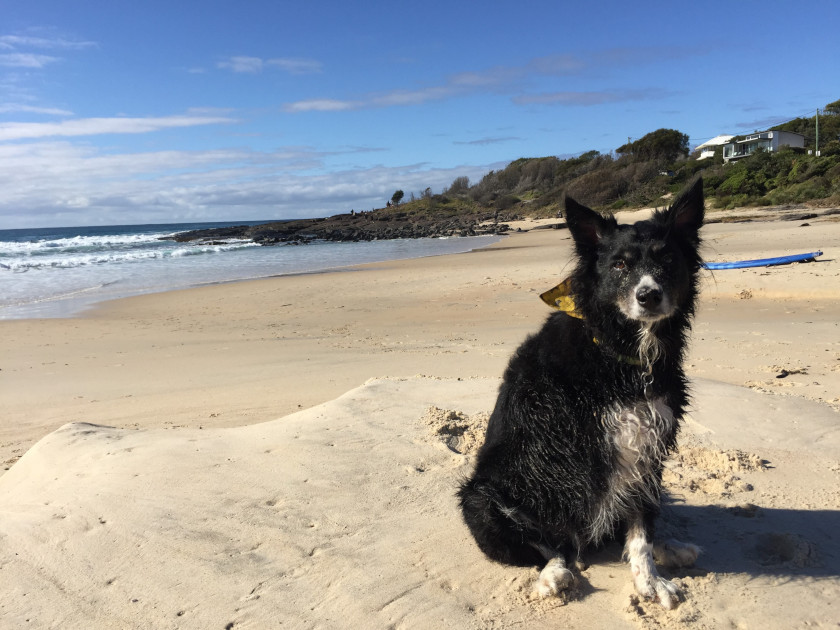 He is changing people's perceptions about "special needs."The other adaptation for us is sharing Zig's story with the many people we meet on the walks! A gorgeous and friendly dog in wheels invites lots of questions and discussion, which actually is a real highlight for us. We have connected with many local people and dogs thanks to Zig, and we absolutely love knowing that lots of people feel happy when they see Zig.
We also know, from conversations in our neighbourhood, that Zig's happy life is a real showcase of the potential for three-legged dogs. There are many people who have told us that Zig is the first dog they have seen in wheels, and that from seeing Zig they know that there are more options than they might have otherwise known for dogs with disability. And, for the more in-depth conversations we are always recommending Tripawds as an incredibly supportive and informative community!
Now that he's four years older, what kinds of changes, if any, are you seeing?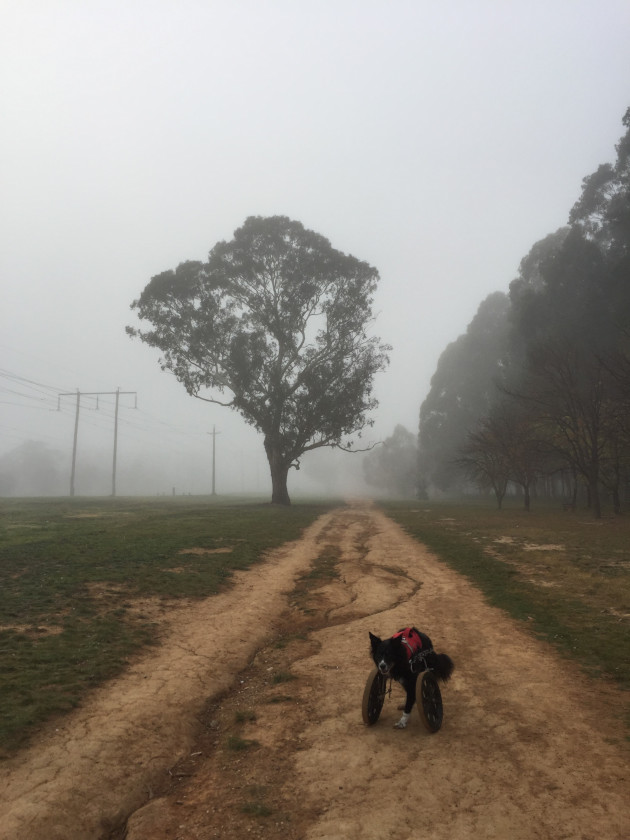 Zig is slowing down a bit – he will be more content to hang about at the house without demanding constant play time. But I must admit he still can be very demanding for a walk when he wants one, and certainly he will let us know if he is bored! Having spent so much time with us when he was a pup, he isn't very good at entertaining himself.
In terms of maintaining his well-being, perhaps the most important change has been the pain he has in parts of his body other than his front leg. The support from the physio has been excellent for helping us to understand the pressure points, and to work to relieve his discomfort. This includes tightness in his back legs and on top of his shoulders. I guess just like us humanfolk, as he is getting older he is needing some more care to keep in good shape! So, where we had previously been very focused on the 'health' of his one front leg, we are now more attentive to his holistic well-being.
Has he needed any follow up care from his veterinary surgeon team?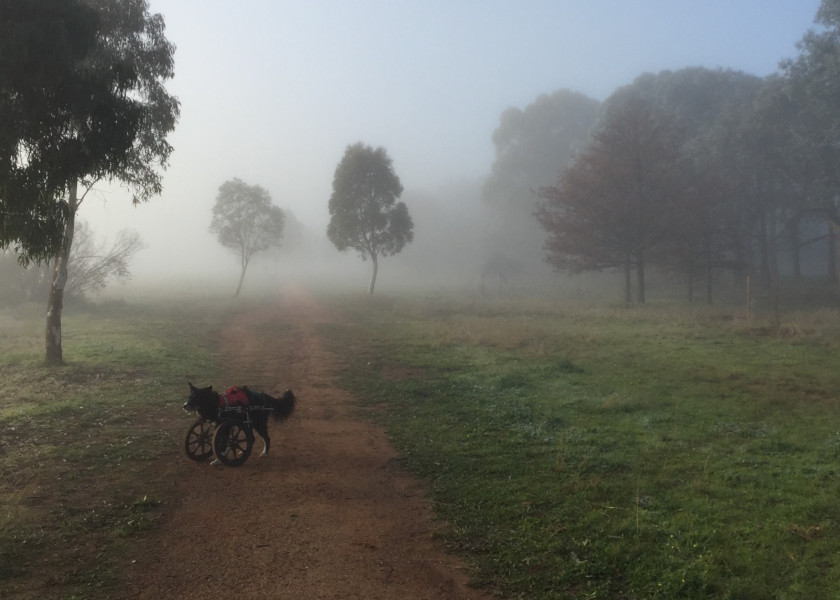 No, thankfully not in the way of additional surgeries on his front leg. We know that it is most likely he will need fusion of his carpus in the future (just like Tripawd Buddy in South Australia had a few years ago), so we are trying to prolong the time before that is necessary by keeping his leg protected and well.
Because we moved interstate, we are sad to be away from Dr Jayne who Ziggy and we love so much. She was just the most incredible, inventive, competent, kind, and supportive vet we can possibly imagine. Personally, we miss her! But, we are fortunate that we keep in touch with Dr Jayne and we know that the depth of her care for Ziggy means that we can ask her advice at any time. We have also found some great vets here in Canberra who we trust, as well as the physio, so we feel that Zig has a great support network around him should he need it.
What is your #1 advice for anyone considering an angular limb correction surgery (or other remaining leg surgery) for their Tripawd dog?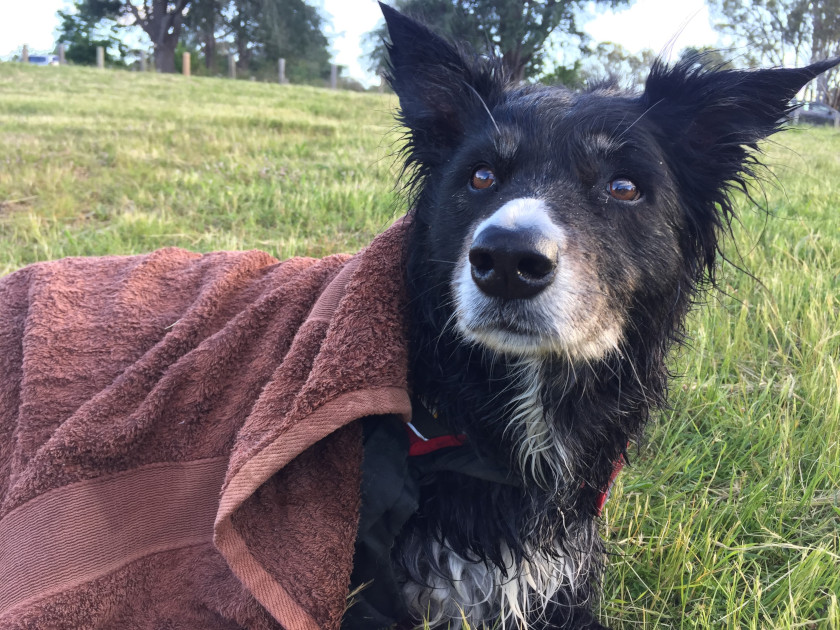 Thank you for asking this question! This is something I think about a lot, particularly as Zig's leg troubles really hit us emotionally. I think most important is to know that it is hard at first, but it will get better as their dog (or cat!) recovers. For Zig, after his first surgery which was to stop the angular limb deformity from getting worse, caring for a post-surgery tripawd was so unfamiliar and unexpected, and overwhelming. But each day he got better, and things became easier.
There were ups and downs as with any recovery, but seeing how great Zig is going now, and looking back, it feels so much more achievable with hindsight than it felt at the time.
Although we were fortunate to also have very caring and supportive friends and family, one of the challenges was what we felt was 'acceptance' for how significant Zig and his surgery were in our lives. I think for other tripawd parents, perhaps it is important to be prepared for other people to not understand nor appreciate what you are going through, to not take it personally, but to get used to emphasising to other people just how important these things are (not assuming everyone will understand by default).
Use gear to make remaining leg surgery recovery easier.
On a practical note, there was some equipment that really made a difference.
First and foremost, of course, was Zig's wheels from Eddie's Wheels.
We found Eddie's to be wonderful – the process of measuring Zig and ordering the cart was very well supported, and the team kept in touch to help us with adjustments and training Zig, and even now (5 years later!) they are happy to help us with arranging replacement parts. The wheels were essential for Zig's recovery from the corrective surgery, and now they are an important part of maintaining a high quality of life for him.
We were also so fortunate to have some very kind and caring people send us a Ruffwear Harness – thank you very much Tripawds!
This we still use as a general harness for Zig, but particularly when we needed to be able to help take some of the weight off his leg when he wasn't in the wheels, the harness was excellent for this.
Less significantly, but also usefully, as he had many months with a bandaged front leg, it was important to keep it dry to avoid skin problems. We had a 'Medipaw' boot which was really so useful.
It is a waterproof boot that was able to fit over his leg and bandage, and made 'going to the bathroom' so much easier than when we had been trying to keep his leg dry and clean using plastic bags. Our wonderful vet, Dr Jayne, also provided some unused sleeves from surgery gowns which were a wonderful help for the same reason and were useful when the medipaw boot didn't fit Zig's leg (for example, when his foot was sticking out the bottom of the cast, or when the cast was too wide).
During the recovery period it was important to keep Ziggy entertained – for his own mental wellbeing as well as avoiding the risk of him going wild and hurting his leg because he was too full of beans! So, luckily as a food-focused dog we could prepare frozen treats which would keep him entertained for quite some time, and we also devised ball games that he could play with us while he was lying or sitting down (e.g., rolling the ball to us with his nose).
Finding the best vet is so important.
And, it was so important to us that we had a wonderful vet who we could trust. We knew Dr Jayne loved Ziggy just as much as we did, so we trusted her without question. We were so fortunate to end up with Dr Jayne, and I can't imagine how things would have turned out without such an incredible vet.
For other tripawd parents who don't feel they can trust their vet, I would really encourage second opinions or additional consultations, as much as is possible, in the hopes that they too will end up with a wonderful vet like we did with Dr Jayne.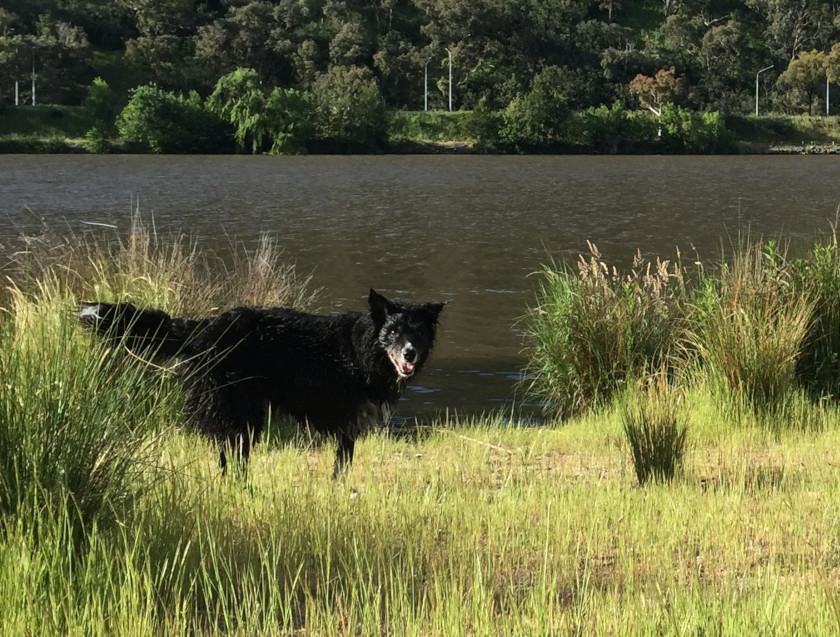 Follow your Tripawd's lead.
Finally – we can draw strength from our tripawds. While I was sometimes a bit overwhelmed or fearful of the future, Zig would always be doing his best to have fun and enjoy life in whatever form he was experiencing it at the time. Learning to follow Zig's lead and enjoy the present for what it is was a great help for us. Even when we were focused on carefully protecting his leg post-surgery, we still had so many laughs at his gorgeous, silly, kind nature.
Has your Tripawd had a canine angular limb correction surgery, or other procedure on a remaining leg? Comment below, we would love to share your story.