Osteoarthritis problems in three-legged dogs are one of the biggest challenges Tripawd parents will face. But the good news is that we can do lots to minimize the impact. Today you'll learn how, from the world's leading veterinary orthopedics expert Dr. Denis Marcelin-Little, DEDV, DACVS, DACVSMR, professor of Surgical and Radiological Sciences at the University of California at Davis.
This video chat with Dr. Marcellin-Little includes the second to last episode of our interviews with faculty members at UC Davis School of Veterinary Medicine from October 2019. This is just a snippet: catch all unabridged interviews on Tripawd Talk Radio.
How to Prevent and Treat Osteoarthritis Problems in Three Legged Dogs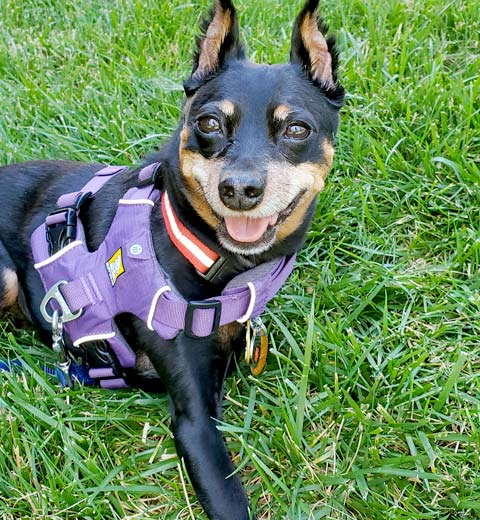 Watch below to learn from Dr. Denis Marcellin-Little. Today he shares his thoughts about preventing and treating orthopedic problems in three-legged dogs. Here's what you will learn:
Keep your Tripawd lean. Below-average weight on an animal is critical, and proven to slow down osteoarthritis effects. Weight is the one factor you have total control over, even more than exercise!
Stay alert for orthopedic problems. Front leg Tripawds are more prone to elbow and shoulder osteoarthritis. Rear leg Tripawds are more at risk of cranial cruciate injury. Early diagnosis and aggressive treatment leads to better outcomes.
Be aggressive with pain management. Use proven pain relief modalities like non-steroidal anti-inflammatory drugs (NSAIDs) to keep your pet moving and active. Once a pet stops enjoying physical activity, weight gain and osteoarthritis immediately follows and decreases quality of life.
Watch and Learn About Osteoarthritis in Three Legged Dogs
Listen below to the entire interview with Dr. Marcellin-Little on Tripawd Talk Radio or keep reading for the full transcript of our interviews.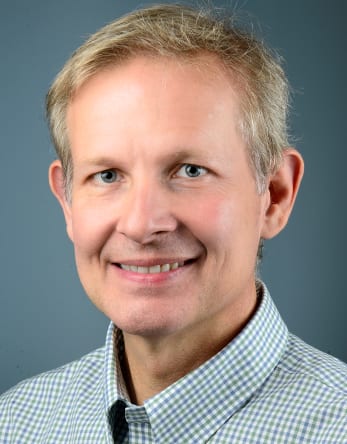 Transcript: About Osteoarthritis Problems
in Three Legged Dogs
with Dr. Denis Marcellin-Little
MARCELLIN-LITTLE: Good afternoon. My name is Denis Marcellin-Little. I am an orthopedic surgeon for small animal and I am now part of UC Davis faculty. I am very focused on orthopedic diseases and disability, managing disability, promoting locomotion, protecting locomotion or recovering locomotion.
TRIPAWDS: Let's say you have a young three-legged dog in front of you and it has no arthritis right now. The dog is healthy and looks like he's going to have a great life. What would you say to the owner about preventing osteoarthritis?
MARCELLIN-LITTLE: That's a good question about osteoarthritis because it's so common in dogs. We generally float a number of one dog in five having osteoarthritis and we don't even know these numbers are super real but it's basically super common. If your dog is an amputee, it's still going to be at a high risk of osteoarthritis.
Be Extra Alert for Osteoarthritis in Tripawds
Of course, amputees that are missing a back leg move a lot better and more easily than amputees who are missing a front leg. If I have a dog with a single front leg, I'm really worried about its elbow because that's the more common maybe osteoarthritis we've seen, fairly commonly in both the elbow and the shoulder.
In the shoulder, it's more discreet. It's better tolerated. You think about the shoulder, it's used in dogs, kind of in the middle of its reach so they don't really have to go fully extended or fully flexed. When they have osteoarthritis, they usually don't stretch their joint to the extreme which tends to be the more painful thing.
It's also a very loose joint, the shoulder relative to the elbow. And loose joints tolerate osteoarthritis better. The real risk is elbow osteoarthritis. And elbow osteoarthritis is very common in big dogs. Maybe one dog in six or so has it according to OFA statistics.
With elbow osteoarthritis, you are going to be using that joint very close to its full extension. That's going to be hurting. A lot of elbow osteoarthritis comes from elbow dysplasia and it's a bit of a genetic thing. You could look at the statistics first and see if my dog is in the list of dogs that commonly have elbow osteoarthritis. So start at the OFA.org and look at elbow statistics. It's available.
Keep your Tripawd lean.
We also want to do everything we can to slow down or minimize the expression and the progression of osteoarthritis. We are getting back to our discussion about being lean. Being light weight will greatly slow down the progression of osteoarthritis. We know that for a fact or from life-long studies. And so elbow osteoarthritis must be slowed down by being light weight. It's critically important.
Exercising regularly will keep you strong when you get to do it with caution (and that's not easy). Weight is really the one thing that you can predict and control the most.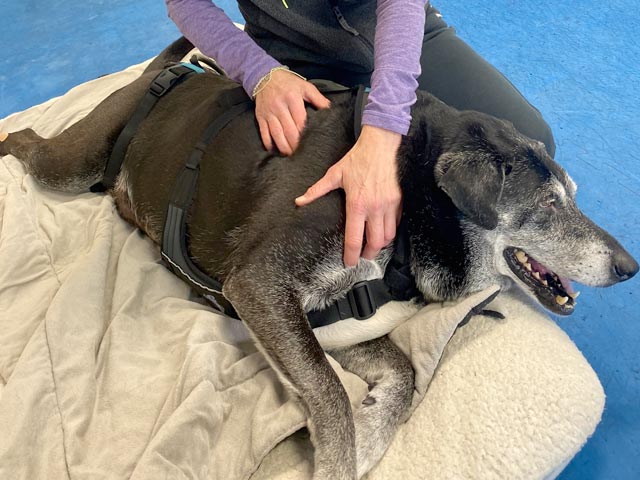 Medications tend not to really influence the course of the disease that much. Some medication promotes like corticosteroids which should be avoided because they are fairly detrimental to arthritic joints.
The non-steroidal anti-inflammatory drugs (NSAIDs) are fairly neutral except they alleviate pain. If your dog is in pain, they are really going to benefit from NSAIDs because they can stay more mobile, they can stay fitter if they don't self-limit or restrict their activity because of chronic pain. We really want to tackle pain more aggressively and more thoroughly by using truly effective methods rather than hypothetical methods. We want to focus on the clearly known like NSAIDs to alleviate pain so we don't go from acute pain to chronic pain and then lost of fitness. We want to avoid that.
More about rear leg Tripawd dogs …
From the back legs, we are in a better situation because dogs walk better when they're missing a back leg than a front leg. The joints we are going to be particularly worried about are going to be the knee and the hip. We also want to know what breed is going to be at risk of cruciate injury. There are good papers. The best one is from a gentleman named Witsberger in JAVMA that talks about the risk of getting cruciate injury*.
The same paper also looked at the risk of getting hip dysplasia based on different breeds. That's something that's important to discuss. Pay attention to avoid particularly strenuous exercise if you are at risk of a cruciate injury. And also, keep an eye on the hip joint, making sure that you don't develop a lot of hip pain from hip dysplasia.
*"Prevalence of and risk factors for hip dysplasia and cranial cruciate ligament deficiency in dogs." Witsberger TH1, Villamil JA, Schultz LG, Hahn AW, Cook JL.
Treat problems as soon as possible!
Just like for the front leg, we are particularly interested in slowing the progression of any problem that's already there, such as osteoarthritis in the knee or in the hip. And so, we are going to have to keep dogs lean. We are going to have to exercise regularly to keep them strong. Staying on top of it, if we think our dog has a problem, we should seek advice and get objective information as early as possible because problems treated early are going to be – maybe they are being managed the same way but the recovery will be a lot safer.
You can imagine, you had a TPLO and you only have one back leg, the fitter you are and the healthier you are, the faster you will get that episode behind you. If we wait until you can barely walk then your recovery will become both very dangerous and very challenging. So we want to avoid that. So we treat things rapidly, diagnose them. If we are unsure, we seek the help of somebody who can help us be sure. Manage things promptly and effectively.
(end of first video transcript,
Osteoarthritis Problems in Three Legged Dogs)
Watch this space for Part II of our interview with Dr. Marcellin-Little, "Considerations for Remaining Leg Surgery in Three Legged Dogs"