With a new decade starting, we wanted to share some Tripawds podcast stats for all our Tripawd Talk Radio fans. Not yet a listener? Subscribe to Tripawd Talk Radio on Apple Podcasts or wherever you enjoy podcasts and tune in for the best amputation recovery and care tips for three legged pets, and their people.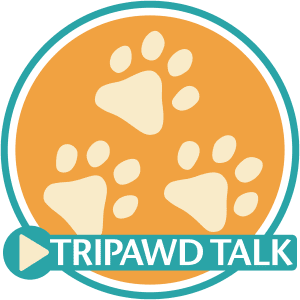 2019 Tripawds Podcast Stats according to Buzzsprout
Since first launched in February 2011, there have now been 91 Tripawds podcast episodes. In February 2019, we migrated Tripawds podcast distribution to the Buzzsprout platform. We now have a year of broadcast details from 2019, so here is a the year in review for Tripawd Talk Radio. Please provide some feedback to let us know how we're doing.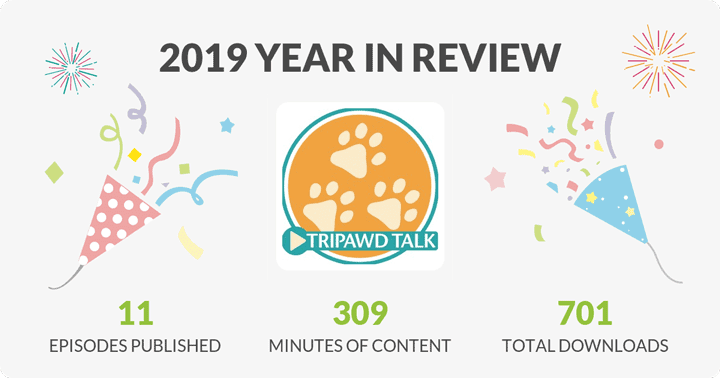 Tripawd Talk Radio published 11 episodes in 2019. The first was Learning from Tri-Pug Maggie's Mast Cell Tumor Amputation published March 01 and the last was Be More Dog: Learning to Live in the Now published December 13. Did we improve this year?
In 2019, the most popular episode of Tripawd Talk Radio was Six-Year Osteosarcoma Survivor Boone the Three Legged Hunting Dog, published May 08 and downloaded 189 times. What was your favorite episode?
In 2019, Tripawd Talk Radio was downloaded 40 times from Neosho, Missouri – our most popular city! Where do you listen from?
In 2019, Tripawd Talk Radio fans listened most using Apple Podcasts, Web Browser, and Apple iTunes apps. What's your favorite app for listening to podcasts?
In 2019, the shortest episode of Tripawd Talk Radio was Be More Dog: Learning to Live in the Now – a short teaser episode at only 00:09:44. The longest show was All About Orthpoedic Issues in Three Legged Dogs at 00:35:40. Do you prefer shorter or longer episodes?
Help Improve the Tripawds Podcast
Find all Tripawd Talk Radio episodes in the Tripawds Downloads blog. Many informative episodes can also be found with additional commentary and full transcripts here in the Tripawds News blog.
You can help make the Tripawds Podcast better by spreading the word. Share your favorite episodes on social media and tag @Tripawds on Facebook and #Tripawds on Twitter. Please be sure to subscribe and rate Tripawd Talk on Apple Podcasts to hear future episodes and encourage others to tune in.
Thinking of Podcasting?
Get $20 from Buzzsprout! We chose Buzzsprout for Tripawd Talk radio because it is the easiest way to host, promote, and track your podcast. Their pricing plans are very affordable, and as you can see, they offer thorough statistics. Sign up here, and we will both receive a $20 Amazon gift card!