There is never an easy time to say goodbye to our animals, but there can never be a worse time than when a dog or cat doesn't make it through amputation surgery. Today for Tripawd Tuesday, we are honoring one such special angel named Gus, who got his wings before he could ever learn to walk on three legs.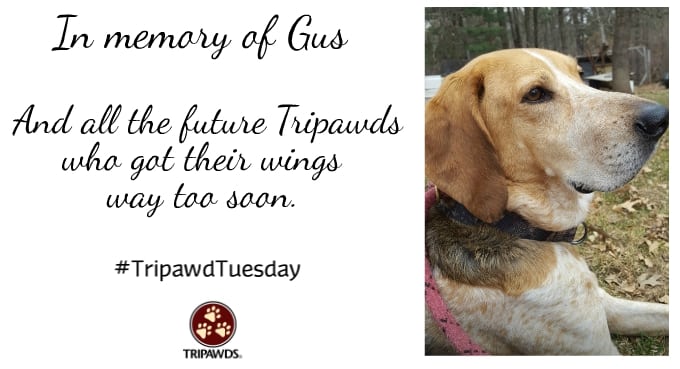 Gussie's mom Donna shared the following with us, shortly after he left this earth:
"This entire ordeal/experience whatever to call it i dont even know, has been one that was filled with SO MUCH HOPE & FAITH, but resulted in SOOOOOO MUCH HEARTACHE😢💔 I/WE all LOVE & MISS Our Sweet Gussie Pup SOOOOOOO DANG MUCH, but doin our damdest to start Living again.
Heading to the lake here in a bit with Our Other Sweet Baby "Spirit" , and as everything else it will be fun but its gonna hurt like Hell too, cuz our Gus Gus wont be with us anymore😢💔 this is the latest in the summer that we have ever gone for the first time, but with everything with Gus, we couldnt go before – we SURE HOPED & PRAYED TO, but it didnt work that way😢💔

Anyway, from All of us here – The "Gussie Family" ❤ I want to say THANKYOU to u and the others who talked with me on the phone, and helped answer many questions and bring us much comfort when we needed it, and for ur kind email and conversation i had with u on the phone yesterday…. the help and kindness will never be forgotten❤

THANKYOU AND GOD BLEES U ALL FOR WHAT YA'S ALL DO TO HELP THESE PRECIOUS DARLINS & THEIR FAMILIES❣"
To Donna and family, we are so sorry for your loss. May your Gus run on all four healthy legs and light the way at the Bridge for our heroes. His life will always be remembered and treasured in the Tripawds Community.
Read All Tripawd Tuesday Stories
Your Pet Can Star in Tripawd Tuesday
Each Tuesday, Tripawd dogs, cats and other critters from around the world can enter for a chance to be "Tripawd of the Week." Just share your Tripawd's story and you're entered to win! On every Tuesday of the week, tell us about your three-legged hero. Just follow these easy steps:
In a short paragraph or two (or longer if you'd like!), describe your three-legged hero's story.
Include photos or links to videos already uploaded to YouTube.
Include a link to your Tripawds Forum topic and/or Tripawds blog, social media handles, etc.

Email your story and photos

to us.
All entries must be received by Saturday at 11:59 pm. One Tripawd story will be selected at random to be featured the following Tuesday.