Every day scientists around the world are working hard to discover breakthrough pet cancer treatments. This year the biggest canine cancer study to date will enroll 800 healthy dogs in order to test the viability of a vaccination against canine cancer. If the vaccine is successful, it could serve as a catalyst for researching a cancer vaccine for humans.
Closer than Ever to Cancer Prevention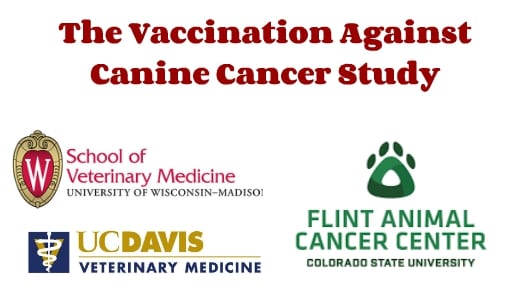 Unlike the exciting Canine Osteosarcoma Vaccine breakthrough, which treats cancer metastasis after diagnosis, this research will study an actual cancer prevention vaccine. "The goal of the VACCS trial is to evaluate a new vaccine strategy for the prevention, rather than treatment of dogs with cancer," explains the VACCS information web page.
The VACCS comes after more than a decade of cancer vaccination research in mice, conducted by Stephen Johnston, director of the Biodesign Center for Innovations in Medicine at Arizona State University. Earlier this year he was awarded $6.4 million to collaborate with veterinary teaching hospitals that will test the vaccine's efficacy in dogs.
Led by Colorado State University's Flint Animal Cancer Center Director of Clinical Research Dr. Douglas H. Thamm, VMD, DACVIM (Oncology), the study will hopefully lead to an affordable cancer prevention inoculation for dogs. Dr. Thamm explained to us that it's possible the vaccine could be available in the veterinary marketplace within a decade.
"The first "interim analysis" of the outcome information is planned for 2 years after the study starts," says Dr. Thamm. "If the vaccine is spectacularly effective, it is conceivable that a product could be available 1-2 years thereafter. More likely, the study will need to go on for 5 years, and if results are positive, that would mean a product could be available 6-7 years from now."
How the Vaccination Against Canine Cancer Study Works
Half of participating dogs will get the vaccine, the other half will get a placebo. "The study will be 'triple-blinded,'" explains Dr. Thamm. "Neither the investigators, nor the owners, nor the dogs will know who's getting what."
Upon enrollment and receiving the vaccine, the dogs' health status will be tracked for the next five years of their life. Twice yearly, Dr. Thamm and his colleagues will be looking for immune responses to the vaccine. Conventional blood work will be performed and each dog will receive a booster vaccine (or placebo) once yearly.
If cancer develops while the dog is enrolled, the participating university will provide some level of financial help for treatment. "The financial help is the same whether the patient is receiving vaccine or placebo," says Dr. Thamm.
Who Qualifies for the Canine Cancer Vaccination Study?
Researchers are gearing up to enroll 800 healthy, cancer-free dogs at the trial research sites:
Colorado State University · Fort Collins, Colorado
University of California – Davis · Davis, California
University of Wisconsin – Madison · Madison, Wisconsin
You must live within 150 miles of these sites to enroll your dog. No exceptions will be made.
If you think your dog qualifies, please visit the VACCS information page to review requirements for the ideal canine candidate, such as:
Older than 6 years
Weigh at least 12 pounds (5 kg)
No history of previous cancer
No significant other illness that could result in a life span of less than 5 years
No history of previous autoimmune disease
No current treatment with oral or injectable immunosuppressive medications such as prednisone, cyclosporine, mycophenolate, or tacrolimus
Be one of the breeds listed on the VACCS information page.
If your dog qualifies, sign up to day to get notified on when VACCS recruitment will begin.
Recommended Reading
Scientific American: A Shot against Cancer Slated for Testing in Massive Dog Study