Getting to know Tripawds members online is fun, but a local Tripawds party in your neighborhood is simply unforgettable. If you've ever thought about meeting Tripawds friends in real life, we highly encourage it! Recently we had the pleasure of meeting up with the amazing osteosarcoma survivor Super Stu and his talented tribe, Allensong at their home in beautiful British Columbia, Canada. What a great time!
Two Terrific Tripawds and their People Party in Canada
The Tripawds Nation was born because Spirit Jerry loved meeting new people and seeing new places. When he was diagnosed with osteosarcoma and we were told he had just six months to live, we figured what better gift for our hero than a never-ending road trip! It was the perfect medicine for Jerry, who thrived until he took his last breath on October 3, 2008.
Ten years later, Tripawds Spokesdog Wyatt Ray carries on Jerry's tradition with us as we roam the continent in our dog house on wheels. Presently we are headed north to Alaska for summer, so there was no better time to arrange a gathering with the one and only Super Stu, his feline family members Chester, Spikey, Miss Lily and Teddy. Oh and of course his people, the dynamic singing duo, Petra and Paul.
Big Dogs, Big Hearts and Beautiful Friendships
Meeting another Tripawds member is like running into an old friend. When you finally meet in person, you realize that the internet friendships formed in this community are as genuine as you had hoped. The conversation and laughter flows freely as you chat about everything under the sun, but always circling back to the incredible inspiration and love that a Tripawd brings into your life.
Meeting Stu's pack was no exception, and even more fun that we ever imagined. Just take a look!
Stewie is such a sweet, loving dog and such a gracious host to us! What an honor to visit his kingdom, pet his lovely fur and stroke those soft fuzzy ears of his. That gentle giant is beating the odds and doing so well. He lives on a lakefront paradise where he can watch over the pack, protect them from mischievous gophers and even bears!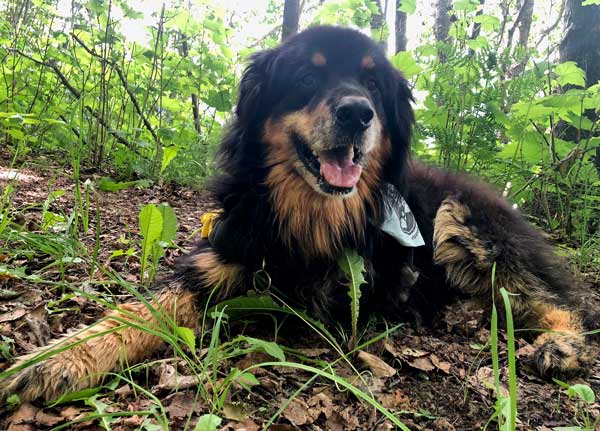 Mother Nature's magic has been so good to him that in one month Stu will celebrate one year as a Tripawd.
As for his talented people, they went out of their way to make us feel right at home. By the time we left their tiny mountain town it was like saying goodbye to old friends. We hope to visit them again when we fly south for winter in the fall.
Petra and Paul have created a special surprise for the Tripawds community, but you'll have to wait until next week for the grand unveiling!
How to Plan Your Own Tripawds Party
People always ask us "Are there Tripawds chapters in my city?" To that we say: "Why yes, and you're the first member!" A Tripawds chapter is as close as you want it to be when you take charge and organize a Tripawds party.
Summer is here, don't wait! Ask all the Tripawds friends who met up last weekend: there's no better time to plan your own Tripawds party.