On September 16 the three legged nation rocked Chicago and Lancaster Pennsylvania. In two different cities at different parts of the U.S., Tripawds represented like superstars at the PuppyUp Chicago event and Meet The Rescues held by our friends at That Fish Place – That Pet Place.
Pennsylvania Bud Spotlights Tripawds Foundation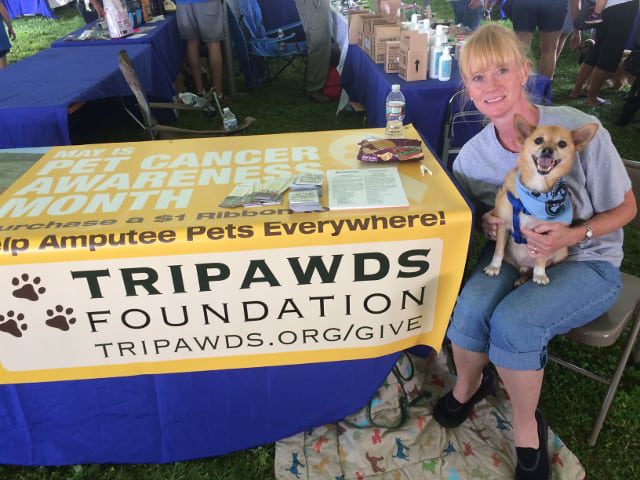 Our hero Bud and his momma Kim spent a lovely Saturday getting the word out about why Tripawds make pawesome pals. They represented Tripawds at Meet the Rescues, an annual event that showcases animal welfare organizations doing great work for everyone from dogs and cats to pigs and horses!
"The weather was beautiful and they had a really good turn out for the rescue event," said Kim. "Made me laugh…I must have been asked 40 times if Bud was available for adoption….uuummmm…no!! lol"
Handsome Bud was irresistible, don't you agree?
"How bout that little boy…..he just came over and knelt down so gentle beside Bud and starting kissing and kissing him," Kim told us.
We are so grateful to the folks at That Fish Place – That Pet Place. As Tripawds supporters during pet cancer awareness month their large presence in the Lancaster animal community helps Tripawds Foundation programs thrive and gets the word out to more people than ever.
The Midwest Tripawds Crew Rocks Chicago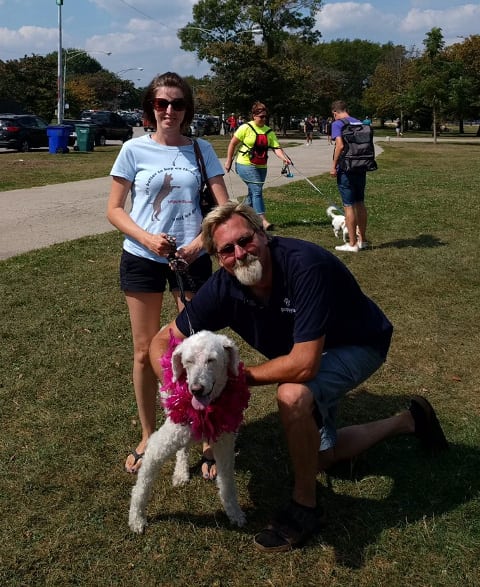 Back in Chi-Town, Cadence and her mom Heather carried the Tripawds banner at PuppyUp Chicago. This inaugural event raised nearly $40,000 for comparative oncology research grants to veterinary and human medical researchers.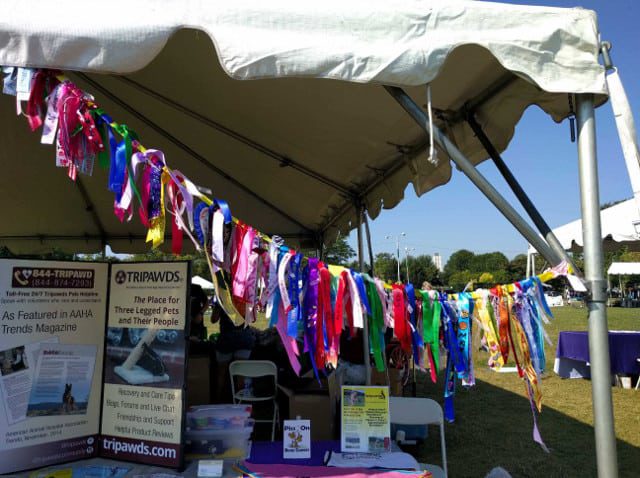 Along with Cadence and Heather, Team Tripawds was also represented by Angel Neka's mom Stephanie, and Crazy Roscoe's mom Santiney. She attended on behalf of Rosco, who was at home recuperating from amputation surgery.
"I'm glad I was able to meet these two great women in person and Cadence is so sweet and spunky-what a great spokesdawg!" Santiney told us.
Team Tripawds happened thanks to the hard work of Christine Castellano, mom to Gator, Angel Otis and Spirit Tess. She did the hard work of helping pawesome Team Tripawds supporters raise $3,290. This made us the third highest fundraising team at the event. How perfect because 3 is the magic number around here.
And even more notable was that Christine was the highest fundraiser at PuppyUp Chicago!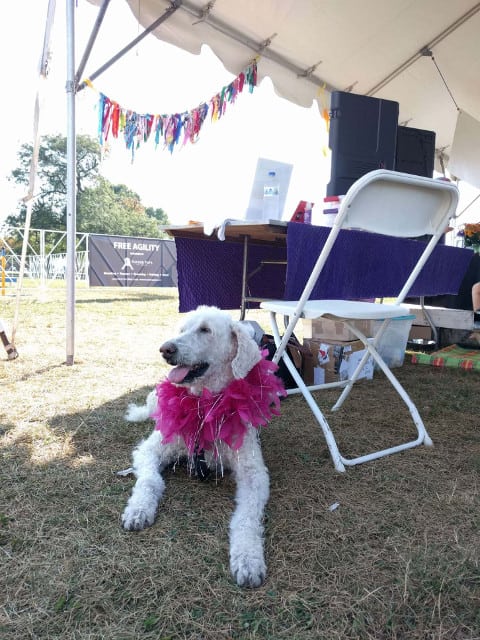 The best part is after everything is tallied, PuppyUp is donating 20 percent of Team Tripawds' fundraising efforts back to the Tripawds Foundation. Thanks to everyone who helped make this our best PuppyUp yet!
How to Represent The Tripawds Nation
Want to show the world what three-legged animals can do? If there's an event in your town that you'd like to attend as Tripawds, please contact us today so that we can exchange ideas about how you can help get the word out where you live.