Tripawds Nation, get ready for your close up at the 2017 Western Veterinary Conference! This week over 14,000 attendees are discovering the magic of our amazing three-legged heroes and their people at the Manadalay Bay Convention Center in Las Vegas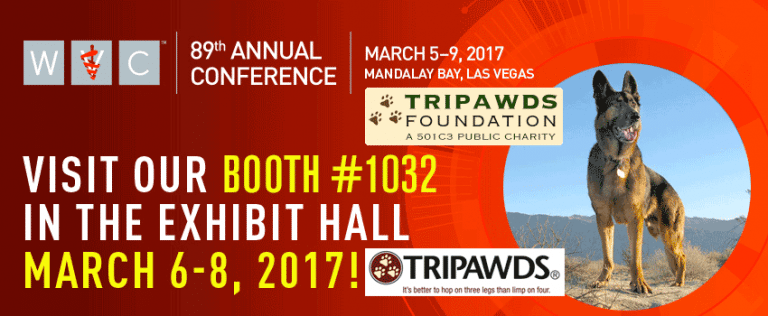 Look Out, Here Comes The Tripawds Nation #WVC2017
Exhibiting at veterinary conferences is one of our most effective ways to get the word out to our vet friends. Because when a vet drops the amputation bombshell to a stunned pet parent, they can lessen the blow right then and there by pointing them to you, Tripawds nation. From the support in our Discussion Forums, to the Tripawds Chat Room to our photo gallery and beyond, a pet parent can leave a clinic and get support they need to make an educated decision about amputation.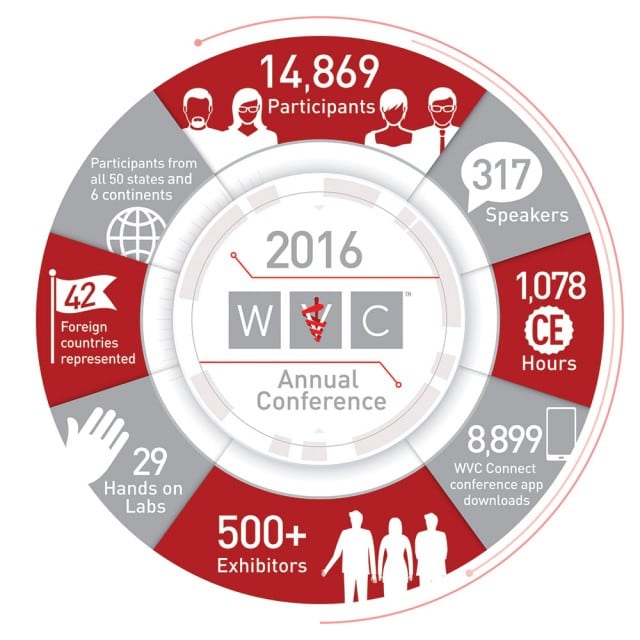 Thanks to generous Tripawds Foundation donors and with extra support from Tripawd Homer's humans, the Shack Family, we have a spiffy exhibit that shows off Tripawd cats and dogs loving life on three legs. With special low-pricing on exhibit space for non-profits, we're sharing the news about Tripawds Foundations programs like our new Tripawds ASAP veterinary financial aid fund.
Tripawds Spokesdog Wyatt Ray is also an irresistible lure for visiting vets in need of a fur fix when they visit our booth. As a bonus, he can show off the benefits of rehab therapy to general practice veterinarians. And since Tripawds Headquarters is in the RV where we live all year, there's no need for us to get a hotel room. It's a win-win for everypawdy!
Watch Tripawds News all week long as we share quick pointers and tidbits from our biggest event yet. We're also attending several educational sessions about pet cancer, pain management and orthopedic breakthroughs. When the conference is over, you'll get the latest news in the vet community that can help your Tripawd live a long, healthy and hoppy life!
Follow Tripawds at #WVC2017 on social media!
[social_icon url="https://tripawds.com/feed/globalpostsfeed" profile_type="rss"window="yes" title="RSS feed for All Tripawds Blogs" icon_url="https://tripawds.com/wp-content/blogs.dir/1/files/2018/09/social_rss.png"] [social_icon url="http://twitter.com/tripawds" profile_type="twitter" window="yes" title="Follow Tripawds on Twitter" icon_url="https://tripawds.com/wp-content/blogs.dir/1/files/2018/09/social_twitter.png"] [social_icon url="https://facebook.com/tripawds" profile_type="facebook" window="yes" title="Like Tripawds Facebook Page for Ebook Coupon!" icon_url="https://tripawds.com/wp-content/blogs.dir/1/files/2018/09/social_facebook.png"] [social_icon url="http://youtube.com/tripawds" profile_type="youtube" window="yes" title="Tripawds YouTube Channel" icon_url="https://tripawds.com/wp-content/blogs.dir/1/files/2018/09/social_youtube.png"] [social_icon title="Tripawds Instagram Photos" url="https://www.instagram.com/tripawdscommunity/" profile_type="googleplus" icon_url="https://tripawds.com/wp-content/blogs.dir/1/files/2018/09/social_instagram3.png" window="yes"]