There's so much news from the #AAHA2016 conference to share! Last week we told you about new therapeutic advances for canine osteosarcoma. This week, we're going to share what we learned during a session called "Top 10 Recent Advances in Veterinary Oncology."
Pet Cancer Questions, Answers and Then Some
This session was led by Dr. Phillip Bergman, DVM, MS ,PhD, DACVIM (Oncology). He's been a veterinary oncologist at New York's Katonah Bedford Veterinary Center since 2007. Dr. Bergman is also, among many other notable roles, the director of clinical trials for VCA Hospitals and an adjunct faculty member of the Memorial Sloan-Kettering Cancer Center. Whew!
In this AAHA 2016 session he had lots of oncology news to share. Some applied to us, some didn't, but Dr. Bergman touched on many ongoing discussions we often have here, including:
Can a primary care vet give chemotherapy as effectively and safely as an oncologist?
"I'm a sincere believer that primary care veterinarians can do chemotherapy as well as I can," he said. But he added one important caveat: The veterinarians he's referring to are those who are very interested and immersed in oncology.
"They're what I call an 'onco groupie,' he explained. "They take everything in from the literature that they can. Those are the people that I trust." At a bare minimum, a primary care veterinarian who wants to administer chemotherapy must have a closed delivery system and a chemo hood, says Dr. Bergman.
A Closed Delivery System reduces everyone's exposure to hazardous chemotherapy drugs, which can burn or leak into the atmosphere if improperly delivered. It guarantees that no drug leaks out of the syringe into the air or on the staff or pet's skin during treatment.
A Chemo Hood is explained by Dr. Kim Freeman in her excellent article "Chemotherapy Safety for Pets and Veterinary Staff." She tells us that a Chemo Hood "has special ventilation so that anything spilled in the hood is pulled out of the building and prevents the staff and your pet from inhaling toxic drugs."
If you're coping with pet cancer and considering allowing your primary care vet to administer chemotherapy, why not ask things like:
how long have you been giving chemotherapy?

why do you do it and how often each month? Is it something you enjoy doing?

And the most important question: what kind of safety measures do you have in place for my dog and your staff?
Should You Amputate with Local Lymph Node Metastasis?
This was another interesting question posed during Dr. Bergman's discussion. To set the stage, he bega by stating what oncologists like Dr. Sue Ettinger have been telling us: a physical examination and palpating the lymph nodes "is not a reliable methodology" to determine metastasis. Local lymph nodes near the tumor should always be tested with a Fine Needle Aspiration (FNA) prior to surgery in order to ascertain if cancer has metastasized.
It's now known that a FNA's results are sensitive enough to change the prognosis and therapies, especially for aggressive cancers like osteosarcoma.
"A lymph node positive is a red light for surgery with osteosarcoma," he explained. "It's rare when it does that but when it does, it's a less than 60-day survival odds."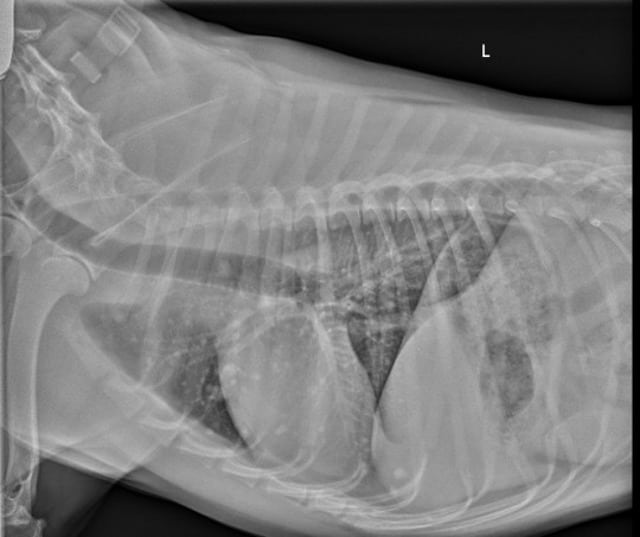 Should You Amputate if Mets are Found in a Chest CT Scan?
When it comes to determining if amputation should be attempted, vets will typically take thoracic radiographs (x-rays) to look for lung mets. If mets are present in x-rays, most vets will say "Don't amputate." This is an area of much debate in our community that Dr. Bergman addressed.
Instead of radiographs, he recommends doing pre-surgery CT scans. That's because CT scans are far more sensitive in picking up mets. But if mets are discovered, the questions still remain: How long will the patient have if the lung mets are undetectable with standard x-rays? Should amputation be performed?
Nobody knows the answers according to Dr. Bergman.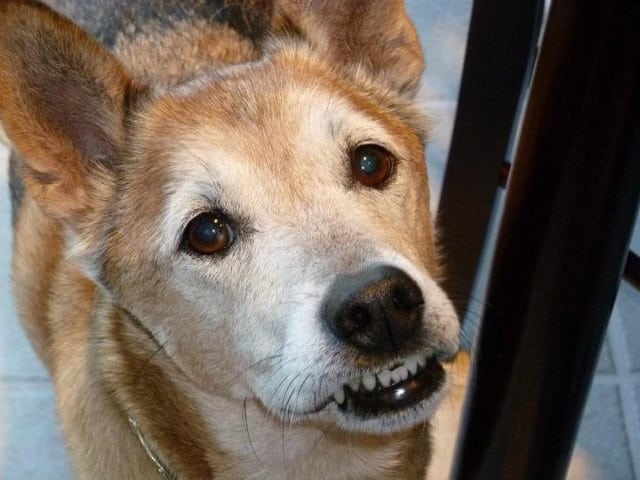 A good example of this puzzle is Zeus, whose people proceeded with amputation although mets were found on his CT scans. To everyone's delight, this amazing Tripawd recovered well and ended up beating the odds and living much longer than the standard osteosarcoma prognosis.

Cerenia: The Best Way to Help Dogs with Chemotherapy Nausea
The discussion turned to new supportive measures for coping with the chemotherapy side effect of nausea and vomiting.
Dr. Berman explained that current studies show only 10-20% of pets going through chemotherapy have vomiting and nausea. However, he added that "I think we under-predict the number of patients that have nausea. I think it's actually in the 50-90% range."
Average sized dogs have about a 10% chance of being affected by nausea, vomiting or diarrhea during chemotherapy, but smaller dogs have a slightly increased risk according to Dr. Bergman. To cope with chemotherapy nausea, he says that prescription Cerenia is the solution.
"I thank God they gave us this drug," he told us during the session. He added that new studies indicate Cerenia is safe to use long-term and as a preventive measure for dogs undergoing Doxorubicin chemotherapy.
Palladia: All Dogs are Good Candidates
Palladia is one of the most exciting drugs to treat animal cancer patients in decades. "It has a very high overall response rate, better than single agent chemotherapy and similar to multi-agent chemotherapies," Dr. Bergman explained. "We now know that for dogs with metastic osteosarcoma, these dogs can actually have six months, nine months, 12 months with metastatic tumors that respond to Palladia!" he told us.

But like anything, Palladia has side effects. For starters, "It's not a trivial expense drug," he said. "It's also a drug you can get into trouble with if you use the wrong dose," warned Dr. Bergman. He went on to explain the importance of a veterinarian taking time to warn pet parents about all possible side effects. For example, if a dog stops eating while taking Palladia, things can rapidly escalate into a life-threatening situation. "I've been using the drug 15 or 16 years and I still learn from it. It's such a bizarre drug in some of the types of side effects," he said.
We asked Dr. Bergman, "Which dogs are good candidates for Palladia?" He explained that all dogs are good candidates for Palladia, with the exception of dogs who have a history of gastrointestinal issues. For all the rest, it doesn't matter how big the mets are, "We've seen dogs go a year out on it," he told us.
Next Week: Amputation Surgery News from AAHA 2016!
As we always say here at Tripawds, we aren't vets – not even close. But we do love learning from these compassionate animal caregivers and owe much to Dr. Bergman for taking the time to share and explain things that can help our Tripawd heroes be stronger and happier than ever. We hope to have him as our honored guest on Tripawd Talk Radio later this year.