They say our animals choose us and when it comes to today's Tripawd Tuesday hero, they're so right. Sweet Tika had a ruff start in life but thanks to kind-hearted rescue folks she healed and made her way to her furever home, where she's lighting up their life every single day. Here's her Tripawd love story as told by her momma, Rachel.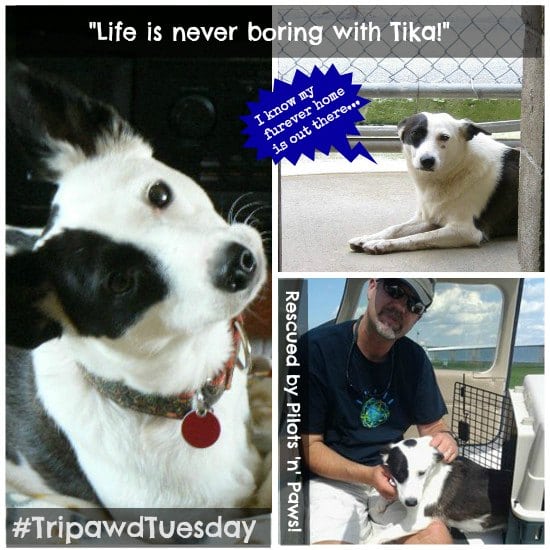 "She was a foster . . .and Stole Our Hearts"
by Rachel Hopple
We knew we could do it….I was a retired teacher now, and what was one more dog, added to our 4, ages 2-15 yrs.? After all, she was a FOSTER…we'd only have her through her knee surgery for a few weeks……
Right.
Tika was flown up here to Ohio by Pilots N Paws, from a shelter in KY, where she'd been rescued as a stray with a broken knee to Buckeye Border Collie Rescue here in Tiffin, Ohio (where I also volunteer as applications coordinator). Here are some pictures of Tika with the pilot…and with 4 legs… she was then about a year old and wasn't using her left front leg at all.
She met our furry crew of 4 dogs and 2 cats a day before surgery. The day of her surgery came and the 2 vets working on her could not get the knee to stay in place; it had been out of the socket for too long…and so, the decision to amputate.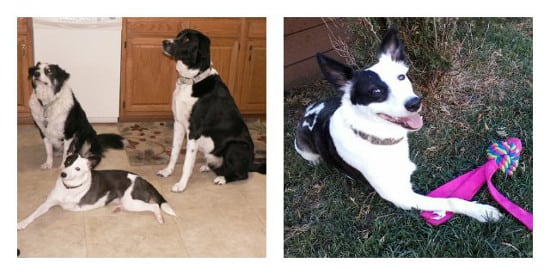 24 hrs. later she was in our care, and soon after that, she was maneuvering off of the deck steps out into the fenced in backyard. Her recovery was fast and unremarkable. However, SHE was falling in love with our 90# giant border collie/lab/great dane mix, Satchel, and WE were falling in love with this little (30#) border collie/jack russell terrier mix named Tika.
She stole our hearts, and we adopted her…she has truly shown us what JOY can be….joy in EVERYTHING….walks, swimming, romping with her buds, tearing around after her tennis ball, being an ambassador for disabled animals, and just loving life…absolutely.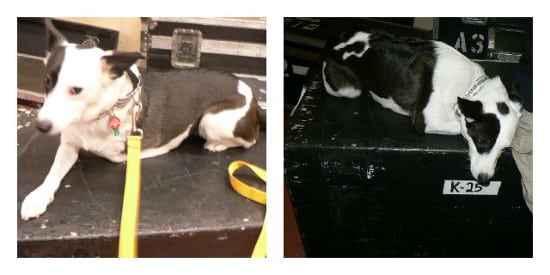 With her friend Satchel, she was a presence backstage in our historic Ritz theater before 2 concerts over the year…Huey Lewis & the News, and Peter Frampton. This was requested in the bands' contracts as a "soothing presence" backstage for the set up crew a few hours before each concert.
And, she accompanied me to the 2nd grade class where I volunteer to be with me while I read the story by Sandra Philipson "Annie Loses her Leg but Finds Her Way." Tika now has 28 best friends in that classroom!
Life is never boring with a Tripawd; we treasure every second we have with ours.
Share Your Tripawd Tuesday Tale!
Each Tuesday, Tripawds from around the world can enter for a chance to be "Tripawd of the Week.†Just share your Tripawd's story and you're entered to win! On every Tuesday of the week, tell us about your three-legged hero here in the Tripawds Discussion Forums or on the Tripawds Facebook page. Just follow these easy steps:
In a few short sentences, describe your three-legged hero's story.
Include a photo or video.
Include a link to your Tripawds Facebook page, Forum topic and/or Tripawds blog (if applicable)
All entries must be received by Saturday at 11:59 pm. One Tripawd story will be selected at random to be featured the following Tuesday.