You may have heard about "Super Bugs" making it hard for humans to beat infections, but did you know these antibiotic resistant bacterial infections can happen to our pets too? In fact, "MRSA" or "Methicillin-Resistant Staphylococcus Aureus" is becoming far more common these days within our own community.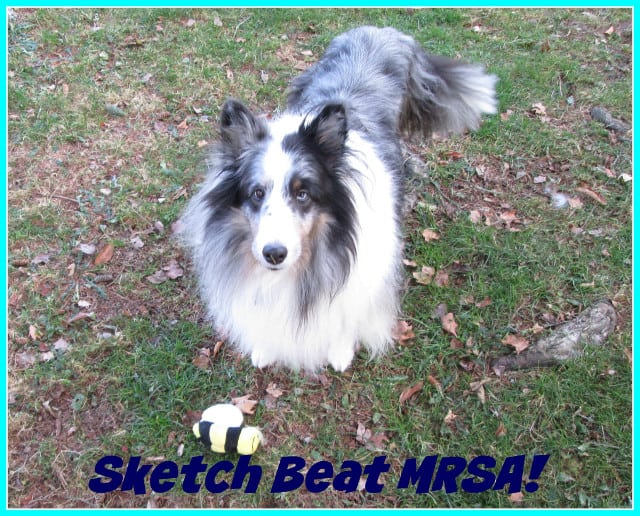 Sketch was the most recent member of our community to get hit with MRSA. His mom Trini explains their terrifying ordeal in this Forum post.
"On Sept 21, our Sheltie boy, Sketch, underwent rear leg amp due to Fibrosarcoma in his femur.  On October 23, Sketch's previously healed incision cite became infected.

Initially, until the lab culture results came in he was put on Smz-Tmp, an antibiotic which has no effect on MRSA and he was taken off this antibiotic as soon as lab results ID'd MRSA. Strangely, our vet then put Sketch on Cephalexin which was recommended by the culture test, even though all literature on MRSA lists the Cephalosorins as ineffective against MRSA even if it appears to be effective in vitro.  Sketch's infection was rapidly getting worse and had spread out to 6-8″ past the incision area itself."
Thankfully, Trini was a tireless advocate who did her research for Sketch and discovered a drug called Amikacin that showed promise. Here's what she learned:
"Amikacin is typically administered via injection and reading up on Amikacin injections was sobering…potential kidney damage, eye sight loss, hearing loss and loss of balance.

After reading well over 30 articles on Staph aureus and MRSA treatment with Amikacin, I came across a one sentence mention from a compounding pharmacy in NJ that Amikacin can be made into a topical spray which is effective against skin, eye and ear infections of MRSA…and administered as a topical it carries almost no potential negative risks.  I printed out this article and took it into our vet who did further research and found the "recipe" for topical Amikacin from a vet specialist in TX…Trizedta Aqueous Flush 4 oz mixed with Amikacin Inj 250mg/mi (perCc)."
The Amikacin worked great for Sketchie!
"Progress has been nothing short of miraculous. Almost all visible infection is cleared up with only a couple of tiny spots still evident."
MRSA is devastating for the whole pack, and it can turn deadly if you don't act fast enough. If you suspect your pet has an infection, please urge your vet to test for MRSA and take quick steps to combat it.
Learn more about MRSA:
Tripawd Discussion Forums, Sketch's Story: Beating MRSA infection.
Tripawds News Blog: Get the MRSA Facts for Dogs, Cats and People
Blue Pearl Vet: Methicillin-Resistant Staphylococcus: What Do We Do?