Through the years our Tripawd kitty members have consistently proved that three-legged cats are exceptionally resilient after a leg amputation. Sebastian is one such kitty.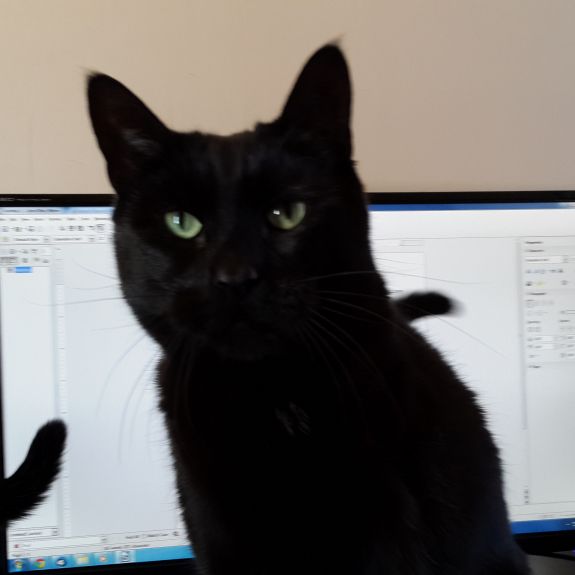 But even though cats bounce back right away (even faster than dogs!), feline parental slaves still need to keep some considerations in mind. Who better to share great tips for Tripawd Cats than Sebastian, a 7 year old black cat. He had his front left leg amputated in March 2014 because of an aggressive tumor.
On Sebastian's One Year Ampuversary celebration, he shared these tips with us:
If you translate to human talk, Sebastian would say:
Joint Supplements are a Must
"I started Sebastian on Dasuquin supplements within a few weeks of his amputation," says his human. "It's powder you sprinkle on his food. I wasn't sure if it was doing anything, so after a while I took him off of it and sure enough, he became less active and would even stop to lick his front leg (indication of discomfort). So he's back on that and the maintenance dose is quite simple – one capsule of powder every other day or so.
Building Muscle Takes Time
Next, his human tell us that "Over a month or two he got more and more active and hesitated less. And then we actually started to notice his right arm was getting visibly bigger. The boy's got some serious muscle now! But it took some time – so if your tripawd has slowed down a bit, be patient. You'll be amazed."
Massage Helps Sore Muscles
"I just lay him down on his amputated side and give his remaining shoulder a good massage," says Sebastian's human. "He LOVES it. He purrs, drools, and chirps in a strangely cute way."
Paranoia Can Be a Good Thing
As you can see, Sebastian is loved. "I do worry about Sebastian falling from high up, or getting his claws stuck in something," his human writes. "He's the clumsiest cat I know. I now keep the claws on his front foot trimmed so that he can't get stuck in something and be hanging by one arm (eek). And we recently tore apart the giant cat tree we built and will be building a safer one in the next few months (one that his jerk brothers can't push him off of)."
Are you owned by a Tripawd Kitty? If so, we'd love to hear your tips too! Comment below or send a guest blog post to us!