The idea of animal rehabiltation therapy, conditioning and pain management is relatively new to veterinary medicine. As recently as 2006 when our community was founded, dogs and cats were released from the hospital with no further direction, because everyone assumed that Tripawd animals could just go on with life without additional specialized care.
But less than 10 years later, things have changed thanks to the rise of veterinary rehabilitation therapy and better pain management protocols. Today, the best vets are trained in these two key areas and they consistently advocate for ongoing rehabilitation therapy, conditioning games and monitoring of a Tripawd's activities and diet to ensure a great quality of life.
Without a conscientious effort by a Tripawd parent, three-legged dogs and cats are at increased risk of injury, osteoarthritis and other painful conditions caused by the wrong amounts and types of activities.
Apply Now for the Tripawds Rehab Reimbursement Program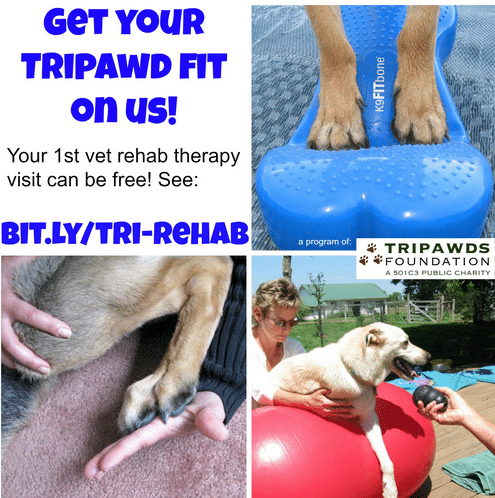 As part of our mission to help Tripawd dogs and cats live stronger, healthier and happier, the Tripawds Foundation wants to help more members experience the benefits of veterinary rehabilitation therapy. The Foundation is now granting up to $200 in reimbursement to the first five registered Tripawds members who visit a certified animal rehabilitation therapist for a first time evaluation.
What Veterinary Rehabilitation Therapy Can Do for Your Tripawd
Evaluate your Tripawd dog or cat to look for areas that need improvement.
Help you understand where your Tripawd might be experiencing pain, and how to alleviate it.
Create an exercise and diet just for your Tripawd
Show you games, activities and other fun things you can do at home to help your Tripawd
Be a ready resource if your Tripawd ever develops chronic pain issues (a real issue with three-legged animals).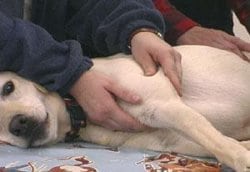 Think you can't afford rehabilitation therapy for your Tripawd? Think again! The Tripawds Foundation is paying for the initial evaluation, which is usually the most costly part of rehabilitation therapy. After the evaluation, you and the practitioner can develop an affordable plan to meet your budget.
Think there aren't any CCRT or CCRP veterinary rehabilitation therapy practitioners near you? Check out the Canine Rehabilitation Institute's "Find a Therapist" directory. Many members have been shocked to discover a qualified therapist was closer than they imagined. If you still can't find one, you can always do a telephone consultation with renowned vet rehab therapist Debbie Gross, which would be covered by the program.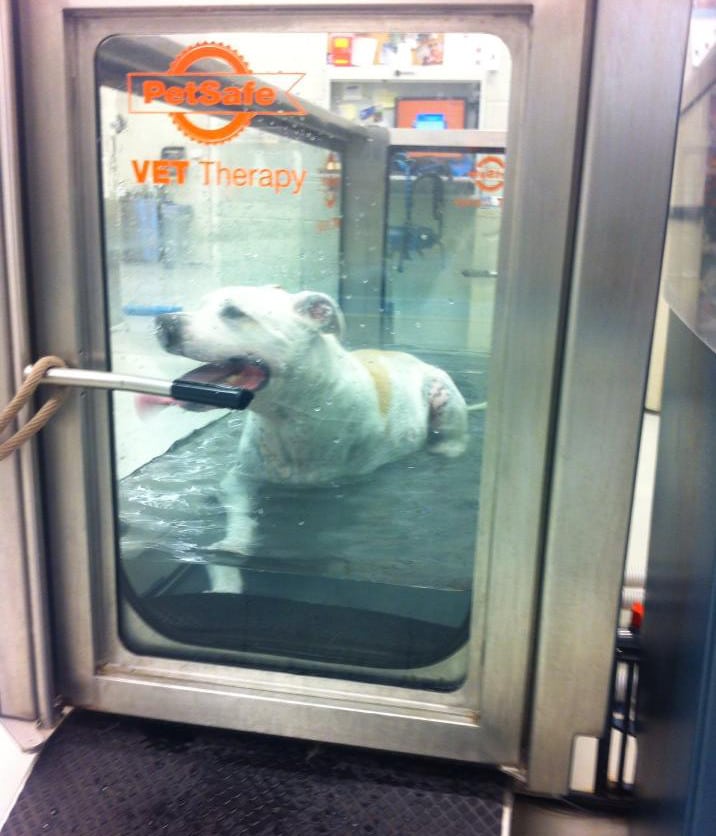 Think your Tripawd isn't ready? Most veterinary rehabilitation specialists say the sooner the better after amputation surgery. This helps to intervene in poor gait posture and other habits new Tripawds quickly develop after surgery.
Think your Tripawd won't want to go? Think again! Most dogs and cats look at rehabilitation therapy as FUN, not a vet visit. Ask anyone who has tried vet rehab therapy and they'll tell you, their pet loved it!
We understand if you're hesitant to get into another relationship with a veterinary clinic – after all, you just got through amputation recovery right? Well, try not to look at it as another bill to pay or thing to do. Instead, look at it as extra insurance that your amputation surgery investment will pay off with this final step to make sure your Tripawd has a great quality of life.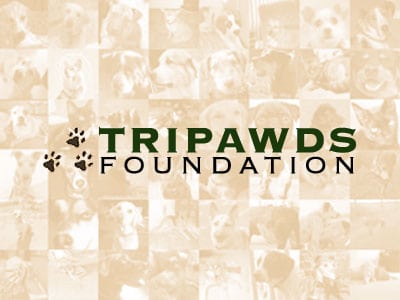 For more information about the Tripawds Foundation Veterinary Rehabilitation Therapy Reimbursement Program, see: Get Your Tripawd Fit, on Us!
Recommended Reading
Where Do I Begin with Doggie Physical Therapy?
Tripawds Gear Blog Posts about Rehabilitation Therapy for Tripawds
Tripawds Downloads Blog Posts about Rehabilitation Therapy for Tripawds
Tripawds News Blog Posts about Rehabilitation Therapy for Tripawds