Accidents are the second most common reason pets lose a leg and join the Tripawds Nation. This is an awful experience for the whole pack, but when recovery is over the dog or cat never looks back. Barney in the UK is a nine year-old German Shepherd who proves that animals are far more resilient than humans ever realize.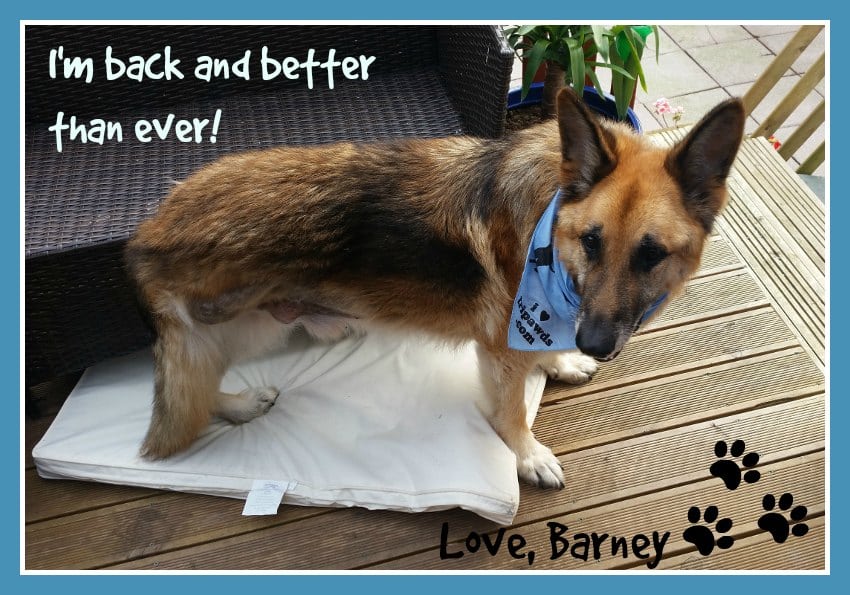 Today for Tripawd Tuesday, check out how this handsome boy lost his leg and how he's doing today. We know you'll be as impressed as we are!
How Barney Got Back on His Feet
as told by his dad, Doug.
At the beginning of August we were away on holiday at our caravan and Barney was staked outside taking the sun on the grass using a long narrow plastic covered tether (the type of thing that you can buy in any pet store). Another German Shepherd walked by with their owner, Barney jumped up to say hello but unfortunately the tether got wrapped around his toe on his right rear leg and this broke his toe.
We took him to a local vet (not our usual vets, but they were excellent) who put his leg in plaster.  We returned a week later to get the plaster changed and a checkup and all was well.  We then returned a week later again and after dropping Barney off (he requires an anesthetic for the plaster change) we had a phone call from the vet (who was nearly in tears) saying that severe necrosis had set in between the toes (we are still at a loss to understand how this actually happened) and that surgery was required.
We immediately went to the vets to discuss the options (there was only one, the ultimate option was not discussed) and authorised the surgery after popping into see Barney to let him know we were still around.
At 1800 that evening we had a phone call saying the operation was finished and successful and then another phone call at 2200 to say he had been out and about for a pee and was coping fine.  We collected Barney the next morning and was surprised that there were no bandages and only a lint dressing over the operation alongside a rather bald hip. We took him back to the caravan there started a the recuperation period.  We bought a ramp for the car (to allow him easy access) and a Ruffwear Webmaster Harness (as recommended by Tripawds) to give him a helping hand getting in and out of the car and up/down steps and stairs.
As for Barney himself he was a very unhappy soul for the first few weeks as he come to terms with his missing leg (he had troubles sitting up/down initially as he forgot he was missing a leg) as he got fitter we took him on ;longer walks and let him off the lead and the change was dramatic he was back right away to his normal happy self.  Two weeks ago he was even playing catch with his frisbee (although we weren't throwing it far or high) as you can see in the video.
So here we are 10 weeks after the operation, he is a very happy chap, knows his limitations, he will turn round on his walk if he gets tired.  Barney is 9 years old, a good weight with no current hip problems and we are expecting many years of joy still to come.
It's been a very worrying few weeks but it's amazing how resilient our faithful Tripawd hound is.  He is loved by all of the family and it's great to see him back to his usual happy self.
Share Your Tripawd Tuesday Tale!
Each Tuesday, Tripawds from around the world can enter for a chance to be "Tripawd of the Week." Just share your Tripawd's story and you're entered to win! On every Tuesday of the week, tell us about your three-legged hero here in the Tripawds Discussion Forums or on the Tripawds Facebook page. Just follow these easy steps:
In a few short sentences, describe your three-legged hero's story.
Include a photo or video.
Include a link to your Tripawds Facebook page, Forum topic and/or Tripawds blog (if applicable)
All entries must be received by Saturday at 11:59 pm. One Tripawd story will be selected at random to be featured the following Tuesday.