Got a little devil living with you? Well, don't hide your Tripawd goblin, get ready to show 'em off in the 2015 Tripawds Howloween Contest!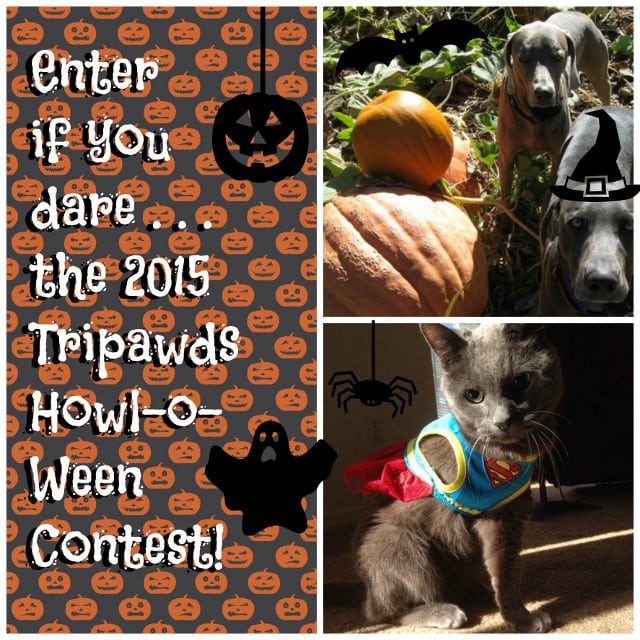 Any registered member can enter their Tripawd, Quadpawd or both! Current Tripawd Heroes and Spirits are welcome. Cats and dogs are eligible. Whether you have one or many pets, living or passed, they're all welcome to join the pawty!
Win a Cool Tripawd Pride Prize!
The winner of the 2015 Tripawds Howloween Contest will receive an 11 oz. coffee mug with the design of their choice from this selection of Tripawds Mugs in the Tripawds Gift Shop!
One winner will get to choose from 65 three legged dog and cat designs
Retail value not to exceed $14.00, includes free shipping.
How to Enter the 2015 Tripawds Howl-O-Ween Costume Contest
To enter the Tripawds Howl-O-Ween Costume Contest, just post your photo in this 2015 Tripawds Howloween photo contest Discussion Forum Topic.
Please add one photo per post so members can vote to nominate their favorites.
How to Vote: Above and to the right of each forum post in this topic, you will notice a "Five Star Rating System" to vote for photos.

Registered Tripawds Members can vote by clicking the stars next to each costume contest post to rank that photo. Click the star relating to the number of votes you want to give each photo. (Click the first star to give a photo one vote, the third star for three votes, etc.)
Each user may only rank each post once.
You cannot vote for your own post/photo.
You cannot change your vote.
Submit as many photos as you like, but only add one per post so members can vote for each photo.
Need help adding pictures to your forum post? Refer to this tech support topic with detailed instructions for adding photos to forum posts.
To give everypawdy a chance to take pictures on Halloween night, the deadline for posting photos and voting is 11:59 p.m. Friday, November 6, 2015.

Cute Tripawds Halloween Costume Ideas
Need some ideas for fun three legged dog and cat costumes? Check out these topics from past years for lots of photos!
Or, see all search results for Halloween.
Hurry, competition will be stiff. Check out the 2014 Tripawds Howl-o-Ween Costume Contest Winner Merry Myrtle!