Many thanks to everypawdy who completed the recent Tripawds News Survey! As promised, we have randomly selected two lucky winners who will be receiving boxes filled with all sorts of dog and cat goodies.
Dog Gift Box: Karen and Trey
Cat Gift Box: Sarah (aka catgirl919) and Roxy
If you have not yet completed the survey, please provide feedback here! The contest may be over, but your responses will help us send you the info you want to read.

Results of Tripawds Newsletter Survey
After one year of sending out Tripawds News every other Thursday, we wanted your feedback to help improve the email newsletter we designed to keep you informed and entertained. Your responses will help us make the newsletter even better! But honestly, it sounds like we're doing pretty good so far…
Who Responded?
For the record, as of this post date, there are currently 1,806 Tripawds News subscribers. We announced the survey in the latest issue of the newsletter and in the News blog, forums, Facebook page and via Twitter. We provided incentive with two random prizes offered and gave recipients one week to complete the survey.
We received 50 survey responses, 45 from people with a three legged dog and 5 from folks with tri-kitties.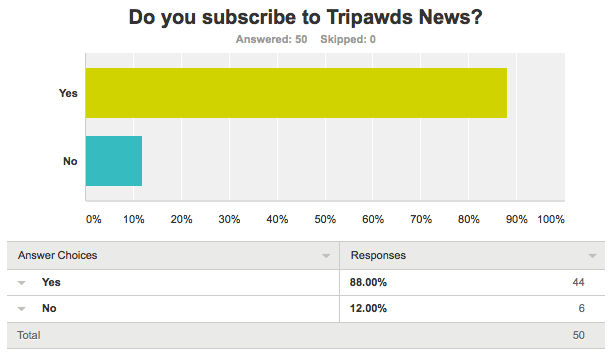 Only 12% of those responding to the survey had not already subscribed to receive Tripawds News.
We asked, "Why not?" A common theme appeared among the responses:
"we just rescued a new tripod and didn't know about the newsletter.
"Didn't know about it"
"i didn't realize I could!"
Got ideas for unobtrusive ways we might better inform people about the newsletter? Let us know with a comment below!

How Often To Send Email Newsletter
We then asked about the email frequency, and are apparently doing the right thing by sending it out every two weeks. More than 95% of all respondents said that is just right!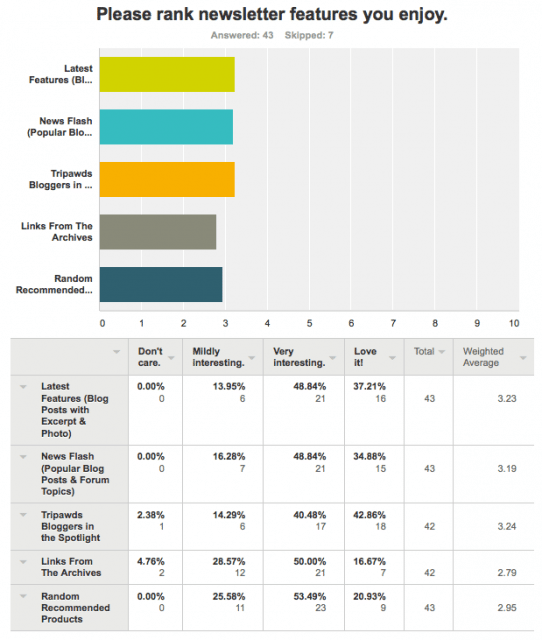 What Is The Best Newsletter Content
Next we asked recipients of the Tripawds News newsletter to rank their favorite content. We haven't changed the format of the email much since we started sending it out.
Each Issue Includes:
Latest Features (Blog Posts with Excerpt & Photo)
News Flash (List of Popular Blog Posts & Forum Topics)
Two Tripawds Bloggers in the Spotlight
Links From The Featured Blog Archives
Random Recommended Products
Approximately 50% of all subscribers responding indicated they found all these newsletter components Very Interesting, with more than a third saying they Love the first three sections. The random product recommendations and links we include from the Tripawds Archives are of slightly less interest. Should we keep including them? Leave comment and let us know!
How Can We Make Tripawds News Better?
Finally, we asked an open ended question about what we might do to make your email newsletter better.
The majority of subscribers believe we're on the right track. Here are just a few examples:
It's great already – keep up the great work, and thanks for making it happen!
Keep doing what you're doing! I've found a ton of useful information. Thanks so much.
I LOVE how vibrant the newsletters are it really helps me as I have a new Tripawd myself.
Keep doing what you're doing! I've found a ton of useful information. Thanks so much.
Every time I see it in my inbox I can't wait to go through it! I love it and love seeing all the great work y'all are doing and all the amazing Tripawds and their humans!!
Others had more specific suggestions:
Would love to see more tips and product reviews!
More recommended products, more tips and tricks for tripawds
More professional advice from experienced tripawd parents and professionals like veterinarians.
A few folks offered more constructive criticism:
So far I think it's great though the color scheme is a little unappealing.
When I open the newsletter it kind of overwhelms me. It's too busy- looking and I end up putting it off to read later. Sorry, that's just how I feel.
No need to apologize. We appreciate all the feedback! Its hard to please everypawdy, but we'll do our best to address common concerns. It's a fine line between offering too much information, and anything too specific in email format—that's what the Featured Blogs and Discussion Forums are for!
Not Yet A Subscriber?
Review past issues of Trpawds News or subscribe here for recent blog posts and forum topics, featured bloggers, and much more. Unsubscribe any time and keep your free gift!
[mailchimp-form title="Subscribe to Tripawds News" success_text="Thanks, you've been added to the list. Check your email for your free gift!" button_text="Subscribe" firstname="1″ lastname="1″]