Tripawds Spokesdog Wyatt Ray and our pack have been a little busy lately: we just returned from a long road trip to the annual Blog Paws Pet Blogger Conference.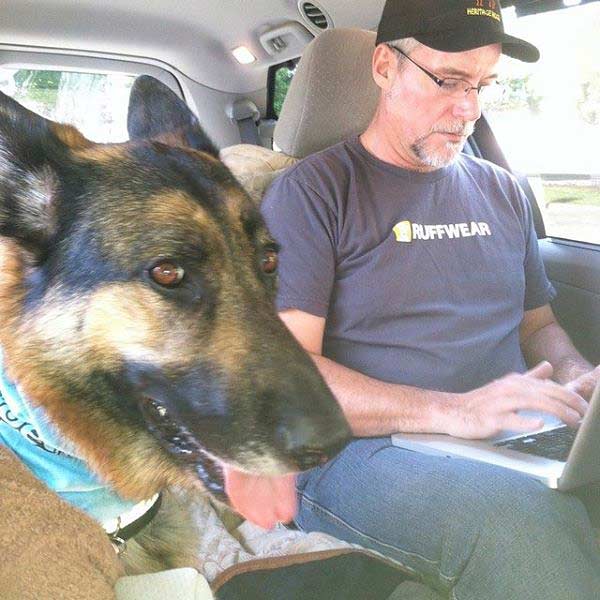 We represent Tripawds every year for many reasons, including:
Introducing Tripawds to Veterinarians

Blog Paws is the best way to spread the word about the Tripawds Nation. We share our message with vet experts who are at the front lines when a pet parent learns that their pet has to lose a limb.

This year we were happy to share the good news about establishing the Tripawds Foundation. Wyatt Ray put his best paw forward when meeting veterinary industry movers and shakers, like the kind people at the American Animal Hospital Association, who are excited about sharing the Tripawds Foundation brochures with their member hospitals.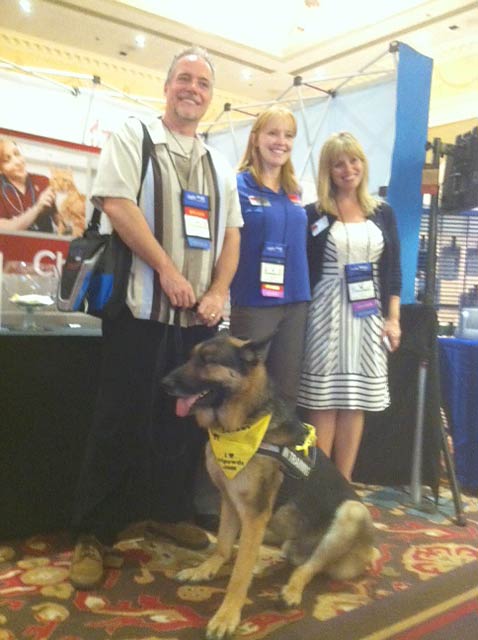 We received an enthusiastic response from many others in the pet industry, like Matt Aster of Embrace Pet Insurance, who was so happy about what the Foundation is up to that he made a generous, on-the-spot contribution on behalf of Embrace!

Meeting pet-centric bloggers
There's so much to learn from the Blog Paws community! Many of us share a passion for helping specially-abled animals. From Dog and His Boy, aka Bernard Lima-Chavez, an animal welfare worker from Miami with a special love for deaf dogs…
to Karen Gruzensky, a pet blogger on a mission to educate children about special needs pets through her new book, "Not Like the Others: Harley's Story, Having a Pet with Special Needs." Watch the Tripawds Amazon blog for a review!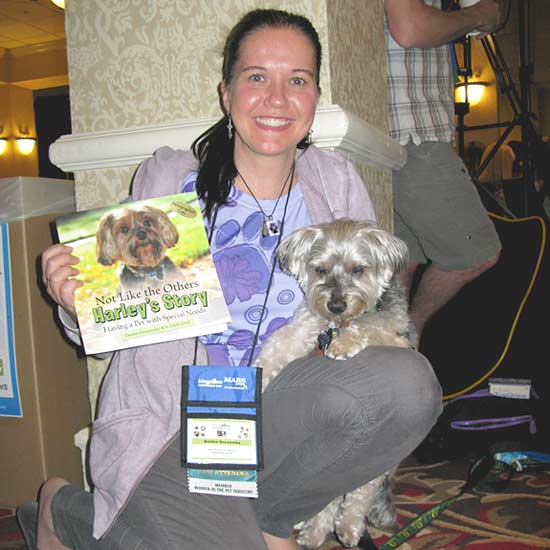 Blog Paws is also a way to learn about unique non-profits and cause-based businesses dedicated to helping pets and people. Some of the organizations we connected with include:
PACT for Animals, a group that provides emergency pet foster homes for hospital patients and military personnel.
The Lucy Pet Foundation, a non-profit led by Dr. Karen "Doc" Halligan, a dedicated vet who works endlessly to reduce pet overpopulation by making mobile spay/neuter clinics across the country.
Dog for Dog, a premium, all-American dog food producer with a "bag-for-bag" giving program that donates premium food and treats back to hands-on animal welfare organizations like shelters and rescues.
The Perseus Foundation, an organization dedicated to finding cures to pet cancers through comparative oncology research with pets and people affected by the disease. We'll tell you more about Perseus in an upcoming post.

Discovering new pet products.
As pet bloggers we love sharing great pet products and developments with our communities. This year we toured the Mars Pet Products Global Innovations Center a brand new research and development facility where the brightest minds in pet health, nutrition and behavior training collaborate to create a better world for pets through good nutrition.
Mars is the company behind well-known pet brands like Banfield Hospitals, Nutro, Royal Canin, Greenies and Eukanuba, among others. We got to see firsthand how Mars gives shelter dogs and cats a chance for a great life as Mars products taste-testers who live at the center while they await their forever homes. Stay tuned for a full article about this incredible facility.
Learning and sharing knowledge.

Each year we present and attend seminars that teach us everything from how to grow our social media presence to geeky tech tips that keep our community running, to practical business management know-how. And Tripawds own Admin Guy is also happy to share his expertise too!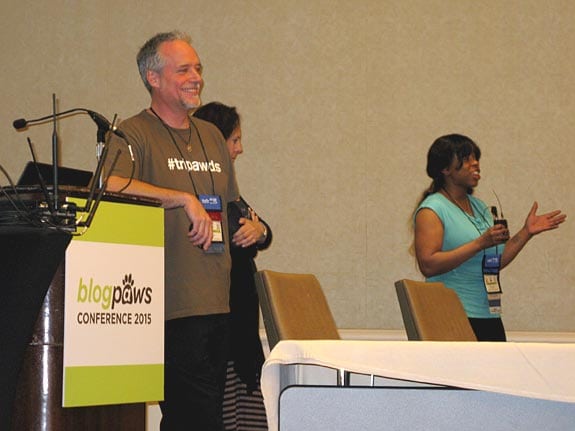 There's no doubt about it: Blog Paws keeps Tripawds thriving and growing. Every year we come away with lots of great new information to share with you, and more ways that we can realize our dream of continuing our Jerry's legacy by making the world better for amputee animals and their humans.
We have weeks and weeks of great Blog Paws news, products and campaigns to share with you, so stay tuned to the Tripawds Featured Blogs!