Yes, Tripawds began as a community for dog amputees but thanks to some brave and exuberant felines who took the first steps to join in, we are hoppy to see more three-legged cats  joining us every day.
Ian Fluffypaws is one of those pawesome kitties and one of our newest bloggers!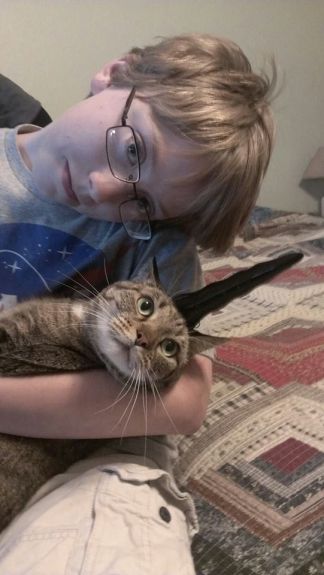 Ian's mom writes:
Ian came to live with us about 4 years ago, and he is our 3rd tripaw. We are unsure of his complete history, as he was sent to live with us because we had experience with tripaws. The story we are given is that he was a 5 year old barn cat, when there was a "farm accident" with a tractor, or mower. He has a wonderful personality and they did not want to see him put to sleep, but they also knew that a farm cat without a back leg was not going to survive. So, friends of theirs knew friends of ours, and so he was handed off to us in a parking lot 4 years ago.

He has an amazing bond with our 13 year old son. Sleeps with him, studies with him, and plays video games with him.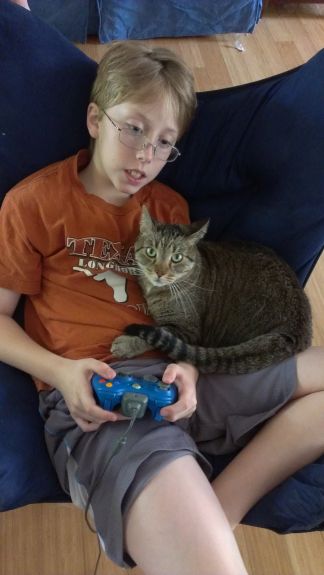 Thanks for joining us Ian, we look forward to following along with your three-legged cyborg adventures!
How to Get Featured on Tripawd Tuesday
Each Tuesday, Tripawds from around the world can enter for a chance to be "Tripawd of the Week." Just share your Tripawd's story and you're entered to win! On every Tuesday of the week, tell us about your three-legged hero here in the Tripawds Discussion Forums or on the Tripawds Facebook page. Just follow these easy steps:
In a few short sentences, describe your three-legged hero's story.
Include a photo or video.
Include a link to your Trpawds Facebook page, Forum topic and/or Tripawds blog (if applicable)
All entries must be received by Saturday at 11:59 pm. One Tripawd story will be selected at random to be featured the following Tuesday.