Rehabilitation therapy exercises and games are an integral part of a Tripawd dog's life on three legs and of course it has tremendous benefits for our four-legged friends too.
You can explore the benefits of rehabilitation therapy for Tripawds by joining us on the next Tripawd Talk Radio on Saturday, March 22nd at 6:00pm Eastern time.
On this episode we'll meet guests Lisa Saez, PT, CCRT from Dalia's Doggie Rehab, and Tripawd Maverick's Mom, Mandy Taylor, for an informative discussion about the benefits of rehab therapy for dogs who have lost a leg to amputation.
What's Tripawd Talk Radio?
Tripawd Talk Radio is a 30-minute Internet radio show that's broadcast live on Blog Talk Radio and available as a podcast download after the broadcast. You can call in during the show and ask questions, post questions here in the Discussion Forums or jump into the Tripawds Chat Room while we're live on the air.
Meet Lisa from Dalia's Doggie Rehab
Lisa combines her her professional skills as a human physical therapist with her lifelong passion for the good health of all animals.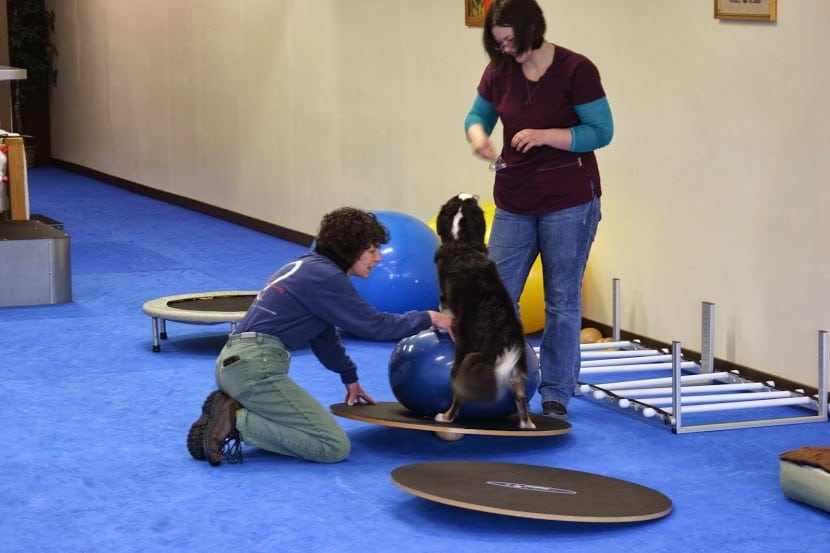 She is a certified canine rehabilitation therapist and is founder of Dalia's Doggie Rehab, a New Jersey-based practice that helps canines of all ages live their lives to the fullest through several different modalities of rehabilitation therapy including:
Balance & proprioceptive exercises
Neuromuscular Electrical Stimulation
Therapeutic Ultrasound
Hydrotherapy
Manual Therapy & more
For this episode we will discuss Lisa's various approaches and treatments for her three-legged canine patients and how these activities benefit them. She'll share tips for Tripawd pawrents who want to learn more about canine rehab.
Learn About Maverick's PT Fun
Maverick is a three legged Miniature Australian Shepherd who was born with a limb deformity. He regularly visits Lisa's practice which he thinks is one of the best things ever invented!
Maverick's Mom will share her story of preparing Maverick for life on three legs with Lisa's help, and how Maverick has reaped the benefits of a regular canine rehabilitation therapy program. Read more about his journey here on his blog.
Join us! Saturday, March 22nd at 6pm Eastern.