Tripawds sometimes need wheelchairs, but sadly not everyone can afford to make this significant purchase. That's where amazing groups like Red Flyer, The Handicapped Pets Community comes to the rescue. Please read on to learn about their life-changing work, as told in this guest blog post written by Harlan Weikle, Director of For Paws Hospice and Red Flyer, The Handicapped Pets Community.
NOTE: the Red Flyer Facebook pages appears to have been deactivated, so links have been removed.
They could all "Fly" once, they can again.
If you have ever seen a dog run then you get it almost immediately; dogs are different when they run, different than you or me, different than a lion or rabbit, dogs don't run as much as fly.
That dogs should always be able to "Fly" is the reason we started our program through For Paws Hospice called Red Flyer. Red Flyer, The Handicapped Pets Community began as Bosco's List in 2009 when this ad appeared in a local paper, "Wheel cart needed for small, dachshund with hip injury. Contact Frank at…"
A volunteer with For Paws Hospice shared the ad on his FaceBook page and within hours a family living in the same town as Bosco's family donated a used wheelchair that was a perfect fit for him. We didn't know it at the time but first matches like that are rare.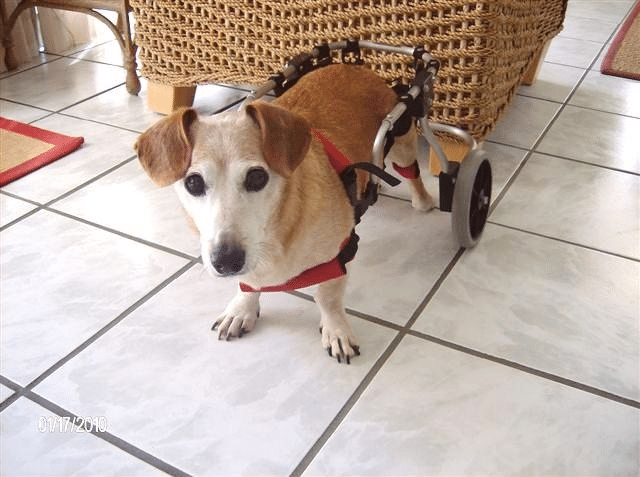 Bosco, then twenty years old, went on to use the cart and travel with his family for another two years. Bosco's family returned the cart in 2011 with the good news that Bosco was once again up and running as he always had, enjoying life to the fullest. "We just wanted to let another little dog have a second chance," Bosco's owner wrote; and Bosco's List was born. As word spread we began to hear from families, first in Tampa Bay and eventually across the country that they had a chair which they no longer needed and wished to donate to help another dog.
Bosco continued to live with his family until January 2013 when he passed peacefully just two months shy of his twenty-third birthday.
Before long "Bosco's List" had 15 chairs in use in half a dozen communities around the country and with no real plan how to manage the growing program. As more families added their request to Bosco's List of dogs in need of wheels Red Flyer, The Facebook Page evolved as a community page to both manage the comings and goings of donated chairs and as a growing community of people [now over 2400] helping one another by sharing their experience caring for a specially-abled animal.
The name Red Flyer was chosen because of the nostalgic imagery of children taking their dogs for long summer's day rides in Radio Flyer wagons.
There is never any cost for a Red Flyer cart to the families of disable pets or to rescues who take them in.
The only thing we ask is that a family which receives a cart for their pet is that they continue to be part of the community by searching for carts to help others and occasionally updating us on their pet's progress with photos and perhaps some short posts.
When a family no longer needs the cart, like Bosco's they return it to Red Flyer to be used by another dog.
We tell families these carts are donated from across the country so, by asking friends, neighbors, church groups, at schools and at work they will almost certainly locate a used wheelchair. Chances are it will not fit their pet but it will fit some other pet or pets on our list and someone elsewhere will find a chair for their companion.
All our chairs are inspected and when necessary refurbished with original manufacturer's parts.
They are numbered, photographed and placed in a data base to track them throughout their service.
We have some carts that have been used by four and five different animals.
In addition to recycling used wheelchairs, the Red Flyer community will purchase special needs chairs and prosthetics that need to be custom made for a dog or cat when a donated chair is not readily available.
We accept donations to a fund that has, to date, spent over $6500 to buy these special chairs and prosthetics. Red Flyer accepts monetary donations at "Just Give" a secure donation site run for non profits by a non profit.
Red Flyer currently has sixty plus carts in service coast to coast and in two foreign countries, but the need continues to grow which is why I've asked the publishers of "Tripawds Blog" permission to write our story. Our hope is that your community of of special pets can help us find used chairs to help even more dogs "Fly" again.
Thank you,
Harlan Weikle
Director
For Paws Hospice
Red Flyer, The Handicapped Pets Community
727.639.9285
Many thanks to Harlan and Red Flyer, The Handicapped Pets Community for submitting this wonderful post. If you have news relevant to the Tripawds community that you'd like to share, please contact us today.