Recently we received this happy update from one of our earliest Tripawds members, Scout.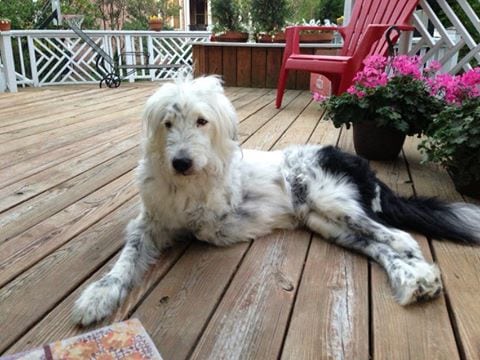 He is a senior dog and six-year survivor of synovial cell sarcoma cancer and he writes;
"Hi guys, Scout the wonderdog here. You and Jerry helped me with the amputation almost 6 years ago! My mom wrote a blog about us both going through cancer and we thought you and your readers would enjoy it. I am 13 now, and still going strong!"
When you read this post on his Momma Lauren's blog, you better have some tissues ready.  We know you'll find his latest news as unforgettable as we did.
Scout the Wonder Dog
Read this entire post at AfterFiveYears.com: Scout the Wonder Dog
"I have come to understand that it's not about what is gone, but what remains. That is really all it's about despite how complex we want to make it; that the cancer is gone and your leg doesn't hurt anymore. We don't have to be whole to be whole, and sometimes, despite our very human emotional stuff, we are more whole when we get rid of the part of us that hurts. This big beautiful joyful side of us emerges when the pain is gone; one that is even better than before. We don't have to wait for it to come.
How to Get Featured on Tripawd Tuesday
Each Tuesday, Tripawds from around the world can enter for a chance to be "Tripawd of the Week." Just share your Tripawd's story and you're entered to win!
On every Tuesday of the week, tell us about your three-legged hero here in the Tripawds Discussion Forums or on the Tripawds Facebook page. Just follow these easy steps:
In a few short sentences, describe your three-legged hero's story.
Include a photo or video.
Include a link to your Trpawds Facebook page, Forum topic and/or Tripawds blog (if applicable)
All entries must be received by Saturday at 11:59 pm. One Tripawd story will be selected at random to be featured the following Tuesday.