Through the years we've asked animal physio/rehabilitation therapists to share tips for Tripawd wheelchairs. And in every case, they have agreed that dogs and cats don't automatically need a wheelchair when they lose a limb. When and if a Tripawd does need wheels, here's what one rehabilitation therapist says we need to do.
Dr. Kramer Shares Expert Tips for Tripawd Wheelchairs
A few Tripawds with pre-existing major physical challenges might benefit from a wheelchair right after amputation surgery. But if a Tripawd is otherwise healthy and strong, there are many things you can do to help your animal avoid wheels for many years. Our e-book, Loving Life on Three Legs, shares many of these helpful tips.
If at some point if you suspect your Tripawd needs a wheelchair, please don't go out and buy one until you work with a rehabilitation / physio therapist. Here's what longtime Tripawds friend Dr. Amy Kramer of Beach Animal Rehabilitation Center of Southern California advises:
Wyatt's Wheelchair Backstory
We have always tried hard to ensure Tripawds Spokesdog Wyatt Ray gets Tripawd-safe exercise. It worked for about eight years. But two years ago he started slowing down, so we sought help from the Small Animal Sports Medicine and Rehabilitation team at Colorado State University. Our goal was to ensure he wasn't having more serious orthopedic issues (he was not). We also wanted to learn how to give him the kind of exercise he needed to stay fit and injury free. The plan they created for us worked, until late last summer.
Wyatt seemed to worsen despite our best efforts. He received a Triamcinolone and Hyaluronic Acid injection to alleviate the pain of bursitis and arthritis in his tarsus. But after two months it became clear that the injection didn't work as well as we had hoped. He wasn't worsening, but not getting stronger either.
Once again we consulted with his rehab team, and asked if it might be time for a set of wheels. They suggested it could be worth a try. Since we aren't living in Colorado this winter, they suggested we find a local credentialed canine rehabilitation therapist to ensure a good wheelchair fit for Wyatt. Thankfully, long-time Tripawds friend Dr. Amy Kramer was close, and she offered to help.
Wyatt Gets Fitted for Wheels
When it came to the wheels, Wyatt's best friends, The Oaktown Pack, came through in a big way. Their humans had previously purchased a wheelchair for one of their three Tripawd German Shepherd dogs, Austin Ray. But Austin wasn't too keen on the contraption, and wasn't using it. His people generously offered to loan it to us until when and if one of their other Tripawds ever needs it.
On a sunny Saturday afternoon, Dr. Kramer sized the wheelchair for Wyatt. She generously took her time and explained the ins-and-outs of incorporating a Tripawd wheelchair into Wyatt's life. In short, she advised us to:
Allow him to walk without the wheels for as long as he is able.
When he gets tired on a walk, put him in the cart.
Start slow and gradual
and keep up with his regular exercises to maintain his fitness level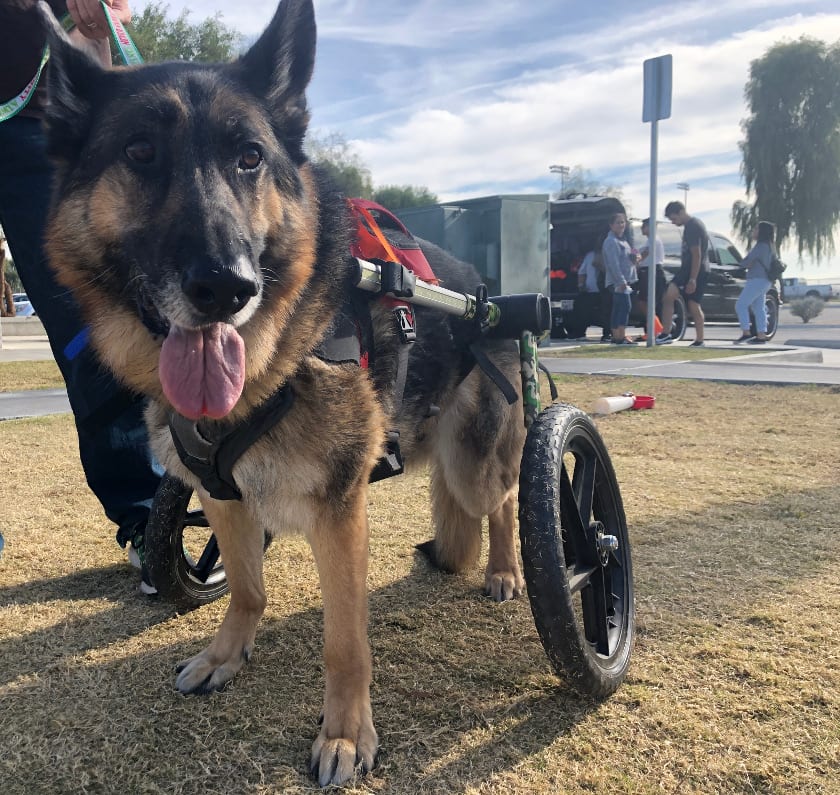 Wyatt's wheelchair is not a custom model, which is what Dr. Kramer prefers for her clients. You can read all about the pros and cons of custom versus pre-made dog wheelchairs in Tripawds News. But for now, we are just so grateful we even had the chance to try any wheelchair before investing in a custom one for Wyatt. Thanks guys!
For the last month, Wyatt has been living the wheel life of a senior Tripawd. Yes, that's right, he's burning rubber and hell on wheels! Wyatt has adapted to the wheelchair faster than any of us imagined he would, but there has still been a learning curve for all of us. We are learning more tips for Tripawds wheelchairs as we go.
As Clare discovered when Meg the Tripawd Meg-a-Star got her wheels, adding a wheelchair into your Tripawd's life isn't just a "set it and forget it" kind of thing. Both Tripawd and human have a few things to learn when a wheelchair enters the picture. We look forward to sharing our experiences with you in the coming weeks.