The Facts About Prosthetics and Braces for Tripawds, Part 2
An Interview with OrthoPets Founder Martin Kaufmann
Tripawds is excited to bring you more information about prosthetic devices for amputee dogs, cats and other animals in this second of our two-part interview with Martin Kaufmann, ABC CPED, founder of OrthoPets veterinary prosthetics and orthotics.
Read Part 1 of our OrthoPets interview, "OrthoPets Talks Prosthetics for Pets."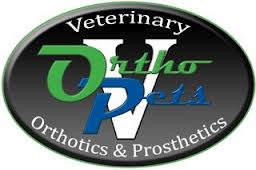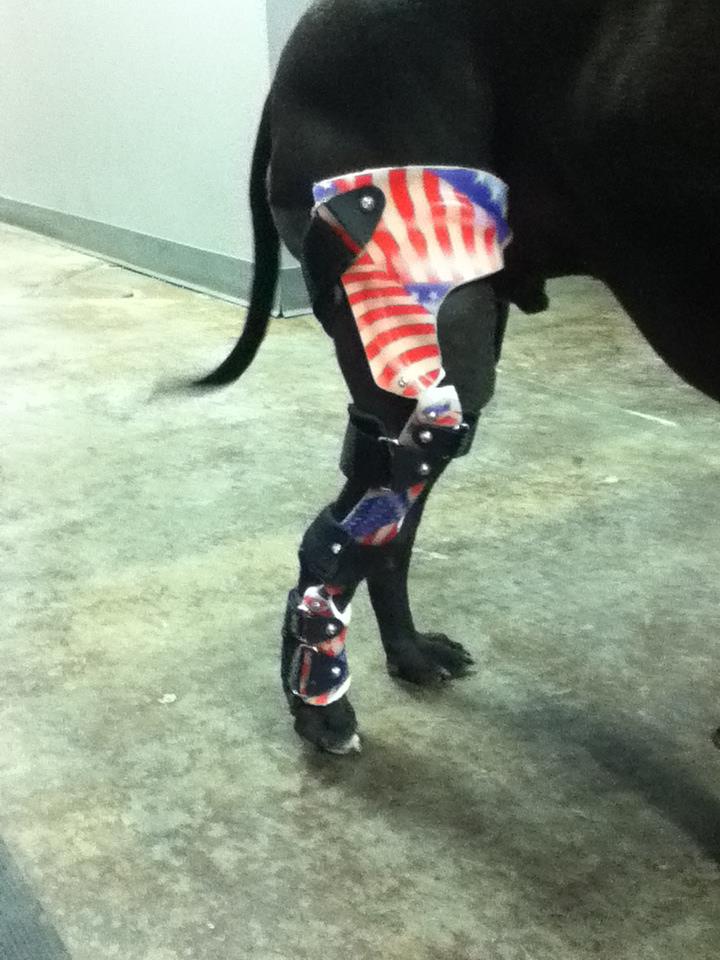 Today Kaufmann teaches us facts about animal prosthetics for Tripawds including:
Things to consider before getting a prosthetic for your pet
Who is qualified to make pet prosthetics?
Determining goals for your Tripawd's new life with a prosthetic
What rehabilitation therapy for Tripawds looks like
Life after prosthetic success
After the video read on to learn more details about veterinary prosthetics and orthotics for Tripawds and remember to catch our first interview with OrthoPets, where you'll learn:
Who's a good candidate for a dog or cat prosthetic
Which dogs and cats with limb deformities can use prosthetics
How quickly pets adapt after getting a prosthetic
What kind of commitment is required to train a pet with a prosthetic
First Steps to a Prosthetic
Your dog's candidacy for a prosthetic device must be considered before their amputation occurs. The best candidate for a prosthetic is a dog who will have at least three-quarters of the entire limb left intact after the amputation. This gives the prosthetic something attach to.
For dogs with cancerous limb tumors, leaving this much of the limb usually isn't an option because surgeons must remove enough of the leg to completely eliminate the tumor.
But if most of the limb can be saved, the animal could be a good candidate.
Partial limb amputations can present some unique challenges however, and Kaufmann says that pet parents with partial limb amputees need to be smart about mitigating the surfaces the dog lays on, in order to encourage post-op incision healing and prevent abrasions from happening. Placing carpet over hard flooring in and around the home can help avoid post-op wound trauma, he tells us.
Sometimes animals are born with a defective "flipper" type of appendage. Kaufmann says that these animals often make great prosthetic candidates. These flippers can cause pain, and in that case he says that it's a "no-brainer" to remove it. However, if a flipper is functional, it can be useful and should remain.
"(If) they can use the flipper, it's a meaningful part of their body," he says. "They feel it they sense it, it's just part of their world. Maybe it's not an ambulatory flipper, but can they hold a toy with it? Can they bat their brother away with it ? (If so), why take away a good part when it's functional?"
Evaluating Prosthetic Candidates
During the preliminary evaluation for a prosthetic, a cohesive veterinary team consisting of a veterinarian, orthopedic surgeon and rehabilitation practitioner will evaluate the canine candidate to ensure that a prosthesis can enable limb function without incurring new mobility issues or exacerbating old ones. "We don't want to cause more problems because we made them use their leg," Kaufmann explains. The degree of mobility a dog will enjoy after amputation surgery will determine what type of prosthetic can be used, and the kinds of activities a pet parent can eventually expect from their dog.
As part of their fees, the veterinary team at OrthoPets provides a prosthetic evaluation service to clients who can travel to Denver. For those who cannot make the trip, the company has a trained network of veterinarians who are closely trained to assess, fit and rehabilitate patients with frequent remote consultation. Prices for a device generally start at $1200 and go up from there.
Although prosthetic device designers are appearing throughout the world, the only truly qualified animal prosthesis designers are those individuals who have been trained to understand the biomechanics of animals and work closely with a veterinary rehabilitation therapy team.
What Are Your Prosthetic Goals?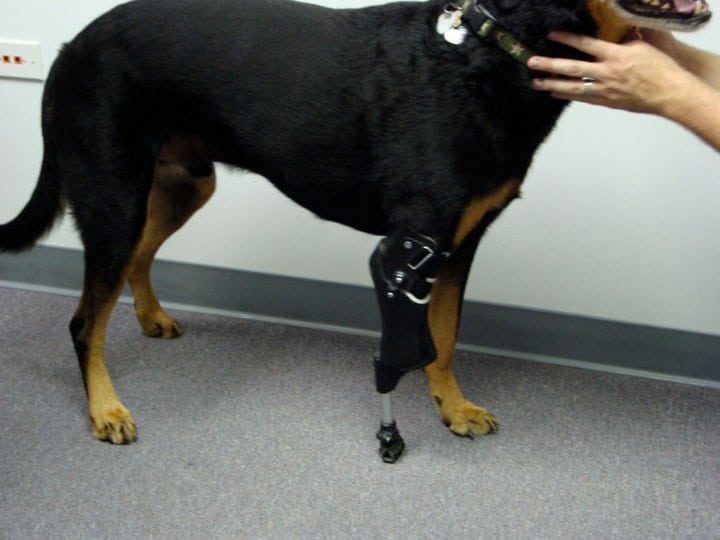 After the physical assessment is complete, it's time for the rehabilitation team to assess a family's overall lifestyle in order to determine the best type of orthopedic device for the patient.
"Once you've committed to a prosthetic route," says Kaufmann, "the commitment that we first talk about is, well we have an appropriate candidate for the prosthesis, but what about Mom and Dad? Where are (you) in all that?"
Kaufmann explains that any animal can put on a prosthetic device and eventually learn how to use it – but how well they use it depends on the commitment of the pet parent.
A commitment must be made to use the device every day, and just as an athlete must train to compete, training an animal to use a prosthetic to the maximum range of his or her abilities takes effort and time.
It's just like putting on a pair of roller skates, Kaufmann says. The skates can help you get from point A to point B, but without dedicated training, you won't be able to spin circles, jump off curbs, etc.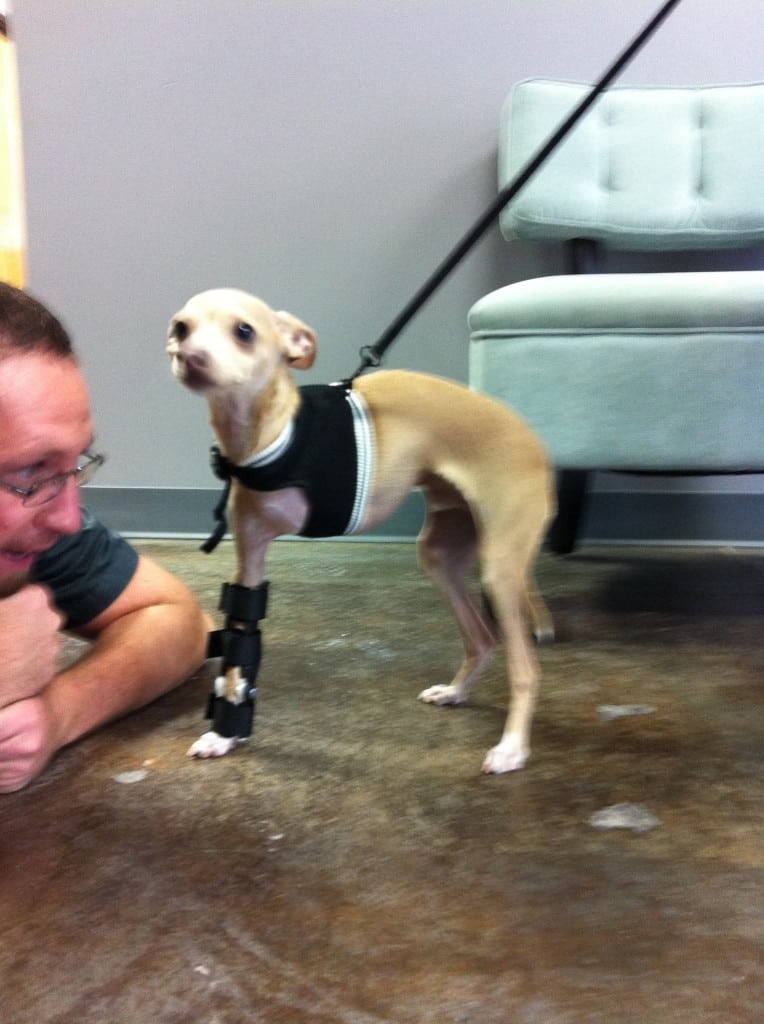 Clients must envision what they want to be able to do with their animal and are asked questions such as:
Are you and your dog Olympic athletes or weekend warriors?
What activities does your dog enjoy doing the most, and which ones are too physically challenging without that fourth leg?
Where do you see you and your dog in one year? Two years?
What is your ultimate goal for using this device?
"Maybe it mean(s) hiking our big mountains in Colorado," says Kaufmann. "Or maybe it's just out running on paths. That's for you guys to decide." The customized device and rehabilitation program developed by the OrthoPets team can facilitate that goal.
Prosthetic Limb Rehabilitation
Much of the intense work for any prosthetic candidate happens in the first three months. As the amputated limb muscles decrease in volume, incremental adjustments must be made to the prosthetic's interior socket (these assessments and adjustments are also included in OrthoPets fees). In addition, the rehabilitation therapy component will also be in full swing during those first three months. Patients can work directly with OrthoPets, with their own certified rehabilitation therapist or if necessary, in a home-based program ideally monitored by professional therapists.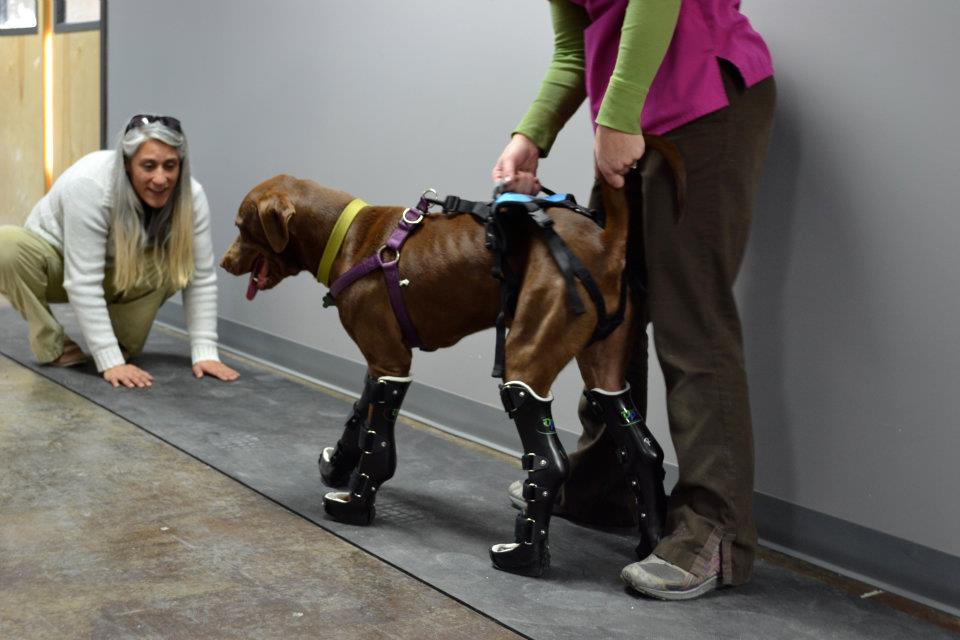 Each day, a pet parent must dedicate an identifiable amount of time to work on specific activities that teach the dog better proprioception when walking, playing and running with the device. Developing good proprioception (the awareness of one's body in space) helps the dog to know how far it is from the end of the device to the floor, which enables him to return to a normal gait and avoid falling while wearing it.
There is no set time frame for how long it can take for a dog to get used to the device. Sadly, some dogs who are fighting cancer may succumb to the disease before they're able to enjoy full use of their artificial limb. But for those dogs who have time on their side, the rehabilitation therapy process can be an enjoyable way to spend time together. Pet parents will know they've reached their rehabilitation goal when the animal shows signs that it feels more normal to wear the device than to go places without it. Kaufmann explains that a dog who reaches this level of confidence will refuse to go on walks without the assistance of the prosthesis.
After the first three months, unless some minor maintenance is needed for the device, OrthoPets doesn't expect to see the dog again until their one year check up. During that examination, the team will assess the dog carefully. "We want to look at the socket, we want to look at the leg, we want to look at your muscles, what have you done, how have you gotten back to normal now that you could be more normal?"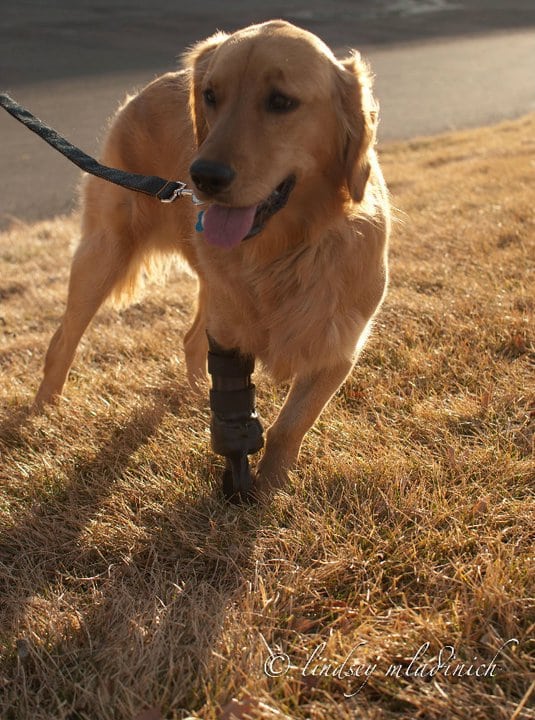 And although their devices are built to last, just like a pair of shoes, prosthetics and braces do need occasional refurbishing which can add incremental costs to the overall experience. The rate at which a prosthetic needs refurbishing will depend on how the dog uses the device.
Thinking of a Prosthetic?
If you think your dog, cat or other animal can benefit from a prosthetic device, discuss the subject with your vet, a board-certified orthopedic surgeon and a certified rehabilitation therapist (ideally one who is also a veterinarian) who has the training needed to create a bio mechanically appropriate prosthesis.
While not every animal is a candidate for an artificial limb, with a pet parent's commitment and dedication those animals who can wear one will reap health benefits that can last a lifetime.
Please give a big three paws up to Martin Kaufmann and the good people of OrthoPets for helping to improve quality of life for all dogs, cats and other amputee animals.

If you think your Tripawd might benefit from an OrthoPets prosthetic, visit the OrthoPets website for details. Check out their heartwarming video too!

[vimeo]http://vimeo.com/76973999[/vimeo]
Be sure to catch Part I of our two-part OrthoPets interview!