A diagnosis of histiocytic sarcoma like the one that Bella just got is sure scary, but it doesn't necessarily mean every dog will go along with the statistics. Oftentimes Tripawds will beat the survival odds, like Barney from Houston Texas, who's been loving life on three legs over four years after his histiocytic sarcoma diagnosis!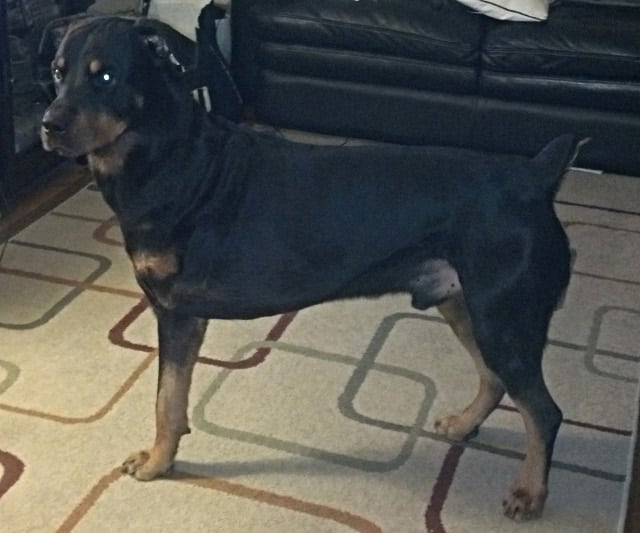 Take Achilles for instance. His Momma Robin shared his story for today's Tripawd Tuesday feature. We hope you enjoy it as much as we have.
Achilles unfortunately lost his leg to a type of cancer called histiocytic sarcoma. As the proud parents we tried to avoid amputation by treating it with chemo. Good results were showing within the 3 months time but then we started to see it grow much more aggressively in the 4th month. Amputation was the only option and the greatest decision. Now he is back to his old self. Achilles is in 8 months remission.
Congratulations Achilles!
How to Get Featured on Tripawd Tuesday
Each Tuesday, Tripawds from around the world can enter for a chance to be "Tripawd of the Week." Just share your Tripawd's story and you're entered to win!
On every Tuesday of the week, tell us about your three-legged hero here in the Tripawds Discussion Forums or on the Tripawds Facebook page. Just follow these easy steps:
In a few short sentences, describe your three-legged hero's story.
Include a photo or video.
Include a link to your Trpawds Facebook page, Forum topic and/or Tripawds blog (if applicable)
All entries must be received by Saturday at 11:59 pm. One Tripawd story will be selected at random to be featured the following Tuesday.