The following guest blog post was submitted by freelance writer Ron Rutherford. If you'd like to submit your own guest blog post, please contact us today.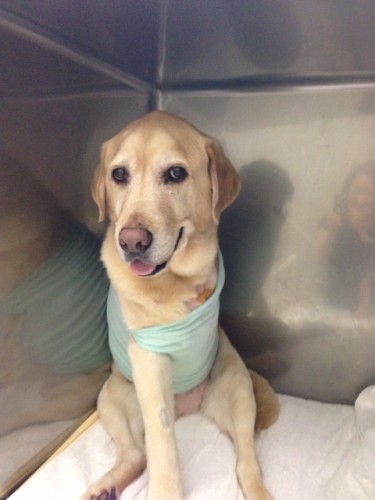 When your pet is suffering from a serious medical disorder and is in need of surgery, finding vet care becomes much more difficult than finding a general practice who can give a quick rabies vaccination. It's important to find the highest quality medical service for your dog to ensure your best friend is in good hands. It can be difficult to narrow down the most qualified practitioners, but there are a few ways to make your decision easier. Here are some tips to help you find the right facility.
Find a Vet Who's Experienced in the Area You're Needing Care With
Just like human doctors, some vets are more experienced in certain areas than others are. For example, if your pet is need of an amputation, seek a veterinarian who has done multiple surgeries instead of putting your pet into the hands of someone who is fairly new to operating. Finding a vet who is trained and skilled in your area of interest can help cut back on any possible complications and risks.
Don't Limit Yourself to a Specific Location
Depending on where you live, you might not have most credible veterinary care in your location. If you limit your options to your geographical region, you're potentially limiting the quality of the medical attention your dog will receive. Again, make sure to do your research and look for the practice that specializes in the area of your concern, and if that means traveling out of state, try to plan and budget around that.
Check the Credentials
Fortunately, the internet has made it much easier to know what you're getting yourself into before the fact rather than after. It's always helpful to ask friends and family members if they have any recommendations, but unless their pet has gone through a similar medical issue, their advice might not do much in regards to your animal's health. Online support groups, forums, and reviews can be a great way to get a well-rounded opinion on an animal hospital by seeing what past customers have to say about facilities, doctors, and staff members, and there are many sites designed to help you find a certified specialist near your area.
Talk with Your Vet Before Committing
This is an important one. Once you find a specialist whose background checks out, try and get a feel for the person you'll be trusting to care for your companion before you fully commit. Arrange a meeting in person, or if you're inquiring from out of state, request a phone interview. It's necessary to make sure you feel that the vet is someone who is compassionate and genuinely cares about animals' well-being, and a pre-consultation allows you to ask important questions and clear up anything you're confused or concerned about. It helps to prepare a list of things to ask in advance, and here are a few questions to help you get started:
What are the risks involved?
What kind of pain management is utilized before, during, and after the operation?
How many successful surgeries has this vet performed in the past?
If your dog needs to be left overnight, how will your pet be tended to and cared for?
Will proper after-care instructions be provided?
What is the estimated total cost, and how does the payment plan work?
It can be hard to see your loyal pup in a state of poor health, and choosing the right veterinary care can make a world of difference when it comes to recovery. It might take some time, researching, and calling around, but as long as you find a specialist with a good history, as well as one who you get a caring vibe from, you'll help give your dog a longer, healthier, and happier life.
Ron Rutherford is a freelance writer who has enjoyed caring for dogs for decades. When he's not enjoying time with his own trio of tail-waggers, he works hard to promote pet adoption. He currently writes for Havahart® Wireless, the wireless dog fence provider.
Recommended Reading
Considerations When Price Shopping for Veterinary Care
How to Choose a Veterinarian for Amputation Surgery
Dr. Kay's 12 Things to Expect from Your Vet