Did you know that Tripawds is run from a dog house on wheels? Sometimes we're in the desert, sometimes we're in the city. Sometimes we might be down the street from YOU!
My people hit the road with Tripawds Chief Fun Officer Jerry in 2007 and never looked back. If you love road-tripping as much as we do, you'll want to keep reading to find out how you can win a $350 OR $150 Visa Gift card from Subaru with no purchase required!

Road Dawg Tested
Back when I was a "guard dog" in Oakland, CA, I never thought I'd be free of the rope that tied me to a tree. I lost my leg and got dumped, I thought nopawdy would want me.
But I didn't know that some people would come and take me away from all that bad stuff, and then drive me all over the country in a big dog house to tell people that "It's better to hop on three than to limp on four!"
I get to meet all kinds of kewl dogs like I met on Monday.
I travel so much that today Mom said
"Wyatt, it's time for your own driver's license! I'm tired of playing taxi!"
So she sent  me to Subaru's Dog Tested. Dog Approved. Facebook page that has a free app where I got my own driver license!
You can get a dog driver license too, just be sure to use a fake address or else you might find me barking down your door!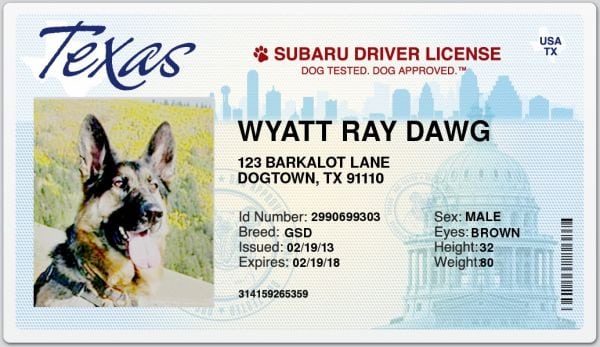 After I got my license I hopped on over to the Subaru dealer. Why? Because Subaru makes cars just for pets! Ok, well people have a say in them too. But check out this hilarious Subaru video with driving dawgs and cargo areas with giant sausages!
Take a break and hop over with your Tripawd to the Subaru Facebook page, where you can also do fun things like put your dog in a Subaru or  ask a canine matchmaker to help find your ideal vehicle!
Be sure to Like the Subaru Facebook page for a chance to win cash and
let them know that Tripawds sent you!
Fill Your Tank, Win Big with Subaru!
Subaru knows you need gas money for your next road trip, which is why they're hosting a raffle.
One 1st Place Winner gets $350 Visa Gift Card

One 2nd Place Winner gets a $150 Visa Gift Card
You must like Subaru's Facebook page to enter, but the other Raffle criteria is optional and can be done once each day. Enter once a day for your best chance to win! You can enter with your Facebook log-in or just use your email address.
The contest ends this Sunday 2/24 at 11:59 pm Eastern Time.
Disclaimer: This final post about Subaru's new Dog Tested. Dog Approved.™ campaign is brought to you by Subaru and Tripawds. Subaru is sponsoring the Tripawds Nation in exchange for our help in getting the word out about their pawesome pet-friendly features, which we love!