When Tripawd Bart's mom first asked, "What Does the Tripawd Journey Mean to You?" we started receiving stories like this one, and have since been publishing them here in the Tripawds News blog with the tag Tripawd Journey. Today we present India's story, which is truly inspawrational. We know you'll love reading about her.
From India's Mom…
My girl India was hit by a car when she was only six months old and sustained a degloving injury. Basically the skin off her left front leg was stripped off and the wrist joint severely damaged.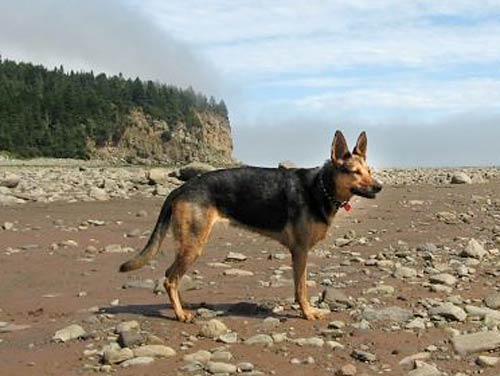 A very ambitious veterinarian felt the leg could be saved and after extensive surgery and lots of money India's leg was functional, although her wrist would never bend, giving her a bit of a funny gait. She managed really well with her slight disability for eight years. By that time India was clearly in pain due to arthritis and general deterioration of the joint and all our vet could suggest was continuing to give her pain medication.
We went to see a friend's vet for a second opinion. This vet was very pragmatic and pointed out that we were literally throwing money away trying to mask the problem and not helping India in any way. To him amputation was the best solution. We agreed.
Ask a vet about treating degloving injuries now.

It was very hard to see India with her leg missing and a huge long scar in its place. It was a rough week, I won't lie. However she amazed us. Within a couple weeks we were out taking short walks while she hopped along beside us. It took awhile for her to build her endurance but once she had there was no stopping her! She was pain free and highly mobile. Man could she run! She could still swim too, although with a bit less confidence. We made the right decision and I honestly believe being pain free added years to her life.
Three months after her amputation we took a family trip to Canada's east coast where India romped like a puppy. She swam in the ocean, chased rabbits at the cottage we rented, and was completely full of life.
"If I had to do it over again I would have amputated her leg years earlier and saved her so much pain."
India is now 14 years old and doing very well. She's slowed down and stiff, more age related complaints than anything. She can still give our barn cats a good run for their money now and again but is typically just happy lounging on the porch.
If I had to do it over again I would have amputated her leg years earlier and saved her so much pain. Dogs are incredibly adaptable; I honestly believe it is harder on the owner than the dog to go through an amputation.
Share your Tripawd Journey
Does your dog have an amazing tripawd journey you'd like to share? Send us a photo and your story, we'll consider publishing it here. Include a your Tripawds Blog link if you have one, or start your blog now.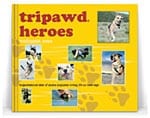 For more amazing tripawd tales, get the Tripawd Heroes books or personalize a copy featuring your dog – a great tribute, or thank you gift for your vet. Filled with inspawrational stories and photos of dogs loving life on three legs, Tripawd Heroes will help others face difficult decisions they may face about amputation for their dogs.