Tripawds recent trip to Fredericksburg Virginia proved to be well worth the 1,900 mile drive in our doghouse on wheels to Take a Bite Out of Canine Cancer. Highlights included:
Greyhounds Rock Fredericksburg raised money from tickets, auction items and generous donations made by supporters to help fight dog cancer. All money raised will be given to Ohio State University's Greyhound Health and Wellness Program, which in turns benefits the health of all canines through studies that help fight and manage cancer.
Here's the Greyhounds Rock team with keynote speaker Fabien Cousteau: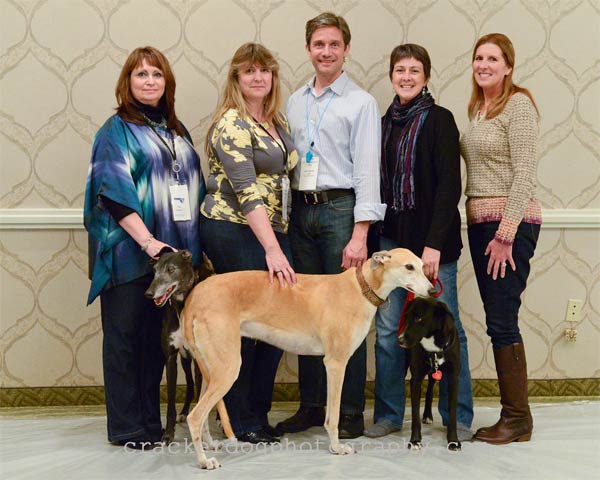 During this two-day event, we shared amazing stories of Tripawd heroes who teach us how to make the most out of life and "Be More Dog."
We couldn't have done this without the help of our sponsors, Morris Animal Foundation, K9 Medicinals and the Dog Cancer Survival Guide team! Thanks to them, we're helping to spread the word that It's better to hop on three legs than to limp on four!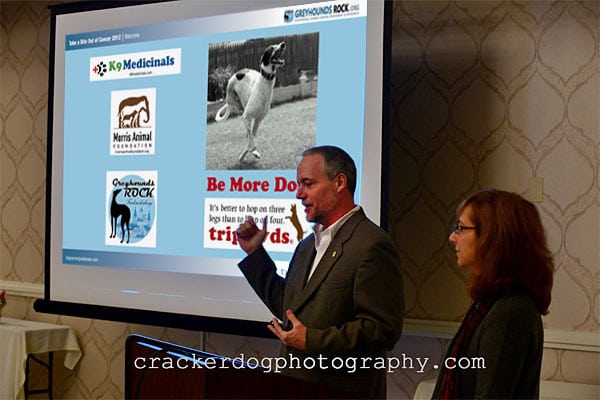 This annual conference was founded by Greyhound lovers, but all dogs and their humans are invited to attend this fun weekend of seminars, games and celebrations. On Saturday evening, Tripawds own Admin Guy, Jim, played auctioneer to help raise money.
The Tripawds Tribute Leash made another appearance. All attendees who have loved a canine cancer hero were invited to add their own ribbon.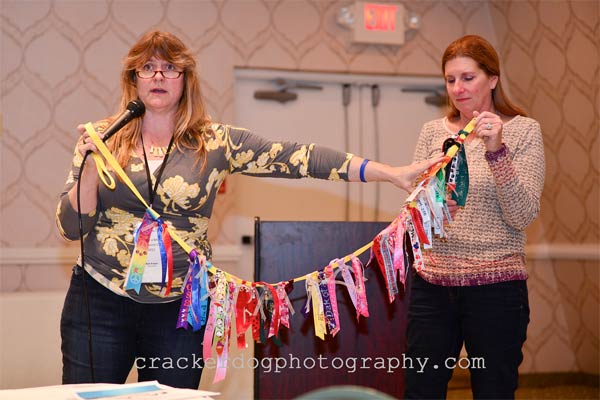 We even got to meet famous ocean explorer Fabien Cousteau. This down-to-earth adventurer had fascinating tales to tell about his undersea explorations, and his lifelong relationship with dogs.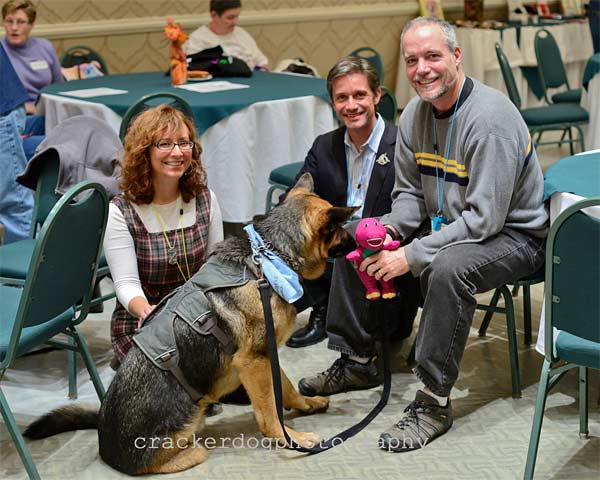 Tripawds Shares Your Secret to Coping: Be More Dog
On Sunday morning, we presented our "Be More Dog" keynote address to a packed ballroom. During our 35 minute talk, we shared secrets to being happy even while facing cancer, and we highlighted the stories of numerous Tripawds heroes and how they have inspired all of us to live life to the fullest.
We also played the PBS preview clip from our appearance in the NATURE documentary, "Why We Love Cats and Dogs."
During our talk, we gave away free copies of our e-book "Three Legs & a Spare," and one lucky winner received a free printed copy of The Dog Cancer Survival Guide!
This event marked Tripawds debut as keynote speakers. We had so much fun and met so many great people that we hope to appear at more of these canine health events in the future. If you know of any, drop us a line!