Hey Tripawds, the Tribute Leash Project is back! Come show your Tripawd Pride and demonstrate the love in our community by adding your Tripawd's name.
What's a Tribute Leash?
Earlier this year, Spirit Tri-Pug Maggie's Mom, Karen, came up with a great idea to honor Tripawds of past and present; the Tripawds Tribute Leash Project.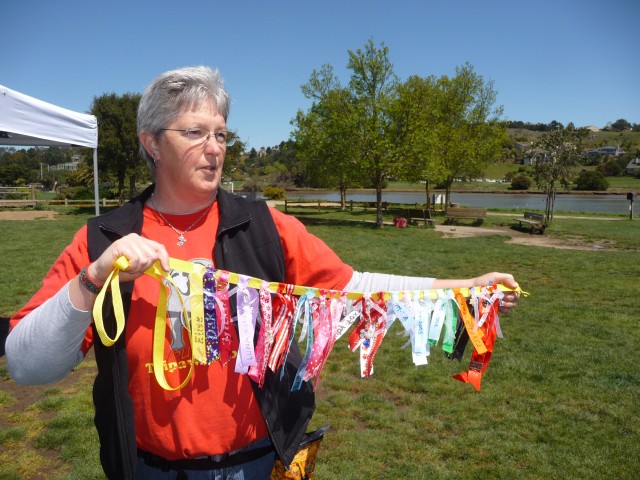 This beautiful memorial is a touching display that grows over time, and all members are welcome to display it at events where they represent the Tripawds community.
The Tripawds Tribute Leash Project: Join Us!

 All Tripawds of every species and quadpawd family members are invited to join in!
The idea is to pay tribute to all members of the Tripawds community. This leash honors those who are still on the journey and remember those who have crossed the bridge.
The Tripawds yellow leash features a member-provided decorated ribbon for each animal who is a member of the Tripawds community. The special white ribbons you see represent beloved Tripawds who have earned their wings.
Whether your Tripawd has cancer or not, every member of the Tripawds community is welcome to send a ribbon to be added to the leash.
The Tribute Leash gets sent to different events around the country where Team Tripawds is being represented. We will continue to add ribbons as they come in, and new leashes as needed.
Currently the Tribute Leash resides in Livermore, California with Karen. Other members around the country can request it for their special event or Tripawds-related activity as long as they are willing to cover postage costs.
How to Participate in the Tripawds Tribute Leash Project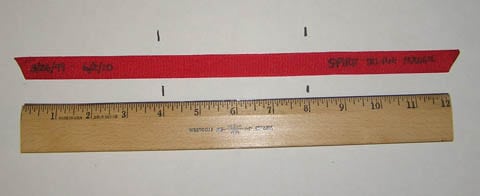 Use a piece of ribbon, any color; pick something that represents your animal friend. We want lots of color! Something sturdy is recommended, as the leash will be carried in walks, and shipped at least a few times a year.
The suggest ribbon width is ¾ to 1 inch. Anything wider may not tie neatly. The ribbon should be at least 12 inches long, maximum of 18 inches long.
Using an indelible pen (fine point sharpie works well) write your fur kid's name, your name (optional) and any message you would like. Perhaps you would put dates, or nicknames, or a short tribute. You can write on both sides of the ribbon.
Leave the center 4 inches clear of any writing; this is the part that will be tied around the leash.
You may send a SMALL trinket or remembrance to attach as well, but it is not necessary. A tag is one idea. Some pet stores have machines that allows you to engrave a tag with anything you like.
When you mail your tribute be sure to include a note with your name, your animal's name, and your Tripawds User Name just in case Karen has any questions.
The ribbons and trinkets are tied around the leash in the order received. Angel and Spirit Tripawds will have a small piece of white ribbon attached when tied on to the leash.
An example:

Please send your ribbon to:
Karen Riley
P.O. Box 2939
Livermore, CA 94551-2939
 Paws up to Karen for volunteering to head up this project. If you have a great idea to honor Tripawds and their families, don't be shy! Contact us today!