Are you unsure whether your giant breed pup will do well on three legs? Well, fear not! Here is the story of Porthos, a giant breed Great Pyrenees who was diagnosed with osteosarcoma, told he wasn't a good candidate for surgery, but defied the odds to go on and live a terrific life as a Tripawd.
Porthos' Momma, Amanda, sent us this story about her amazing hero with the hopes that it will inspire others to go with their instinct and really look into whether or not amputation is right for their big dog.
Porthos is currently undergoing tremendous health challenges related to the cancer, and we send all our love to him and Amanda with the hopes that he can overcome these latest issues. Feel free to contact them to share your healing thoughts. Until then, enjoy his inspawrational story about his life as a Tripawd!
Porthos, the Giant Tripawd That Could
"He's got cancer" my husband said to me.
If you are reading this, you probably know the heart break, gut wrenching emotions these words bring.
Giant Breed Porthos Defies the Odds
It was a few days before Porthos' 7th birthday that we received the dreadful news. Porthos' front right wrist had been swollen, we thought he had just sprained his ankle, we iced it and within a few days it got better.
Then one month later it swelled up overnight, that's when we took him to our vet and she confirmed our worst fears.
We discussed Porthos' prognosis that night and decided to let him see in his birthday and then let him pass on to Rainbow Bridge before the pain became too much for him.
You see, Porthos was not a great candidate for amputation. He is a giant breed Pyrenean Mastiff with two previous TPLO surgeries and hip dysplasia. The cancer was in his front right leg, and to add to that, we live in a very isolated location.
But then I found Tripawds and our world, and how we looked at it, began to change.
After initially posting out situation on the Tripawds forum I started to receive messages from people with dogs that had the same diagnosis as Porthos and that also had previous surgeries or other injuries.
One dog is 11 years old and had a total hip replacement and cruciate surgery and unfortunately had to have the good back leg removed due to OS, and a St Bernhard that had arthritis and hip problems and who was a two years post amputation survivor. These dogs were doing very well after amputation and their stories really inspired me because I truly believed Porthos was not ready to leave us.
I was still a little nervous though and decided to first try a Bisphosphonate to see if that would help. The night after the first treatment his wrist swelled up and he could hardly put any weight on to the leg, I now believe he may have injured his already weak wrist on the drive home after treatment.
We now had no choice, let our boy go, who still had his spirit and energy for life, or amputate.
No Stopping Porthos
I contacted the wonderful Jessica Barrera at CSU and sent her Porthos' x-rays and a video of him walking. She believed Porthos would walk after amputation. Our amazing vet here in Vanuatu agreed to perform the amputation, and our brave Porthos walked the same afternoon.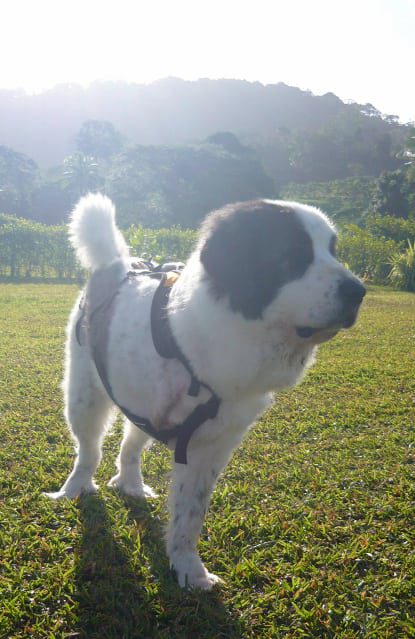 And there has been no stopping him since! He charges around barking, playing, stealing any food that he can. And he will still occasionally lift one of his back legs to pee.
We had hoped for three months at most post-amputation without chemo. And he is now seven months post initial symptoms, six months since diagnosis, and five months since amputation.
If we had let him go when he was originally diagnosed that would have been almost three and a half doggy years that he would have missed, and most importantly three and a half years of quality life.
We hadn't given much thought to chemo. I had done a little research, but to be honest we really didn't know how long Porthos would have with us after the amputation because of his weak knees and hips.
Here is a video of Porthos for your enjoyment!
[youtube]http://youtu.be/85mGor0BeKg[/youtube]
Porthos Has Puppy Power!
Porthos is so naughty and boisterous when he is out and about. He tries to leap around in the back of our Jeep and I'm terrified he will injure himself whilst trying to get him to our vet for chemotherapy sessions. It is quite daunting having a boisterous 3-legged giant-breed mastiff bouncing around in the back of the car! So we decided not do chemotherapy and started a natural treatment instead.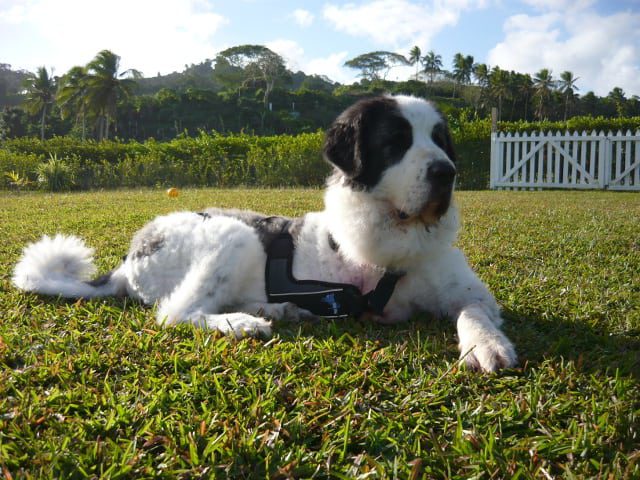 We started him on the Artemisinin protocol, Dr Dressler's cancer diet, high dose glucosamine chondroitin, MSM, cq10, Milk Thistle, K9 Immunity and Transfer factor, Coconut oil, high dose Fish oil, Fiji Noni capsules, Budwig diet, Meloxicam, Selenium (a good anti-oxidant), Turmeric ( believed to have anti cancer and anti inflammatory properties). It's best to slowly introduce new things to your dog to make sure they don't get an upset stomach.
We cut out any additional omega-6 as there is evidence that suggests omega-6 can advance tumour growth. I also bought him a magnetic collar as I read they can help with arthritis. I have to say that his energy levels are through the roof! He is like a puppy again! He can still run around, though I try to keep him as calm as I can without being the 'fun police'!
As we don't have CT scans available to us and with our preferred avoidance of risking the trip to our vets we have no idea how the cancer is progressing, but I have made peace with this. I know at some point his hips or knees will not be able to cope, or the cancer will progress but Porthos is not thinking about that at the moment.
I don't dwell on what s going on inside his body, as he isn't. At this moment Porthos is happy, playful, funny, and naughty! Definitely back to his old self.
Thank you Amanda for your beautiful story about how Porthos has defied all odds. We are truly grateful for your post and hope with all our might that he continues on the road to good health.
Do you want to share your Tripawd hero's story with the community? Contact us today for details on submitting a guest blog post!