The first milestones we face without our Tripawd family member are some of the hardest challenges we will endure in our grief. Here at Tripawds, you are never alone in these circumstances.

Today, Tripawds member and supporter OK Scout (Catherine Ronck) is facing a first difficult milestone herself, after Scout's courageous, nine-month cancer battle ended in November. Today would have been Scout's 10th birthday.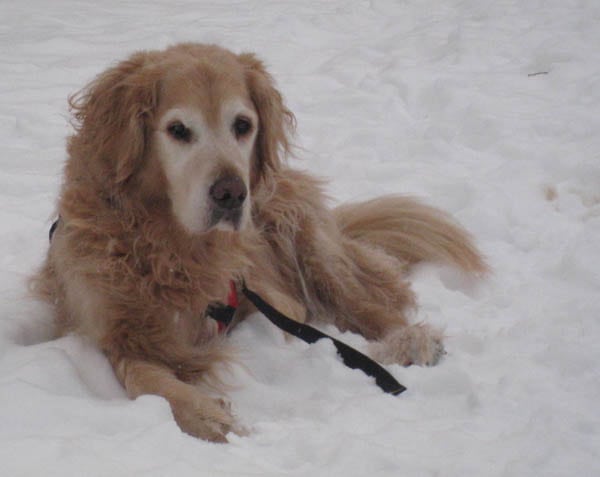 To honor his memory, Catherine sent Tripawds a generous gift of support and also wrote this touching essay, which we would like to share it with you as we wish her Golden boy a very hoppy birthday, and send lots of hugs out to Catherine.

"Today is Scout's first birthday at the bridge; it would have been his 10th birthday here on Earth.
We had big plans for today, but instead of celebrating, we are left reflecting on Scout's life. It was a good life, too short, but sadly, when dogs are concerned, there is never enough time. It's been nearly three months since Scout died, and there are so many things I miss.
I miss our morning and evening walks. In the mornings, we'd head towards the elementary school to deliver my eldest daughter and go on from there.
In the evenings, we'd hit the streets again. In the summer, Scout would return from the walk and jump right into the pool for a quick dip– the purpose of this was not to swim, but to get soaking wet so that when he got out and rolled in the dirt, he would be completely and utterly filthy. When we lived in Houston, we'd usually start out in the neighborhood and then head over to the bayou.
Our neighborhood was mid-Century; each home had a large window in the front. Scout loved to center himself in front of those windows to do his business. When my daughter was toilet training, she too, loved to go potty in front of those darn windows, just like Scout. We had a portable potty for her, but you can imagine the scene…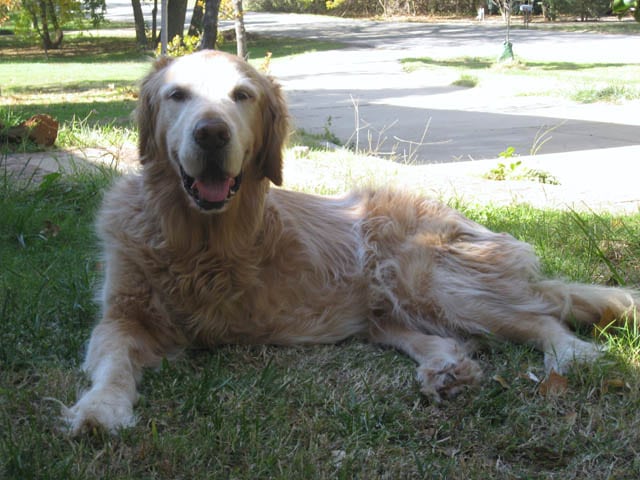 One night as we were taking a nighttime perambulation (and Scout was doing his business in front of one of those giant windows), a police car pulls up and a police officer gets out. I make a big show of my poop bag thinking someone has finally called the cops on us, but it turns out she was just warning us of a suspect in an armed robbery– he was dressed all in black– had we seen him? Scout and I decided then and there to take up jogging.
I miss Scout grabbing the leash as we rounded the corner towards home. He loved to play tug of war with the leash on the home stretch. I'd eventually let him have the leash and he'd take himself home.
I miss Scout running from sprinkler to sprinkler on our hot summer walks. I always brought water along, but Scout preferred the neighbors' sprinklers.
I miss closing doors after Scout. Scout was wickedly clever and could open any door that involved turning a handle and pushing. How he could figure out the opening of the doors and never the closing, I'll never know.
I miss settling down on the sofa to read to my kids and having Scout, ever so politely, force his way into the best spot–scoot over little humans.
I miss immediately clearing off the counters after cooking– now I can bake a pan of muffins and leave the half full muffin pan on the stove to cool. I hate this.
I miss the sound of Scout drinking– it was always in threes– slurp, slurp, slurp… pause… slurp, slurp, slurp. Sometimes I imagine I hear this….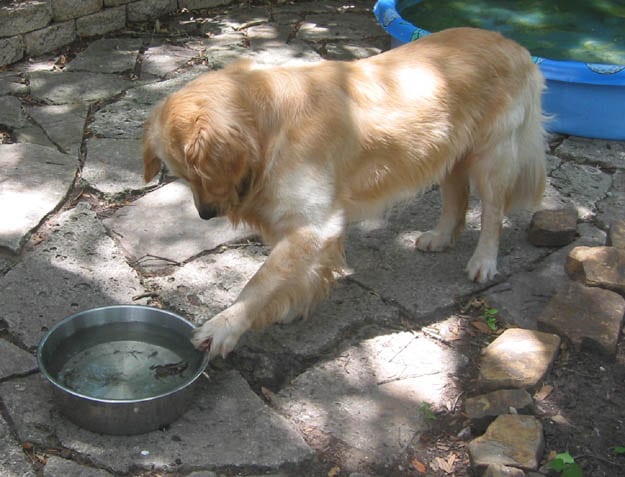 I miss Scout's nighttime routine. First, he would lay next to my bed, then, after about 30 minutes, he'd pad over to sleep next to my eldest daughter, then at about 3 AM, he'd come back to my room and lie near the open doorway. Finally, around 5, he'd return to his bed next to me.
I miss the whistling sound Scout would make every time you said "RIDE."
I miss driving with Scout's enormous head jammed under my armpit.
I miss Scout being constantly by my side– no matter what room I was in, Scout would be there.
I miss the sound of Scout running to the kitchen any time a packet of cheese was opened– that dog could be in the farthest corner of the back yard and hear a cheese wrapper.
I miss his soft fur– goldens have a bad reputation for being shedders, but in fact, golden fur is fantastic as it forms "tumbleweeds" and these tumbleweeds collect discretely under the sofa or under the bed. No bother at all.
I miss those sparkling, mischievous, intelligent brown eyes.
I miss my furry vacuum cleaner. I have used the vacuum ten times as often since Scout died– turns out 3 small kids make ten times the mess with their food as Scout did with his fur tumbleweeds.
I miss Scout leaping over the front flowerbed to greet visitors. I miss running wildly after him to prevent him leaping up on their cars. More than one paint job Scout ruined…
I miss Scout offering his paw — he loved paw massages.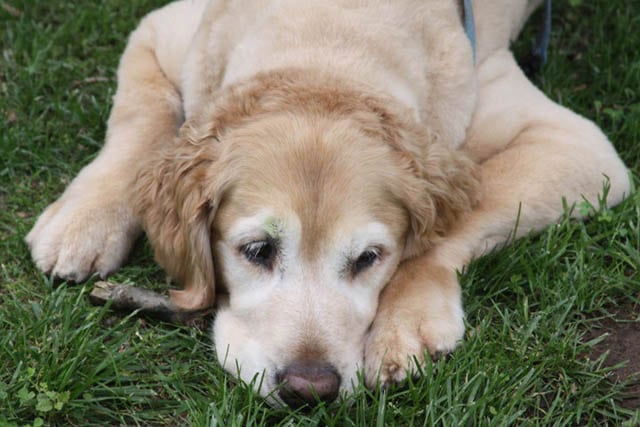 I miss Scout's "love noises" when he was receiving a paw massage or other petting. Love noises were also heard in anticipation of food. Always a glutton.
Scout loved to lie at the foot of the stairs. I miss the final, furry step.
Scout's vets blew his diagnosis– so he walked hundreds of miles on a cancerous, moth eaten leg. No problem for my too tough boy. However, if a a sticker should get lodged in his paw, he'd go down like he'd been shot, writhing in pain. You were an odd dog, Scout.
So many things I miss about you.
I am not usually a big fan of poetry, but the poem OKim1 posted in 2008 really spoke to me. Here it is again.
 I ONLY WANTED YOU
They say memories are golden
well maybe that is true
I never wanted memories,
I only wanted you.
A million times I needed you,
a million times I cried.
If love alone could have saved you
you never would have died.
In life I loved you dearly,
In death I love you still.
In my heart you hold a place
no one could ever fill.
If tears could build a stairway
and heartache make a lane,
I'd walk the path to heaven
and bring you back again.
Our family chain is broken,
and nothing seems the same.
But as God calls us one by one,
the chain will link again.
— Anonymous —
 Happy Birthday Scout.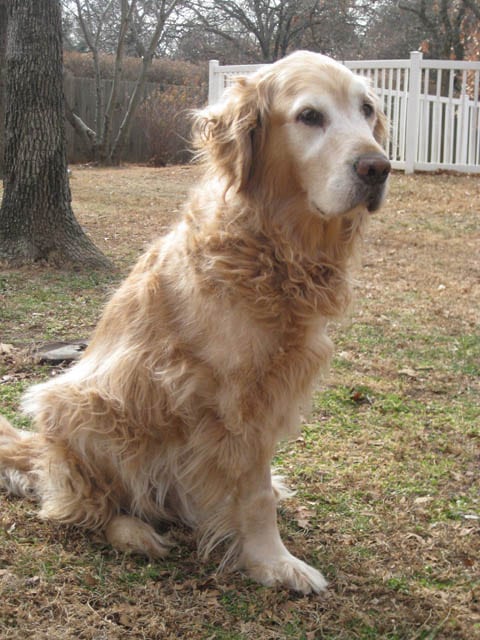 In Memory of Scout Ronck
January 31, 2002 – November 8, 2011