Many Tripawds look for furever homes in our Blogs and Rescue Forum, but it's rare that we get to meet them after they're adopted. Last month in a total coincidence of events, we had the honor of meeting one of Tripawds' former Rescue Forum pups while attending the 2 Million Dogs Walk in San Antonio.
Tripawd Warrior Brings Comfort to Soldiers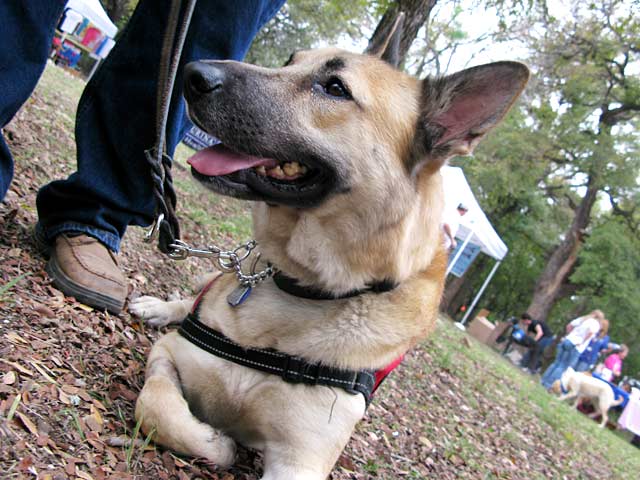 As early as last June, Colonel was living a hard life on the streets of San Antonio while getting around on a badly damaged leg. After being saved by the Give a Dog a Home San Antonio Rescue and undergoing his amputation, he went from being a wounded warrior with a Tripawds Dog Blog to finding a home with Bart Sherwood, Executive Director of Train a Dog – Save a Warrior (TADSAW).
Created by the non-profit Penny's from Heaven Foundation, Sherwood's program matches therapy dogs to wounded U.S. soldiers suffering from post-traumatic stress disorder (PTSD).
Sherwood saw something very special in Colonel and instantly knew he would make a great therapy dog. Today, Colonel is one of dozens of dogs in TADSAW with a mission; to bring comfort, companionship and support to wounded warriors coping with PTSD.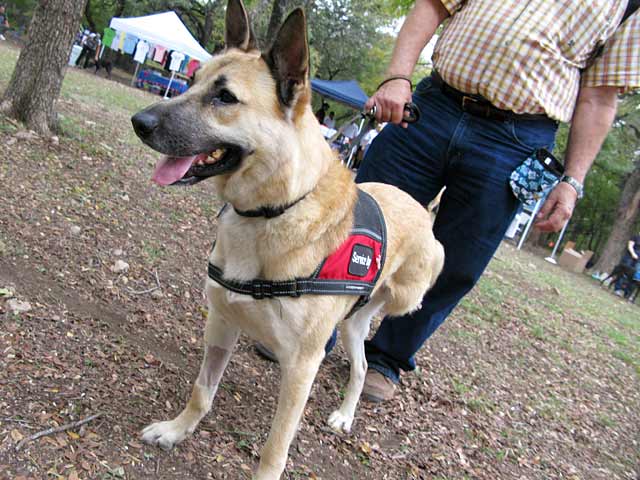 Train a Dog, Save a Warrior; Canines with a Mission
TADSAW trains adult rescue dogs and soldiers' existing dogs to become part of a wounded warrior's support team after returning home. From traditional service dog duties such as retrieving objects to turning off lights, to giving comfort when things get tough, Colonel and the TADSAW pack are helping PTSD soldiers return to normal lives again.
Michael, a returning veteran, describes how a TADSAW dog changed his life:
"Kingsley is the best thing that has happened to me. I have had PTSD for such a long time. I began to accept that this would be my way of life…but Kingsley had a different idea in mind.
This ever faithful companion has showed me life again and that nothing has to be done on your own. He is a true friend, who is always there ready to take a walk, or just sit on the couch…"
How You Can Support Our Troops
Experts estimate that as many as 400,000 returning U.S. soldiers will suffer the effects of PTSD. As more dogs get trained by TADSAW to aid in their recovery, we can be there to show support for our veterans long after they return home.
Donations of every type, along with purchases of the touching Penny's From Heaven book, "Pockets of Peace," can help TADSAW continue their pawesome work.
To learn more about the incredible, lifesaving work of Train a Dog, Save a Warrior, visit their website today.