Every Tripawd has a great story to tell, and we want to share yours with the world in the newest edition of Tripawd Heroes, a collection of three-legged love stories.
From now until September 19, 2011, we are accepting submissions of photos and stories from Tripawds members who want to star in this book. A limited number of pages are available to share stories so please read on for details and act now for your best chance to be included.
Inspiration Instead of Fundraising
Since love alone cannot pay to keep this community online, all proceeds from this book will go directly toward defraying the costs of keeping Tripawds online. This special project is our latest effort to avoid another annual fundraising campaign. That's right, with this project and the various other ways to help support Tripawds, we hope to never ask members for money again.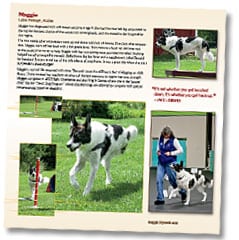 Instead of endless fundraising appeals, you can get a beautiful full-color, 7″ x 7″ soft cover book featuring the inspawrational stories of amazing canine amputees. Act now to include yours! The books will make great gifts for veterinary offices and help keep Tripawds online. It's a win-win for everypawdy. The price has not yet been set, but since we will only receive a couple bucks from the sale of each book, no discounts will be available to those who participate.
How to be Featured

Tripawd Heroes will feature a number of inspawrational dogs who have been active participants of the Tripawds Community over the past four years. Remaining pages are available for up to 12 stories. Each dog featured will receive one page with 3 to 5 photos. Exemplary photos may warrant full-page presentation.
This Tripawds photobook will be available for ordering by mid-October. The first 12 members to submit their story will be considered for publication. Here are the details:
Submission Deadline: Monday, September 19, midnight

Story length: 250 words maximum
Can be about Tripawds past and present, single or multi-Tripawd families*
Photo Requirements: 3 to 5 high quality photographs (300dpi minimum)
Please include name, city/state and your Tripawd's milestone dates.
All three legged dogs welcome! Tripawds is not just about cancer.
Include your Tripawds blog address, if applicable.
Participation is limited to Tripawds members only. (Register here.)
Submit stories in the body of an email to jerry with photos attached, or compress your images together (.zip or .sit) and use the Tripawds contact form.
Please be aware that space constraints may prevent us from including all stories, but read on for information about upcoming editions.
*Stories with more than one Tripawd will be featured on the same page.

Customized Books Will Be Available
Anyone who misses this deadline will have the opportunity to be featured in a future edition. In addition, customized versions of Tripawd Heroes featuring your story – and your dog on the cover – will be made available for an additional fee. Stay tuned for complete details.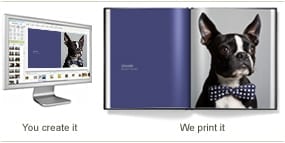 Create Your Own Photo Book Now!
Can't wait for the new Tripawd Heroes? Want your very own book telling your dogs story in detail? Create your own custom photobook using Blurb!
On behalf of everyone who finds value in being a part of this community, thank you for your continued support and participation!