As the fourth year of Tripawds comes to a close, we want to thank you, dear members, with these free Tripawds ornament gift cut-outs for your holiday decor.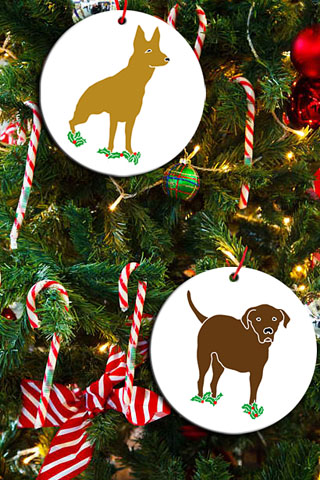 Deck the Halls with Tripawd Spirit
This small token of our appreciation was the best way we could express our gratitude to every one of you. We also plan on thanking you in the Chat Room on Christmas Day, but until then…
Thank you so much for sharing your stories, your support, and your encouragement to those who are just starting their own three legged journey.
In this crazy, hectic world, it's so beautiful to know there are people like you, ready to help a Tripawds newcomer get through one of the hardest times of their lives.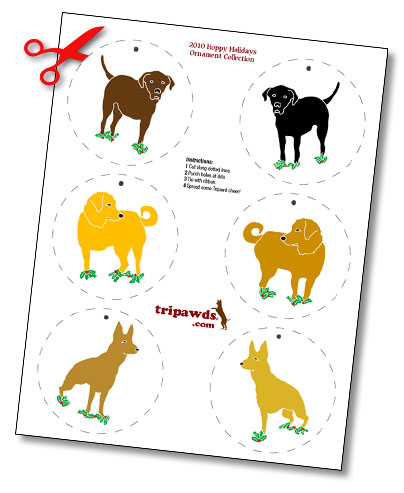 We considered sending holiday cards to everypawdy, but in the end decided that free Tripawd ornaments might be a better use of the funds you so generously contributed to the community this year.
For Hoppy Holiday memories to last a lifetime don't miss our selection of special edition ceramic three legged dog ornaments in the new Tripawds Christmas Shop!
Get your Free Tripawds Wall Calendar Too!
Another way we want to thank you is by offering you a free download of the 2011 Tripawds Calendar, which normally sells as a wire-bound calendar in our Tripawds Gift Store.
This 28-page PDF calendar includes some of the most inspawrational photos featured in the Tripawds Community.
These three legged heroes are paired with inspirational quotes that serve as monthly reminders to enjoy every day to the fullest.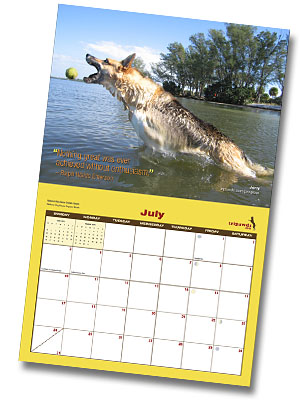 To download your free 2010 canine amputee hero calendar, just visit our Downloads Blog.
Should you decide to order a professionally printed copy, you can order it here, and feel good knowing that your purchase is supporting this community.
From the bottom of our hearts and the top of Sheriff Wyatt Ray's lungs, we wish you the hoppiest, most beautiful and loving holiday ever.
May the wisdom of our Tripawd heroes stay strong in our hearts in 2011, and continue helping us to live the best life pawsible.