It's hard to believe we started this campaign at the beginning of summer, and now, summer's almost over! But our campaign isn't done just yet.
With only a few short weeks until this campaign ends on September 30th, we feel like we might just reach our goal.
Many many thanks to all who have written, clicked, knitted, crafted, contributed and offered so much encouragement along the way.
All the Cool Kids Are Wearing Them. . .
The Tripawds Rule Bandannas are turning out to be a huge success.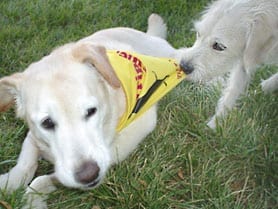 For a gift of whatever you can afford, these bandannas that were once only available at Tripawds Parties are now being spotted on three legged dogs from coast to coast. Even four legged dogs are clamoring for them!
Don't Put Down Your Pen Yet
Although we didn't win the "How Do You .com?" contest, our gifted Tripawds writers can still compose letters to Ellen De Generes to tell her how Tripawds has helped you and your best friend, and maybe she'll consider Tripawds for a cash prize!
Tripawds Works of Art

Chloe's Mom has been so busy crafting away for all of the five generous pawrents who contributed enough to qualify them for a custom Tripawds t-shirt with a painting of their beloved pup.
Thank you for all of your hard work Nicole, and thank you pawrents for your kindness!
Stay tuned, a special version of these beautiful shirts will be available in the Tripawds Gift Store very soon!
Tripawds on the Big Screen
More Tripawds are getting ready for their closeups. Tripawd pawrents are sending in generous gifts of $50 or more and in return, Comet is turing them into movie stars!
Spirit Tripawd JD (may she rest in peace), will certainly win a posthumous Academy Award when Comet is done with her movie, and we hear Shelby is up for the leading role in the "Life Story of Farrah Pawcett." Stay tuned for a preview.
As for generous supporter Trouble, she's anything but trouble! This week our generous contributor celebrates her 12th birthday and nearly two years as a Tripawd!
[youtube]http://www.youtube.com/watch?v=d0FaDWvwpZA[/youtube]
And there's just not enough words to properly thank everypawdy who has also helped to get us over 80 pawcent of our goal, but we want to acknowledge these very special people here. A super big THANK YOU goes out to:
Alice (aka: Honeygurl)
Catherine (aka: Golden Girls)
Bob and Emily (aka: Spirit Cherry)
Tina (aka: tmayers), Mom to Toby
Joseph (aka: dannyboy)
Jo Ann and Mary too for both of their second contributions in Tasha's Challenge!
Thanks to everyone else who has taken the Tasha Challenge and is continuing with their ongoing support!
And last but certainly not least, we send out many thanks to Jerry Brown, whoever you are.
Remember, every gift, even $5 bones, helps us get to our goal of making this community sustainable into 2011 and beyond. Read about our hopes and aspawrations, because we would love for you to be a part of them!
Thanks so much, have a great weekend.