Caring for a Three Legged Dog or Cat
Tripawds is the place to learn how to care for a three legged dog or cat, with answers about dog leg amputation, and cat amputation recovery from many years of member experiences.
JUMP TO FORUMS ↓
Join The Tripawds Community
Learn how to help three legged dogs and cats in the forums below. Browse and search as a guest or register for free and get full member benefits:
Instant post approval.
Private messages to members.
Subscribe to favorite topics.
Live Chat and much more!
Find out in Be More Dog: Learning to Live in the Now by Tripawds founders Rene and Jim. Learn life lessons learned from their Chief Fun Officer Jerry G. Dawg! Get the book and find fun gifts in the Be More Dog Bookstore.
(0

votes)
Please Help Tripawds Keep the Lights On
Read the original blog post
Add Reply
Add Topic
More thanks are due to recent campaign contributors ...

Shanna
(aka:
hugapitbull
) sent a stealth contribution which earns her a
Smartypants video
of Trouble!
If anyone else cares to mail a gift to, please be sure to send it – to Agreda Communications, 21 Hopewell Ct, Red Feather Lakes, CO 80545 – before the campaign ends when we'll be heading head South for the winter.


Alice (aka: Honeygurl) also deserves a video for the additional generous contribution she gave when ordering a Tripawds Bandanna!

Also, many thanks to Leslie (aka: lesliec) for the second payment of her Tasha's Challange Subscription, and to Briana (aka: gerrysmom) for another thoughtful gift.
For an easy, free way to support this community, please remember to vote for Tripawds often in the .com contest and tell Ellen we need her help.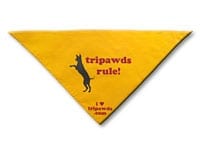 Name your price for a Tripawds Rule bandanna during this campaign and we'll count the contribution toward our campaign goal.

Catherine (aka:
Golden Girls
) has given,
again
, and quite generously too.
Thank You!
If every member gave just a little bit we would not have to rely on the large contributions of a few. No amount is too small to help us toward reaching our goal.
If you have already contributed, please give others a chance to give. And don't forget to vote for Tripawds during this last week of the How do you .com? contest! You can also tell Ellen we need her help if you want to support this community.

Spirit Cherry would would be proud of her pack's continued campaign contributions!
Bob and Emily
(aka:
Cherry
) have given graciously with another generous installment of their own version of
Tasha's Challenge
.

Toby is coming up on his one year ampuversary, and Tina (aka: tmayers) has celebrated with her own generosity...
The support I've received from you and this site, has made this journey much easier. There's a special place in Heaven for people like you.
Tina should be hearing from Cometdog soon regarding a Tribute video for Toby.
We've got one month to go with this campaign, unless, that is, members chip in to help us reach our goal early!
If you have already given, thank you! Please rememember to vote for Tripawds during thes final days of the .com contest!

Many thanks to
Joseph
(aka:
dannyboy
) for his generousity! He'll be hearing from Cometdog about a tribute video for Danny Boy.
Kudos to Jo Ann and Mary too for both of their second contributions in Tasha's Challenge!
Finally, a great big thank you to Jerry Brown, whoever you are.
NOTE: If you use a different email address for your PayPal account than you used to register for Tripawds, please include a comment with your contribution so we can personally thank you here.
Many thanks to Elizabeth (aka: fightingforsammy) for her thoughtful campaign contribution.

We're sure
Lincoln
is proud of his mommy
Rhonda
(aka:
credocanis
) for her generosity too! She'll be hearing from Cometdog soon regarding a
thank you video
.

And we just can't thank
Heather
enough for her continued contributions … "From Zeusy with love."
Since we started this campaign, a handful of members have gone above and beyond the call of duty with very generous contributions. The recent bump in the ChipIn scoreboard widget above is due to two members in particular ...

Many thanks to Lisa and Sadie (aka: sadie33)! Their generosity earns them a $75 gift certificate to VavraItaly.com.


Kris and Cami of Peyton's Pack (aka: peytonpawd) also deserve a big thank you for their recent gift.

Both members should be hearing from Cometdog soon, regarding a thank you video slideshow from Smartypants productions.
During these final weeks of the campaign, large contributions like this are certainly approciated. But if every member could give just a little bit, we wouldn't have to rely on the generosity of a few, and could probably end this campaign early.
Don't forget, Tripawds Rule Bandannas are now available in the Tripawds Gifts blog. You can name your price, and we'll apply the purchase price toward the campaign goal!
A big three paw thank you to Robin (aka: new member rlukens) for her thoughtful gift!
With just a couple weeks left in this campaign, and having now reached just 88% of our goal, you might ask yourself... "Have I given what I can to show my appreciation and help keep these blogs and discussion forums online?" No amount is too small. Thank you all for your continued support.
betaman
 The campaign ChipIn widget is gone from all the Tripawds blog pages! What's up with that?

Member Since:
26 November 2008
Offline
We all can celebrate that TriPawds has made its goal to "keep the lights on" and that is great!! However, Dad is a little confused now that the ChipIn widget is gone. He had made a personal pledge to honor the spirit of the Tasha's Challenge at the Double Platinum level. He has been making monthly contributions about the 29th of each month. (The day that my TriPawd journey ended in December, and I became a Spirit.) He has made it very clear that he has every intention of honoring this personal challenge. He wonders if it would not be appropriate to place the ChipIn widget back on this site until the end of September and show that we have met the goal? I am sure that we could use the "cushion" and it will allow a more direct way to continue this community's support. I am sure that he will find a way to complete his personal pledge, but they do not end telethons just because they met their goals and it should not be any different here. Just because he has extreme difficulty logging on and keeping up-to-date with all the wonderful members, does not mean that he does not feel as if it is important to complete this drive with a "Sprint-To-The-End". We should not rest on our laurals. He feels as if he needs to work hard every day to earn the love we shared.
Big Poodle Hug to all.
Spirit Cherry
Cherry said:
Dad is a little confused now that the ChipIn widget is gone.
Dearest Charities,
Please tell your pop that he has given – and continues to give – so much to this community, he need not feel the urge to give more. But should anyone wish to keep their pledge to contribute, the Support Tripawds button will always appears at the bottom of every Forum page. And, Tripawds Bandannas are available for whatever one chooses to give.
Thank you all for helping us keep the lights on.
betaman said:
 The campaign ChipIn widget is gone from all the Tripawds blog pages! What's up with that?
Oh silly Betaman, where have you been? Tripawds pawrents helped us make our goal!!!!
"Tripawds Campaign Week 13: You Did It!"
Everypawdy, take that Chip In widget off your blogs please, the campaign is over!
Thank you sooooo much everyone, you are so pawesome!
Monkeybutt-Bunny Vampire

Member Since:
30 July 2010
Offline
You could have your very own SmartyPants Productions user....
-Chloe's mom
Chloe became a rear amp tripawd on 7-29-10. Another tumor was removed on front leg 2-20-14. Found 3rd tumor on neck 2-2015, but she's still kicking cancer's butt at age 14. Chloe's blog


Las Vegas, Nevada
Member Since:
14 August 2009
Offline
I may have to!   The Mod Pawd Squad look like a bunch of snobs since if we blink, the new posts disappear!
Comet - 1999 to 2011

She departed us unexpectedly  January 23, 2011 at the age of 12 1/2.

She was born with a deformed front leg and a tripawd all of her life.

monkeybutt said:
Good-bye chipin widget…until next time! 
Not all members are happy to see it gone. Apparently some were hoping to see us reach our goal, and wonder how they can now help break the ChipIn widget. Well, it still apears on the Tripawds 2010 Chipin Campaign page, at least until the end of the month.
Personally, we think the yellow Tripawds Rule bandanna is a nice replacement for that nagging widget looming above.
Forum Timezone:
America/Denver
Most Users Ever Online:
946
Currently Browsing this Page:
1
Guest(s)
Member Stats:
Guest Posters: 1192
Members: 15203
Moderators: 2
Admins: 3
Forum Stats:
Groups: 4
Forums: 23
Topics: 17638
Posts: 245565
©
Simple:Press
—