My pawrents were devastated when the vet said I had lung mets. It was like reliving my cancer diagnosis all over again.
That's when our friends Joel and Ross, Moose's Dads, pointed us to "Overcoming Fear and Guilt When Canine Kids Get Sick."
This powerful essay, written by Denver lawyer Doug Koktavy, helped Mom and Dad by finally convincing them that blame, fear, anger and guilt are a waste of precious time when living with cancer.
An Excerpt from "On Fear"
© Doug Koktavy

". . . I realized my fear of the disease was the fuel that was being used against me. Devilishly clever, my biggest enemy was not the disease, but me. I was the power source being used to generate the very negative energy destroying my own being and wasting a special day with my beloved dog.

This paradoxical contradiction was glaring. I had thought the growing presence of disease was causing my mounting fear. In fact, just the opposite was occurring. My daily increasing fear was causing the disease to grow and become more powerful. I decided it was high time to start working for me and the Beez, not against us."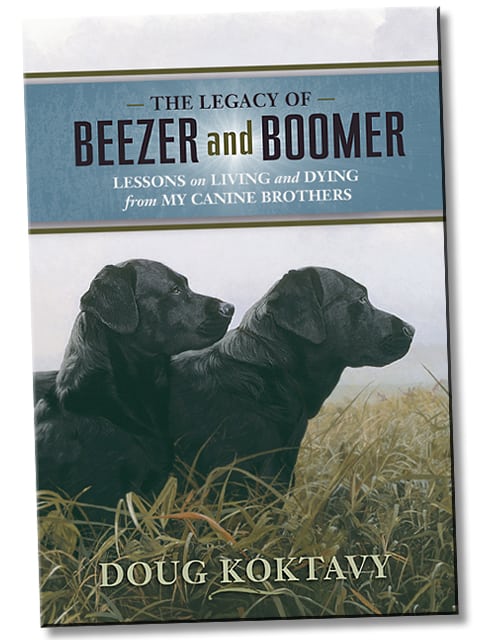 Doug's story brought tears to my pawrents eyes, and his straightforward coping pointers gave them the motivation they needed to get on with life.
His essay is one of the most powerful tools around for coping with serious illness in our animal friends.
Now, Doug has turned his essay into a full-length book called "The Legacy of Beezer and Boomer: Lessons on Living and Dying from My Canine Brothers." The book details how his two special boys helped him make the most of their time together.
"The Legacy of Beezer and Boomer" includes lessons about:
Listening to our pets
Gaining a new perspective on our pets' end of life care
Dealing with anticipatory grief
Conquering guilt and fear: living in the present
Developing a Presence Plan
Finding humor in the worst situations
Understanding our place in the circle of life
We love this book. Our favorite holistic vet, Dr. Marty, agrees:
"Not only is it so well written that you become a bystander observing the story from within, but the compassion for the vital connection we share with this wonderful kingdom oozes out of and between the lines."

–Martin Goldstein, DVM, author, The Nature of Animal Healing, and host, Ask Martha's Vet, Martha Stewart Living Radio
We recently had the opportunity to talk with Doug about his book and this is what he had to say about The Legacy of Beezer and Boomer. Check out our video interview, then be sure to get your copy today!