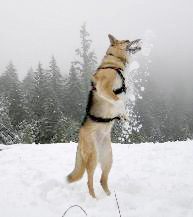 Outside, snow is falling on your land, Jerry's Acres. As we watch the mountain peaks turn white and delicate snowflakes swirl all around us, we get the sensation of being tiny ceramic figurines in a snow globe scene. One year ago, this was the last thing we could have imagined.
In the same week that we celebrated your 10th birthday, two days later on October 3rd, our hearts shattered into pieces when we accepted that your time on earth was about to come to an end.
We shared over a decade's worth of adventures; how could our lives go on without you, sweet Jerry?
During the two years that you valiantly fought cancer, we mourned over the inevitable. But you, in all your wisdom, always understood that life was finite, even before you got sick. Whether we die from premature disease or old age, you tried to show us that death is nothing to fear.
On October 3rd, 2008, under endless Montana skies, behind a waterfall of tears we watched you take your last breath. As we lay over your body to inhale the sweet scent of your pretty fur one last time, we looked skyward, and saw our amazing story ascend into the heavens. Like Dorothy in the tornado, it felt as if our hearts were being sucked into a vortex, right along with it.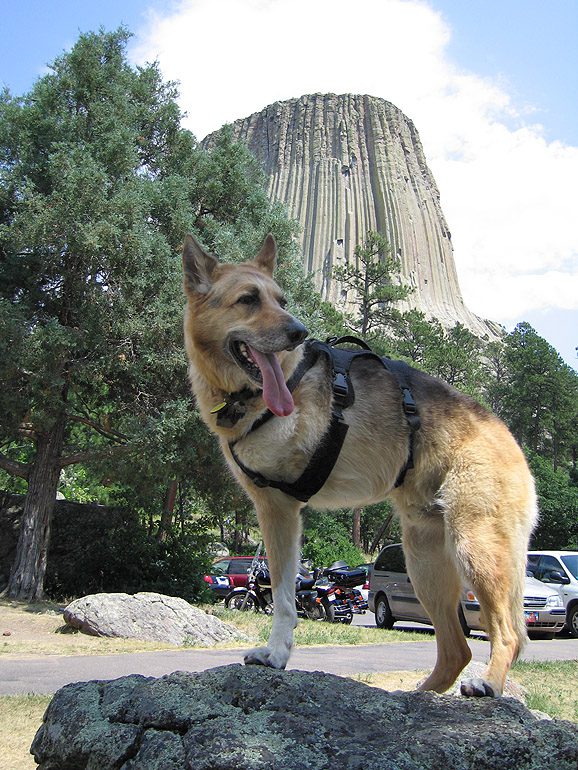 Never in a million years did we think we could ever heal after losing you. And honestly, we haven't completely and likely never will. But we do our best to go on with life, because it's the right thing to do. We remember all of the lessons you taught us about living in the moment, and know that's how you want us to be.
But sometimes, when we least expect it, we find our souls aching for the days when our pack roamed the countryside. When we had a soulmate who guided us on our spiritual and physical journeys. A dog who could speak our language without understanding a single word.
Then, reality hits us, and we understand that mourning the past is wrong. Quickly, we pull ourselves back into the present.
Jerry, we've taken your lessons to heart, and practice them each day. Sometimes we fail, but we keep trying to get it right. With your memories guiding us, we don't linger in self-pity for very long, and we do our best to be present and in the moment.
After you went to the Bridge, we searched far and wide to find a piece of land befitting an adventurous dog like you. It had to be a place on earth where we could envision you doing your favorite outdoor things; hiking, swimming, and kicking up dirt. We have finally found Jerry's Acres, and we know you would love it.
Now, one year after you went to the Bridge, winter is arriving here in Northern Colorado.
Soon, we will hit the road and roam south for the winter. And Wyatt Ray, in all of his silly puppiness, will come along for the ride. How blessed we are to have found a place for him in our life at just the right time.
We know he is not you, and we try not to compare. But watching him discover the joys to be had in attacking snow, jumping into lakes, and chewing up tree branches–just like you did–puts a big smile on our faces. It's so clear that your adventurous spirit is with him, gently guiding him out of his bullheaded goofiness and into a wise old dog like you were.
Thank you Jerry, for all that you showed us, and for all those things that you conspired to make happen.

You brought together this community of incredible pawrents and Tripawds, and you give them comfort and hope during their darkest hours.

You showed us that animals know how to be fearless in the face of adversity, yet understand when to say when.

And you taught us that the most important things in life are the simple ones, so get out and enjoy them before it's too late.
As we continue on our journey into the unknown, your wisdom will always guide us through the joys and challenges of this thing called life.
Thank you, Jerry.
Jerry G. Dawg
Tripawds Founder & CFO (Chief Fun Officer)
October 1, 1998 – October 3, 2008