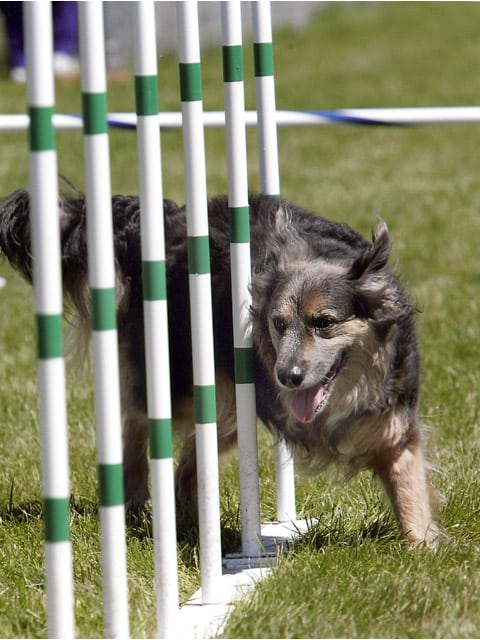 The following Guest Blog Post was generously written by Amy Breton, a Tripawd pawrent from Massachusetts. To submit your own guest post to Tripawds, contact us today.
Serena is a three legged agility and therapy dog. She is one of the very few three legged dogs in the country that competes in agility against four legged dogs. Serena likes to prove that three legged dogs can have fun too…just as much fun as a four legged dog!
I first met Serena when she was brought into my veterinary clinic as a hit-by-car stray dog 10 years ago. No one ever came to claim her, so I adopted her. She needed 8 surgeries to fix her (broken pelvis, torn cruciates, broken femur, hip luxation). That's not how she lost her leg. At that point she was about 1 year old. No one thought she'd walk let alone do agility. She proved them all wrong.
At age 4 she was diagnosed with myxosarcoma, a rare cancerous tumor which required radiation therapy. We did radiation therapy and she got back to competing. Unfortunately one of the side effects of radiation therapy is that it weakens the bone and at the age of 7 she broke her front leg when she slipped on some ice chasing a squirrel. We tried for 5 months to save the leg, but the bone was too weak so at the age of 7 she received a leg amputation.
Every dog owner questions whether amputation is the right thing to do. In Serena's case I knew she would be okay afterwards, but I worried I had lost my agility partner. Two months after her amputation she was back competiting, and winning. To date Serena has one championship title and is currently working towards her second. She is, as far as anyone can tell me, the only three legged agility dog in the country.
Serena is also a registered therapy dog and when she's not doing agility she's making the elderly and kids smile. There are many adults and kids she meets with limb amputations that can relate to her.
Serena brings inspiration to everyone she meets. She has never let anything get her down. I once had a father and son ask me about Serena right before an agility competition. While waiting near the start line I gave them the abbreviated story. As I stepped out into the ring for Serena's run I heard the father turn to his son and say "You see that dog out there? Whenever you say you can't do something you think about that dog." He's right.
She is also my inspiration as well as my furry-kid, my friend, my laughter, my sanity at times of insanity and my partner out on the agility course.
Recommended Reading:
Staying Strong with Maggie's FitPAWS Workout
Maggie the Agile Cow Dog Tripawds Blog
Maggie's YouTube Channel
CanineGym Agility Kit Cavaletti Poles
Step into Tripawd Fitness with CanineGym Dog Agility Kit