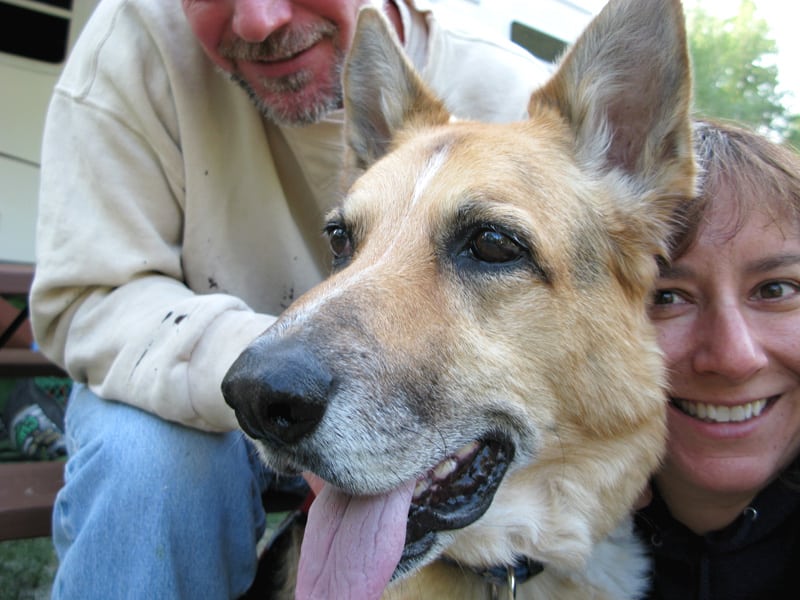 Ten months have passed since I left this earth. Every human has different ideas about what they consider "enough" time to grieve before bringing a new companion into their lives. For my own pawrents, they didn't have any ideas about how long that would be for them.
As time went on, I tried to tell my pawrents that it was OK for them to want to share their life with another dog. And that dog didn't even have to be a Tripawd, I just wanted them to be happy, to once again feel the joy at sharing life's great wonders as a pack.
Throughout our travels together, we sought far and wide for land where I could live out my final days. Though I didn't make it there with them, they did finally find my perfect resting place. Having made a vow to wait until they found our new mountain home, they now wondered if they were perhaps ready to open their hearts and welcome a new member to the pack.
In July, my friend Codie Rae's pawrents, Martha and Ralph, posted this announcement about a young pup named Wyatt, who had just been rescued by some very kind people. Being just a little partial towards Shepherds, Wyatt's big ears, deep eyes and handsome mugshot caught the attention of my pawrents.
"Did you see that Rescue Forums post that Codie Rae put up on the site?" my Dad said to Mom.
"He's gorgeous!" Mom said.
Mom and Martha were soon on the phone talking about Wyatt. Mom wanted to learn more. Why was he a Tripawd? What was he like? Did he have any issues?
Seems that Wyatt is a well-bred Shepherd puppy who spent the first few months of his life tethered to a rope, in a backyard in Oakland, California. He was underfed and neglected by stupid humans that likely paid a lot of money for him, probably because they just wanted a guard dog. One day his cruel owners went outside and saw that Wyatt's leg was tangled up in the rope for who knows how long. They took him to the vet to fix his leg, but it was beyond help. When the vet recommended amputation, the owners said forget it; euthanize him. They didn't want a three legged Shepherd.
A kind vet tech at the clinic named Lucie said "No way!" She knew that Wyatt was destined for greater things, so she took him home, and called the good people at German Shepherd Rescue of Northern California for help. The group paid for Wyatt's leg amputation, his post-op care, and all of the things necessary to help him get ready to find a loving home.
This group is the same one which helped save my friend Codie Rae from the exact same situation last year. In fact, Codie Rae was 8 months old at the time they found her, and she's even from the same neighborhood! Her pawrents Martha and Ralph are active volunteers for the group, and that's how they found out about Wyatt.
Finding out about Wyatt was such perfect timing; it seemed like the universe was conspiring to put him and my pawrents together.
See, last November when Mom and Dad met Codie Rae for the first time, it was only about a month after my passing. Mom and Dad were so heavy in mourning, that they just couldn't imagine being able to bring another dog into their lives. Today, ten months later, it seemed only fitting that Codie Rae and her pawrents introduce them to the next great love of their lives; my legacy, Wyatt Ray Dawg.
Leg-a-cy. Get it?! 🙂
Last week, Mom and Dad went out to Northern California to get their stuff out of storage. Along the way, they made a stop in Oakland, to meet this very special Tripawd! Yes, it was puppy love at first sight. Wyatt made the three day journey back to Jerry's Acres, and appears to be loving his new life.
And as my pawrents begin their new chapter in Colorado, Wyatt will be there alongside them to share all the joys that life has to offer. And, he'll continue showing the world that "It's better to hop on three legs than limp on four!" I'll be watching over the pack as their travels continue.
Stay tuned for more details about our new Tripawds spokesdog, and read more about Wyatt on his Tripawds blog, Way to Go, Wyatt!
Did you know you can now sign up for your own free Tripawds blog? More big announcements about that coming up soon!