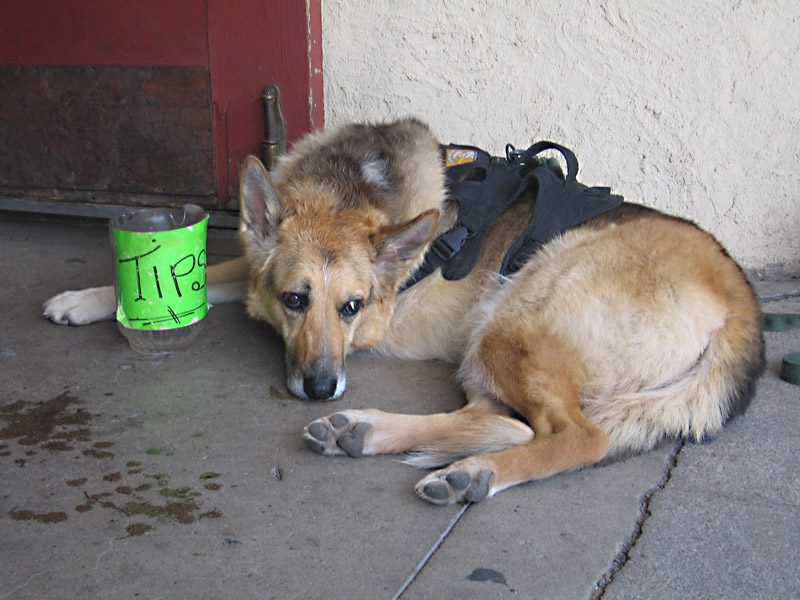 When I had my leg amputated, Mom and Dad were terrified. They had never seen a three legged dog before, and thought that life as we knew it was over.
The day I went into surgery, Dad started my three legged dog blog, and began sharing our journey with the world. It didn't take long before other pawrents wrote to tell about their experiences. Suddenly, Mom and Dad didn't feel so alone anymore.
That's when they knew they wanted to pay it forward, by helping others and creating the world's greatest place for three legged dogs! Since 2006, Tripawds has been a true labor of love for them.
A Labor of Love
Tripawds might look "big" but did you know my Mom and Dad are the only ones who take care of everything here? As volunteers, they do it all from the 24′ foot trailer they call home. And until now, they've covered all of the costs of keeping this site going.
The hours they spend on it each day are so worthwhile! To them, there's nothing more gratifying than witnessing the generosity of people like you who are always willing to offer a shoulder to lean on for new Tripawd pawrents looking for help and advice.
Time for a Bigger Dog House
There's only one downside to making more friends here: Tripawds has outgrown our current web hosting plan. That's why you may have noticed performance issues in the discussion forums and chat room. Our time has come to move to a bigger dog house, so Dad can make major upgrades that will improve your experience here.
This bigger dog house costs money, and we can't pay for it alone. We've never asked for donations outright before, but we need everyone's help to make this improvement possible.
Today we are announcing our first fundraising campaign to help pay for this much needed upgrade and ongoing maintenance. We are seeking to raise $4,250 to cover the costs of migrating Tripawds.com to it's own dedicated website server, and cover the first year of monthly hosting fees and maintenance.
Let's Keep Hopping Along
In technical terms, the low budget shared hosting account we currently have just can't handle the traffic we get at tripawds.com any more. The number of daily visitors has tripled since we launched the discussion forums just over a year ago. And more members are joining every day! As our community continues to grow, we want everyone to enjoy their stay here, without degraded performance. So, we will be moving to the new managed server shortly.
This upgrade is sure to keep Tripawds up and running at peak performance, for a long time to come. But it means we need your contributions now. Won't you please take a moment to make a secure contribution by clicking the ChipIn! button? This way everyone will know when we've reached our goal.
Your support will also help pay for things like informative cards and posters we send to vet's offices, covering the shipping fees for harnesses returned by those whose dogs have passed away, and donations we make to canine cancer organizations. These are things Mom and Dad have always paid for out of their own pockets, and would love to get help with. Here's some expense details if you're interested.
Every Litte Bit Helps
We know you have a lot to think about right now with your own Tripawd experience. And we know these times are ruff. But seriously, no amount is too small! Every little bit will help keep this community offering awesome resources, information, and moral support. And once we're on our new server, we'll be able to offer some exciting new features too.
Won't you please consider helping to support Tripawds? It's easy and quick, and once you do it, we won't bug you again for another year!
From the bottom of our hearts, we thank you for anything you can give today.
– René, Jim & Spirit Jerry