Join The Discussion
Learn about life on three legs in the forums below. Browse and search as a guest or register for free to take advantage of member benefits:
Instant post approval.
Private messages to members.
Subscribe to favorite topics.
Join the Live Chat and more!
Best Dog Beds for Tripawds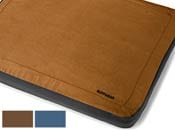 Give Tripawds the comfort they deserve! See which dog beds are best and why.
A
A
A
WorriedMommy
Two days ago I noticed a very large bone-hard lump on my 10 year old cat's shoulder. I took him to the vet today and, after x-rays, they said that he has a bone tumor. They were surprised because apparently this typically occurs in large dogs, not cats, and so there aren't a lot of previous cases to go by. Later in the evening they called to tell me that after an expert examined the X-ray, they believe that it might be a benign tumor since his bone has not been destroyed - it is just growing. He is not in any pain at all, and he has no limp. However, they say that even if it's benign it will continue to grow rapidly and will break his leg and cause extreme pain. We could do a biopsy, but its a painful surgery and even if it is benign, the amputation would still be required.
So, I am faced with this horrible decision that I must make quickly, as this thing is growing very rapidly. I dont know if I should amputate, or put him to sleep.
I keep reading that cats do very well with three legs, and I was feeling much better - but then I looked at videos. It seems like cats that lose a hind-leg do fantastically, but the videos seem to show me that when they lose a front leg, walking around seems to be very difficult. Some of them seem to almost have to crawl all the time. I am back to being a wreck. I don't know what to do.
Part of the issue is my cat's personality. He is already a bit skiddish - he likes to cuddle but hates strangers and quick movements. I have no idea if that will worsen after the surgery, but I kind of feel like it. Also, he is an outdoor cat. He has spent 90% of his life hunting outside and hates to be cooped up indoors. But, with a front leg amputation, will it be possible for him to really run around outside like he used to? It doesnt seem like it from the videos.... I think he might hate his life if I forced him to be inside forever.
Also, I feel so guilty. I take him to the vet and they put him to sleep and then he wakes up with no arm? That's horrifying, isn't it?
I don't know what's best, and I don't know what to choose. I feel like I'm condemning him no matter what I do.
Does anyone have a cat without one of it's front legs? And can they actually lead the lives they led before?

My heart lives at Rainbow Bridge
Forum Posts: 3754
Member Since:
28 November 2008

Offline
Welcome to our group.  I am clueless about cats, I know their personalities are different than dogs, but I would think a vet wouldn't recommend amputation if they believed the cat would not adapt.
If you aren't comfortable with the recommendation, find a vet who will give you a second opinion. Most will speak to you without having to take the cat with you, unless you just want to.
Making the decisions that go along with bone cancer are so very hard.  In the end it is all about you and your pet, there are no wrong decisions when they are made with love and the pets best interest at heart.
Sending you many good thoughts as you face this new journey.
Shanna & Spirit Trouble ~ Trouble gained her wings 3/16/2011, a 27 1/2 month cancer survivor, tail wagging. RIP sweetheart, you are my heart and soul.  Run free at Rainbow Bridge.
The November Five - Spirits Max, Cherry, Tika, Trouble & Nova. 11/2008 - 3/2013 An era ends as Queen Nova crossed the Bridge.


Columbia, MO
Forum Posts: 483
Member Since:
10 December 2011

Offline
I'm sorry your boy is having a hard time of it.  The thought of amputation is scary.  I felt the same when my dog Daisy had to have her front leg amputated.  Animals don't view it the same as people though.  It is just the way it is and they figure out how to go on.  Don't feel guilty if you decide to have the amp.  He will not hold it against you.
When I took two of my cats in, they were living outdoors.  I had no trouble making them be indoor only cats.  They were/are happy as clams.   If you decide to go the amp route I don't think I would let him out unsupervised because he might not be able to defend himself as well as before.
I think there are some members with tripawd cats on here so hopefully they will chime in with their experiences.
Best of luck in your decision.  And like Shanna said above there are no wrong decisions, just what is right for you and your cat.
Marla and Daisy
My Two Tripawds...Biscuit
and Spirit Daisy

The Rainbow Bridge

Forum Posts: 23090
Member Since:
25 April 2007

Offline
Wow, I'm so sorry you got this news. This is really the week of anomalies (we had a new member join yesterday who has a french bulldog with osteosarcoma, which is almost unheard of). 
When it comes to animals who lose a leg, we are far more resilient than humans ever give us credit for. Take Henry, he's an awesome kitty who has one front leg:
I've put a call out on Henry's Facebook page, as well as ours, to ask Tripawd Kitty people to come here and give their perspectives but you might also want to check those pages too.
Humans tend to think the worst while all we want is to get on with life and make the most of every day. So when thinking about whether or not your cat will adapt, remember that you see life very differently than your cat does.
Every vet I've talked to says cats actually do much better than dogs when it comes to amputation. That's why you don't see too many of them here; recovery and adapting is typically a non-issue for them.
The best advice I can give is to get a second opinion. Even if you decide not to proceed, at least you know you did your homework and have all of the information you need to make a confident decision. It's not easy either way, but we'll be here for you no matter what you decide. 
Please keep us posted OK? We don't get too many kitty people here and we would sure like to have more. Good luck. 
Oh and please consider registering as a member so your posts don't need moderation.
Thank you guys so much for your support. I really need/ed to talk to other pet mommys and daddys that have had to make this decision. It is extremely difficult because you really wish that you could just ask them what they would prefer.
But I keep thinking, if given the choice & in most circumstances any person or animal would choose to keep on living. It's in all of our nature. That's what I want to believe.
So I'm pretty sure we are going with amputation - it's one of those things that I'm still thinking really hard about but I know what I'm going to end up deciding. I hope I'm not just being selfish and making him live a disabled life just because I don't want to go through the loss. It's hard to separate the feelings.
Thank you all so much for inviting me into your community. I wholeheartedly believe that we will need a lot of support in this process.
I would love to hear from people with cats who've lost a front leg, so thank you so much for putting the word out there. I truly appreciate it. I am already feeling a bit better about this process, so thank you all.
Here is a picture of Fang:
And his X-Ray
Luckily, he is not in pain. I've been cuddling with him all morning.

My heart lives at Rainbow Bridge
Forum Posts: 3754
Member Since:
28 November 2008

Offline
Fang is beautiful.  Thank you for sharing.  We LOVE pictures!
Shanna & Spirit Trouble ~ Trouble gained her wings 3/16/2011, a 27 1/2 month cancer survivor, tail wagging. RIP sweetheart, you are my heart and soul.  Run free at Rainbow Bridge.
The November Five - Spirits Max, Cherry, Tika, Trouble & Nova. 11/2008 - 3/2013 An era ends as Queen Nova crossed the Bridge.


Columbia, MO
Forum Posts: 483
Member Since:
10 December 2011

Offline
Thanks - he is a lovely cat.

I know you're not supposed to have favorites but, he is my favorite cat. (I've got 5 - I tend to adopt strays... Fang was a pound kitten). He has the most wonderful, although timid personality.
I just don't know if his personality will work with this type of life change. He is already so skiddish, I just think he might go off the deep end if he wakes up with no arm. Plus we're moving soon... It's just stress on top of stress. I don't know if I'm being cruel or not.
Does anyone have a pet that was already skiddish and fearful of change before the operation? How did they cope with the change? Will it be much harder?

krun15
Fang is beautiful- as you can see I am partial to black pups.  Well, black and grey- my avatar is of my pug Maggie when she was 10 or so.
Maggie wasn't so much skittish as in-adaptable, she hated any change to her routine.  When I bought a new car and I wouldn't let her ride in the front seat anymore she pouted for a month.  She would sit in the back of the Pathfinder, refused to look out the windows, and sat with her back to me! When she had her first tumor removed from her side she was unhappy for a couple weeks because of the way the scar felt, it wasn't painful- just not normal.
You get the idea...
So I was really worried about her amputation, she lost a rear leg to mast cell cancer.  She could walk the day of surgery, and I think we managed her pain very well.  But she was clearly unhappy for several weeks.  When she fell down it took me a really long time to coax her into trying again. 4 or 5 weeks after surgery she still wouldn't play with me.  I convinced myself that I had done the wrong thing.  Maggie had her amp before Tripawds was here so I didn't have anyone to talk to.
But after about 6 weeks I started to see her personality come back.  She took her time but she did come all the way back, and was the mischievous, obstinate pug I had always known.  She hopped along happily for almost 4 years.
When I thought about it later it really made sense.  Maggie was just being herself by taking her time to accept her situation. Most pups you read about here turn the corner in 2 or 3 weeks.  I don't think Mag was worried specifically about where her leg was- things were different and she didn't like different. 
I don't have a lot of experience with cats, we always had them growing up but I haven't had one in years.  I hope my obstinate pug story is helpful.
Karen and the pugapalooza
Forum Posts: 7
Member Since:
29 January 2009

Offline

What a beauty!! I know you are looking for help with a front leg amputation but I can encourage you with how well my 16 year old Kitty did with a rear leg amputation. The first few weeks were very difficult and I really doubted that she would recover. When she did start to feel better again she amazed us with how fast she could get around and she really never stopped doing anything that she did before with four legs. We were blessed with another 3 years after the amp. that I don't think we would have had if we had not done the surgery. We did have to make a few modifications for her, a couple of rugs here and there and steps up to the window ledge.
Hugs to you, it is a hard decision to make.
Marjorie

Orange County, CA

Forum Posts: 157
Member Since:
14 August 2012

Offline
I can tell you that I've performed a lot of limb amputations on cats over the past 20 some odd years, and I've never had an owner tell me that they regretted it. Due to the lighter body mass of cats, I think they do have an easier time with it than dogs. 
The x-rays does not have the hallmarks of an osteosarcoma, which is usually bone destruction and proliferation (he has bone proliferation with no cortical destruction). It's still possible, but I agree with your vet, there's probably a higher chance of it being benign. I also would recommend proceeding with the amputation rather than getting the biopsy first, because no matter if it's benign or malignant, the leg would need to be removed. 
Whatever decision you make, please try not to beat yourself up with guilt, it's a useless emotion. Animals do NOT think of themselves as being disabled, they just get a "new normal" that they have to adapt to... and adapt they do. Remarkably well.
Right hind limb amputated 7/3/12 for OSA, started on alternating cycles of Carboplatin and Doxorubicin and oral Palladia. Single lung met 9/1. Met in the neck muscle removed 9/30. Large mass in sublumbar lymph node 10/2. Rescue chemo with ifosfamide 10/6. Mets to the rib and axillary lymph node 10/21. Started Leukeran and Pred 10/25. Wookie left this Earth for a far better place on 12/4/12. I miss you, Boo, you were my heart.
Again, I am absolutely overwhelmed by the amount of support on this site. It is so incredibly helpful to talk to people who have been through this, and a vet as well! What an amazing surprise!
I keep reading that the amputation is harder on the owner than the pet - and I certainly hope that this is true. From what you've all said, that really seems to be the case. I am so happy to think that animals do not think of themselves as disabled - that means a lot to me.
Marjorie - what types of modifications did you make? We've got hard wood floors, which I imagine are very slick and difficult so new rugs might be in order. I'm also thinking of getting a new, lower mattress (we have a huge pillowtop, which my boyfriend always hated anyway), and taking the foot-board off of the bed, as well as placing a bench at the end of the bed. Are there any other things I should think about changing?
Also, do other house-pets tend to get more aggressive to your three-legger? My other male is already a big, fat, pushy alpha male who occasionally feels the need to show his dominance, and my little female cat hates Fang and hisses at him whenever he's near (though it never escalates to anything more than a warning, since neither of them are fighters).
Finally, have any of you experienced issues with phantom-limb pain? Is this common? Is there anything we can do to help it? I would not want Fang to lead a painful life, and this is a very big factor in my decision about the surgery. I have also read a few stories which mention the cat being on pain medications forever after – does this happen to most cats? If so, what are they in pain from? Again, I do not want to put Fang through this if he will go on to lead a painful life. Do your pets need pain medication every day?
What do you do about arthritis?
Sorry - so many questions!  I'd just like to know the experiences of people who've had three-leggers, ya know? You guys know so much more than someone who's not been in this situation.
Also, Karen - Thank you for the story about your pug. If we do go through with the surgery, I will try not to let myself believe that he will not return to normal. From your experience I see that it might take him a bit longer to deal with the change, since like your baby, Fang does not like change AT ALL. He even hides for days when I move the furniture.
Forum Posts: 7
Member Since:
29 January 2009

Offline

We kept BK in a separate bedroom after the amputation, we took the regular door down and put up a screen door so we could always interact in with her. She shared the room with another one of our older cats that was being picked on by our boy cat Gilligan. The room has hard wood floors so I put a large rug down for padding, my husband built a set of stairs that she could use to get to the window and he built a large ledge so she could sunbath. Each step on the stairs was longer than usual so she could jump on one and lay down if she wanted, we also carpeted them so she would not slip.  The steps are about sixteen by twenty. We put some extra padding under the ledge and along the side of the stairs just in case she fell (she never did

, but I always worried) She had a bit of a hard time at first getting into a litter box so I bought an under the bed rubber maid container (for shoes or sweaters) and used that for a litter box. The low sides were perfect for getting in the box and it was really long so she could manuever quite well. I placed beds all over the room for her to lay in.
BK was only on the pain meds for the first week, she never did seem to have any phantom pain .  It was amazing watching how strong her remaining rear leg became. I did put her on Dasaquin for cats to help with the arthritis issue. Towards the end of her life she did get a bit slower but hey she was 19.
I can tell you that the worst day was the day we brought her home. When we opened the carrier and she thumped out I wanted to bawl. I could not believe I had done that to my girl, it did not help that every time I spoke she growled and hissed. The best day was about a week later when she jumped onto the first step and purred when I rubbed her head. That's when I knew it was going to be okay.
Her amputation is actually what helped us decide to have our 10 year old shepard Skyler's rear leg amputated due to bone cancer, sadly Skyler only lived 10 days after the surgery but we live with no regrets. 
Sorry this so long, if you want to private message me please feel free I would love to help in any way.
Best regards,
Marjorie
Marjorie - The rubber maid container is a wonderful idea, as well as the stairs to the window. I will try to implement them... Unfortunately Fang does not use a litter box (he never has, since he was a kitten - he paces in front of the door like a dog to go outside), so that will be a whole other issue to figure out while he's locked inside.
I just looked up and purchased some Dasaquin - it seems like it's probably a good idea for all of the cats to have, frankly. Thank you.
I am so scared of that feeling - that I hurt my family member who trusts me so completely.
Thank you so much for your advice and story - I hope that things are as "happy" for a cat with a front leg missing rather than a back one.
Forum Timezone:
America/Denver
Most Users Ever Online: 597
Currently Online: dcjack, eurydice, bentleymac
59 Guest(s)
Currently Browsing this Page:
1 Guest(s)
Devices Used: Desktop (57), Phone (5)
Member Stats:
Guest Posters: 993
Members: 11815
Moderators: 2
Admins: 3
Forum Stats:
Groups: 4
Forums: 23
Topics: 14629
Posts: 205564