Join The Discussion
Learn about life on three legs in the forums below. Browse and search as a guest or register for free to take advantage of member benefits:
Instant post approval.
Private messages to members.
Subscribe to favorite topics.
Join the Live Chat and more!
What Is The KillBarney Tour?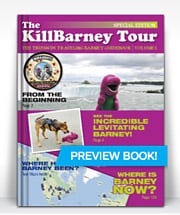 Get the KillBarney Tour Book for photos and stories of Tripawds members around the globe!
A
A
A
Hi.
everyone, first I want to say how awesome this site and everyone on it is, I'm so glad I was able to find such an awesome resource so early in this journey.
Some background: about a year ago we spotted a little bump on Zuzu's knee, so into the vet we go. Doc takes a look at it and does a needle aspiration, comes back clear and were told it's not really worth the surgery to take it off since it's benign. So time goes by and the sucker grows, zuzu still doesn't seem bothered by it, doesn't care if you mess with it, is showing no signs of pain or discomfort but because it's gotten so large in about a year we have it retested.
Boom.
Doc says it wasn't as bad as she thought (osteosarcoma), but that it's still cancerous. We send off cytology to try to get more answers. Comes back as a soft tissue sarcoma, most likely a fibrosarcoma.
We do blood work and x-rays, everything comes back great, Zuzu doesn't even show signs of arthritis and the tumor hasn't gotten to the bone. Great news. Now we get the shock, recommended course of action, amputation.
Due to the size, location and type of tumor it would be impossible to get good enough margins and the best we could hope for was a debulking, but the mass would just come back, so that would be more surgery.
We were in complete shock and disbelief.
Of course our first reaction was no, she's not in pain and doesn't have any mobility issues, we're not cutting off her leg. We'll just let her be until she starts showing signs of discomfort. The doc said it would probably be 6 to 9 months before the tumor really started grabbing into her muscle fibers and causing problems.
Then I went online and started researching like mad, and I come across this website. After lots of reading and deliberation with my wife we decide ok, maybe amputation isn't as bad as we thought and we become more accepting of the idea.
We've​ called the vet back and told them we don't want the debulking surgery and want to move ahead with the amputation. As of now we're waiting to hear back to see if she can do the surgery or if we need to go to a specialist and what the cost is going to be. Unfortunately, finances play a big part for us so that is something we're going to have to figure out.
In the mean time we are trying to get as much ready and prepared as we can. Thanks to the generosity of the angel exchange program we've already been gifted a get a grip harness(we live on the third floor and have 24 stairs to deal with) so we'll be able to assist getting zuzu out.
How soon after surgery is it ok to start using the harness? I don't want to aggravate the incision or surrounding tissue. I've read a lot of posts about the vet sending pups home with a sling, is this ideal to use in the beginning over the get a grip harness?
We won't be attempting any stairs for a while as we plan to use puppy pads inside and on our front landing (hopefully zuzu will use them, she's pretty adamant about only going potty on the grass). Does anyone have any better suggestions for this situation?
Oh, it's her right rear leg, by the way.
Zuzu, although sometimes a bit prissy and Moody, is strong willed and in great health, I have no doubt that she'll be able to adjust and continue fighting on, it's just us humans that are having the issues with it.
That's all I can think of for now, but I'm sure I'll have more questions pop in my head. Sorry for being so long winded, lol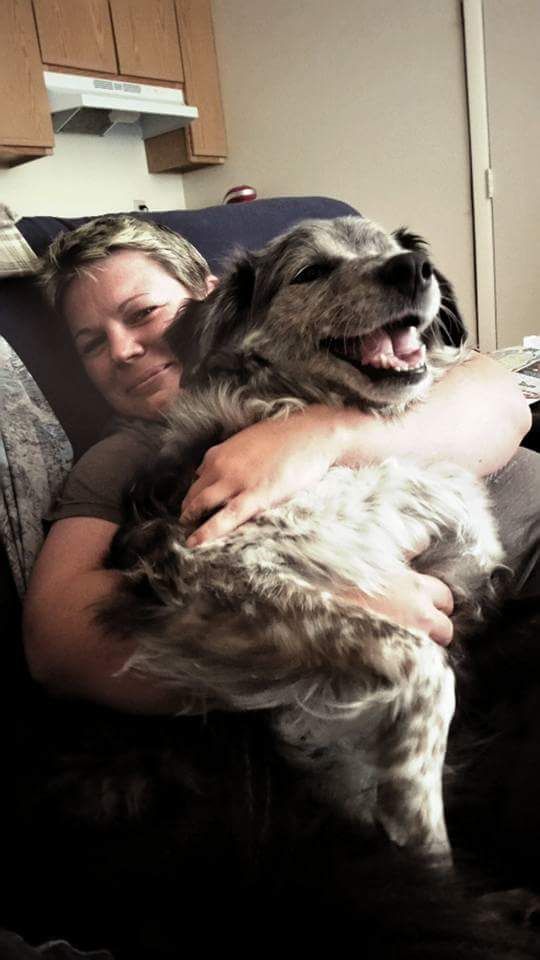 waiting for the vet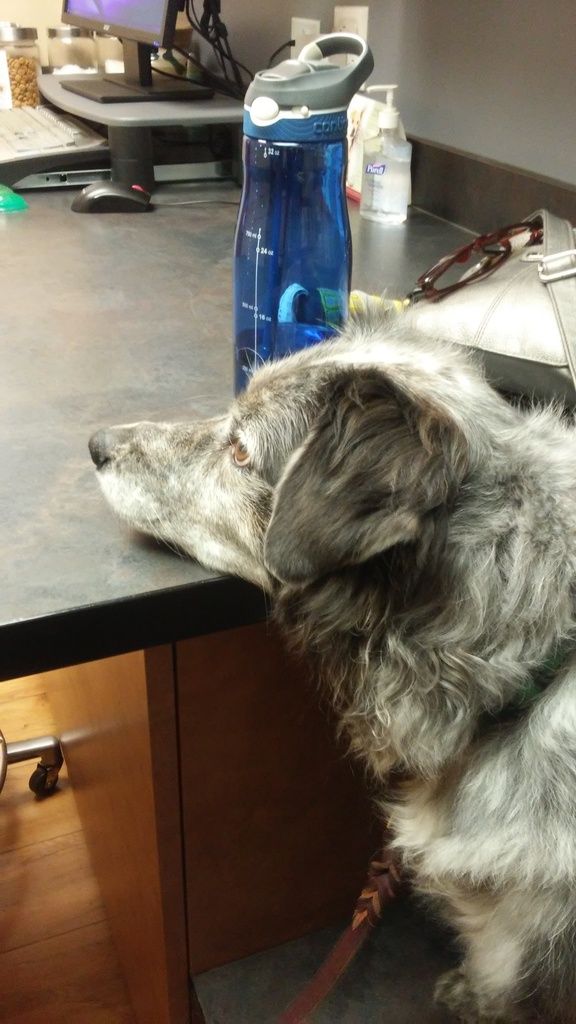 The Rainbow Bridge

Forum Posts: 21988
Member Since:
25 April 2007

Offline
Hey Zuzu & family, we're so glad you found us too! Keep doing what you're doing, you are a great advocate for Zuzu and I've no doubt she will bounce back in no time at all if you proceed with the amputation. You are so right, it's us silly humans that make a big deal out of it. Animals don't, they just want to feel good again.
Regarding the Get-a-Grip harness and when to use it. This is the one harness that we feel totally comfortable saying "Use it" immediately after surgery. The wrap-around style doesn't have webbing straps and won't cut into the incision so as long as she seems like it's not bothering her, you can use it.
About the stairs. You might want to check out Rob & Bruno's ongoing topic. They live in a walk-up apartment building in Thailand.
By the way I'm happy you decided not to wait to inquire about amputation until she shows signs of discomfort. By the time a dog exhibits pain signals, things are really, really painful. Good job!
Forum Posts: 4662
Member Since:
21 May 2016

Offline
Hi Zuzu and family 

My girl Eurydice lost her leg to osteosarcoma a little over one year ago and she has been great ever since recovery was over.
As you say, it is much harder for us humans, our dawgs just get on with their new life. 
She wore her harness 24/7 until recovery was over but her situation is somewhat different form zuzu as she is a very large girl and without the harness I wouldn't have been able to help her stand up. 
I love to see how pawsitive you and your wife are, I'm sure zuzu is a very happy girl too

We're all here to guide and help you along the way so don't hesitate to reach out to us anytime.
Sending you hugs and cuddles to gorgeous zuzu (love the name!)

Thank you, I'll be sure to check that out.
So I've been trying to find some more specific info regarding soft tissue sarcoma and others' experience with it. I've tried searching but am not having much luck, any suggestions?

Livermore, CA


Forum Posts: 2459
Member Since:
18 October 2009

Offline
I searched the forums for soft tissue sarcoma and got these results.
I searched all blogs for soft tissue sarcoma and got these results.
Hopefully you can find some useful information there.
My pug Maggie had a mast cell tumor near her left knee which eventually led to her amputation.  Her tumor was not causing her any pain, she was quite a drama queen- she always let me know when something was bothering her!  It was really hard to come to grips with the fact that amputation was the solution to her problem, I mean she wasn't even limping!  Mag took her time getting used to her new normal, but once she did she hopped happily through life for almost 4 years.
As long as the harness doesn't rub on her incision you should be able to use it right away.  I use the RuffWear WebMaster with my current rear amp tripawd.  Elly is a small pug mix who lost her leg after being hit by a car at 7 months old.  She was healed from her surgery when I got her and she flies up and down the stairs at my house.  I use the harness to get her in and out of my truck and whenever we are somewhere that she needs some help balancing or jumping up or down something to big for her to do on her own.
Karen and the Spirit Pug Girls
Tri-pug Maggie survived a 4.5 year mast cell cancer battle only to be lost to oral melanoma.
1999 to 2010
That's so crazy! I searched and only got like 5 results, not quite sure how I managed that, but thank you! I have a lot of reading to get done!
Between getting into and out of our truck and getting up/down 24 stairs the harness is going to get a lot of use. I'm hoping as she becomes more able to do the stairs we can get a webmaster harness, but I think the heavy duty one is necessary for now.

Forum Posts: 128
Member Since:
13 March 2010

Offline
Hey there, my boy Travis Ray just had surgery to remove a grade 2 STS, also suspected to be a fibrosarcoma. He is already a tripawd (not cancer-related) so amputation was not an option for us. His is on the right elbow so there is a little more skin to work with there but they told us to expect "dirty" margins. Well, the resection was considered complete, but the margins were "narrow" eg no more than 1mm. So we are considering several follow up treatments and I am also in full on research mode. Take a look at this forum post, where I will continue to post about our experience and what I am finding out in my research. I will be checking in on your posts to see what you are finding out as well! There are a couple of other dogs that have been recently diagnosed as well. I am sorry we are all in this situation but happy that none of us is going through it alone! 
Travis says to tell Zuzu, "We are gonna kick this crappy cancer to the curb girlfriend!"
Hang in there

xoxo,
Martha, Travis Ray, and the Oaktown Pack

Virginia

Forum Posts: 13586
Member Since:
22 February 2013

Offline
Atta' girl Martha!!! Kick butt!! 🙂
Nope, no one's alone here! You're both stuck with us:-)
Hugs!
Sally and Alumni Happy Hannah and Merry Myrtle and Frankie too!
Happy Hannah had a glorious additional bonus time of over one yr & two months after amp for osteo! She made me laugh everyday! Joined April's Angels after send off meal of steak, ice cream, M&Ms & deer poop!
Hey Martha, I've actually been following your post. My wife and I have decided not to put zuzu through any treatments other than amputation, at least at this time. I guess we could change our minds after biopsy results come back.
We're feeling rather stuck at the moment, waiting to hear back from the vet to figure out our next step.
I feel like we're reading until we're cross eyed, just trying to prepare as much as we can. We're thankful we have a little time to figure out logistics and prepare our home but I wish we could just get this over and done with.
In the meantime Zuzu has been going for extra long walks and enjoying running laps around all the neighbor dogs, they can never catch her!
I'm so glad we found this community, I know it's gonna be a life saver, especially come surgery day.
Hugs,
Ashley
Mini update: my wife just got off the phone with the vet. They don't have the proper equipment to​ do the amp in their office but they do sometimes work with a mobile surgeon that would be able to do it. So they're calling them to see what the schedule and cost looks like as well as contacting the specialist to see what the cost and schedule would be through them.
Back to the waiting game.
Oh, Zuzu has decided to start a blog, come by and check it out. http://princess.....ipawds.com

Forum Posts: 128
Member Since:
13 March 2010

Offline
Electing to not do follow up treatment after amputation is perfectly reasonable at this point. Take it one step at a time and as you say, the biopsy results may cause you to go in another direction. But no need to stress about that right now. Meanwhile I will be posting what I find out about the different follow up options in case you or anyone else can use the info.
Gonna go check out Zuzu's blog now!
Thanks for the support! It's not an easy decision, but we feel it's what's best for Zuzu at this time.
We're trying to just live in the moment and be more dog. 😀
Forum Posts: 4662
Member Since:
21 May 2016

Offline
That's the way, Ashley, that's the way 

I once read something like this:
Life is what happens between what you've done yesterday and what you are planning to do tomorrow (well, it was written much more beautifully than this ...)
Zuzu is going to be SUCH a happy tripawd, I have a feeling you and your wife will make her life really exciting !
Sending you both an avalanche of kisses and lots and lots of cuddles to your princess and, of course, slobbery kisses from miss cow 

Thank you so much eurydice! All we can hope for is a happy, hoppy princess Pazuzu! I know I'll feel completely lost and overwhelmed when the day actually comes but thanks to everyone here I feel like I might actually be able to handle this. Lol.
Forum Timezone:
America/Denver
Most Users Ever Online: 597
Currently Online: admin, charliebear, tinsch, bdo32
68 Guest(s)
Currently Browsing this Page:
1 Guest(s)
Devices Used: Desktop (53), Phone (14), Tablet (5)
Member Stats:
Guest Posters: 959
Members: 10331
Moderators: 2
Admins: 3
Forum Stats:
Groups: 4
Forums: 23
Topics: 13792
Posts: 191356